Celebs React to Chris Cornell's Shocking Death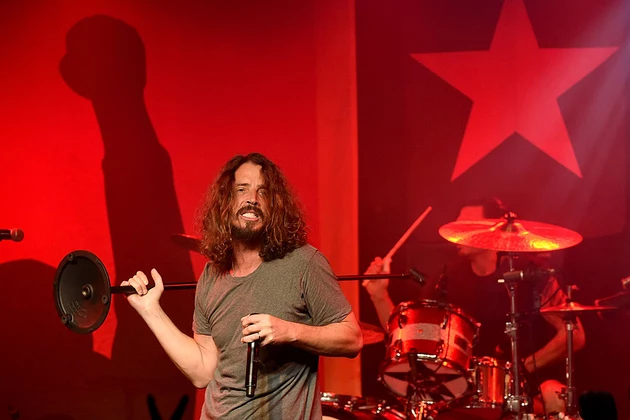 A voice as loud and powerful as Chris Cornell's was bound to reach the masses, and a day after the singer's unexpected death, fans — many of whom are fellow musicians and celebrities — are remembering the Soundgarden and Audioslave frontman.
Cornell died Wednesday night (May 18) after a show in Detroit, where reports say he had been in good spirits.
Subscribe to Y105 Rochester on
"His wife, Vicky, and family were shocked to learn of his sudden and unexpected passing, and they will be working closely with the medical examiner to determine the cause," a subsequent statement read, according to Us Weekly."They would like to thank his fans for their continuous love and loyalty and ask that their privacy be respected at this time."
See some of the ways the entertainment and music industries are remembering Cornell in memorial tweets and messages below.
Shocked and saddened by the sudden death of @chriscornell. A great singer, songwriter and the loveliest man. pic.twitter.com/Hwdgst8kmg

— Elton John (@eltonofficial) May 18, 2017
RIP to the legend Chris Cornell. A rich soul and an undeniable voice.

— MUTEMATH (@MUTEMATH) May 18, 2017
Oh man. Sad to hear of the passing of Chris Cornell.

— Elijah Wood (@elijahwood) May 18, 2017
RIP Chris Cornell
Incredibly Talented
Incredibly Young
Incredibly Missed. pic.twitter.com/pKNI4tKiXz

— Jimmy Page (@JimmyPage) May 18, 2017
His voice pulverized all classification, forever otherworldly. My heart goes out to his family. RIP Chris Cornell. https://t.co/Qje25HWmUg

— Will Sasso (@WillSasso) May 18, 2017
I'm so shocked to wake up and hear about the sudden passing of Chris Cornell. A quintessential voice of a generation. Praying for his family

— Carson Daly (@CarsonDaly) May 18, 2017
SO SO stunned to hear about Chris Cornell! Such a terrible and sad loss! Thinking of his family tonight! RIP

— Dave Navarro (@DaveNavarro) May 18, 2017
RIP Chris Cornell. Such a tremendous loss. pic.twitter.com/T166hfNBpC

— Goo Goo Dolls (@googoodolls) May 18, 2017
RIP Chris Cornell condolences to @soundgarden & family. We've lost one of the greats. -MF

— Foster The People (@fosterthepeople) May 18, 2017
Rest easy, Chris Cornell. One of the best. Thank you for years and years of great music.

— Alexander William (@AlexAllTimeLow) May 18, 2017
RIP Chris Cornell. Chris was the most influential singer to me as a writer. I just saw him perform days ago. Completely devastated

— Mark Tremonti (@MarkTremonti) May 18, 2017
Sad 2 hear of Chris Cornell passing..great singer and artist… another blow…RIP

— Billy Idol (@BillyIdol) May 18, 2017
I AM SO SADDENED BY CHRIS CORNELL PASSING. @soundgarden
TOTAL SHOCK.GREAT MAN.GREAT BAND.GREAT LOSS. LOVE TO EVERYONE IN HIS WORLD. XXX

— GAVIN ROSSDALE (@GavinRossdale) May 18, 2017
Rest in peace Chris Cornell. You may be gone but your music will live on.

Lollapalooza 2010 photo by Dave Mead pic.twitter.com/OHTqPehigj

— Lollapalooza (@lollapalooza) May 18, 2017
Very sad news about Chris Cornell today. A sad loss of a great talent to the world, his friends and family. Rest In Peace. pic.twitter.com/BlgxE6cJLH

— Joe Perry (@JoePerry) May 18, 2017
A mutual friend called me and tells me my bro passed away. #RIPChrisCornell You are a great artist Love to Vicki and fam @nilerodgers pic.twitter.com/FhG0fhT0q1

— Nile Rodgers (@nilerodgers) May 18, 2017
Stars We've Lost in 2017:
---
Our sister station, Z-ROCK 107.7, Pays Tribute To Chris Cornell.