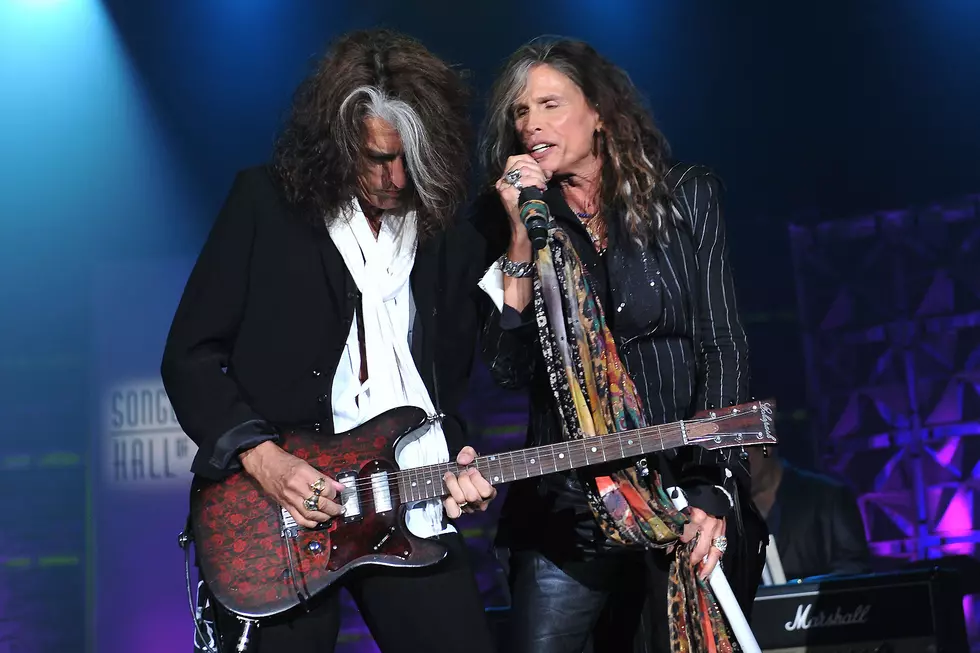 Is Aerosmith Teasing a Farewell Tour?
Larry Busacca, Getty Images
It appears Aerosmith is up to something.
A display featuring the band's logo with the words "Peace Out" has been appearing at U.S. venues, and a countdown clock is currently displayed on the band's website, warning fans that there are roughly five days (at the time of writing) before something presumably happens.
"Peace Out" could indicate that the band is preparing to announce a farewell tour. Earlier this month, guitarist Joe Perry confirmed that Aerosmith will hit the road later this year but didn't reveal much more.
"We are gonna announce the tour, and it's gonna start in September and will go into next year," he said. "And, being one of the guys who votes on this kinda thing, it looks like we're gonna do it."
Aerosmith has contemplated a farewell tour before ... or at least singer Steven Tyler has. "I wanna squash any thought that anybody might have about the band [being] over," he said in 2016. "We're doing a farewell tour, but that's only because it's time." Perry noted in a separate 2016 interview that the band had only talked about the idea of a final tour but had never officially decided on it.
The band canceled its remaining Las Vegas show dates in December while Tyler recovered "on the advice of doctors" from an undisclosed illness. Perry has also said he's unsure whether drummer Joey Kramer, who has taken time off the past several years for health reasons, will be touring with the band.
Aerosmith Albums Ranked
Any worst-to-best ranking of
Aerosmith
must deal with two distinct eras: their sleazy '70s work and the slicker, more successful '80s comeback. But which one was better?