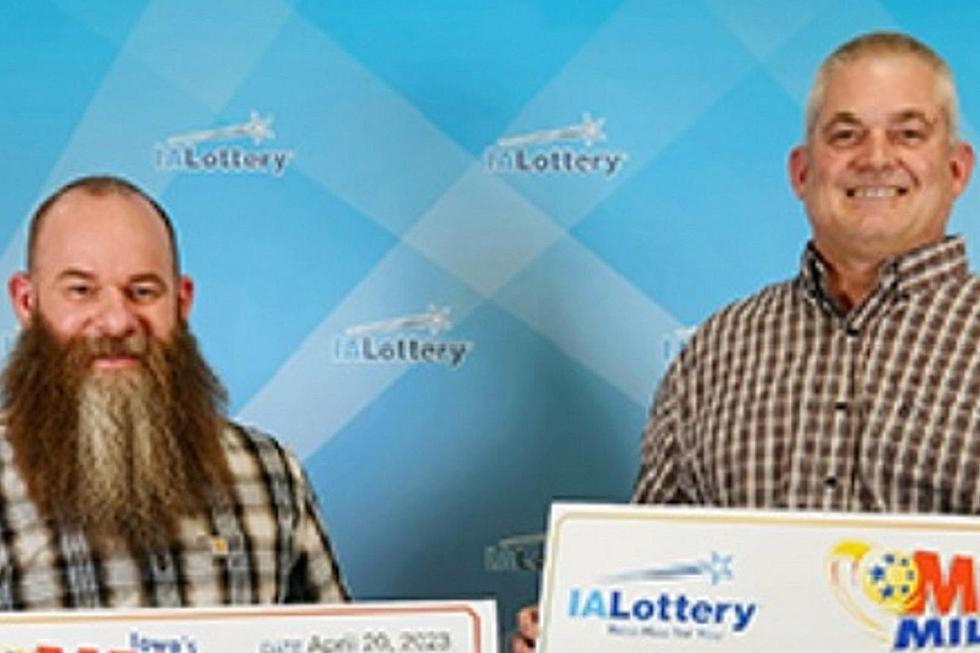 Iowa Man's Refusal to Stop Office Lottery Pool a Winning Decision
Iowa Lottery
Nearly everyone has taken part in a lottery pool at the workplace at one time or another, but most of us haven't had it turn out this well.
Congratulations to a pair of Iowa men whose office pool has shrunk over the years, and this week I expect they're pretty glad about that.
Colton Snyder of Huxley and Randy Ferriss of Nevada have worked together at the U.S. Department of Agriculture in Ames for 26 years. They've been playing the lottery in their office for years. The number of people in the pool would rise and fall, I'm guessing depending on the size of the jackpot.
Over the years, Randy Ferriss told the Iowa Lottery Thursday, "I wanted to stop several times, but Colton wouldn't let us." Snyder is glad to take that piece of credit saying, "Yeah, we had to keep rolling." This week, the two are "rolling" in newfound cash.
Ferriss always buys the lottery tickets but neither he nor Snyder knew they'd won right away. A co-worker told them someone had won $1 million with a ticket sold at a Casey's store in Nevada for Tuesday night's Mega Millions jackpot. Knowing that's where Ferriss bought their tickets, Snyder told Ferriss they needed to check their numbers.
After confirming they believed they were the $1 million winners, Snyder and Ferriss took the ticket to two Casey's stores to make sure. Then they checked it online. You can't be too sure, you know.
Thursday the two friends took their winning ticket to the Iowa Lottery headquarters in Clive. Iowans Randy Ferriss and Colton Snyder... persistent players who are now each half-millionaires.
LOOK: States with the most people earning $1 million or more
Biggest Winners in the History of the Lottery in Iowa
These are the people who have cashed the biggest checks since the Iowa Lottery debuted in the summer of 1985.
25 richest people in America and how they did it