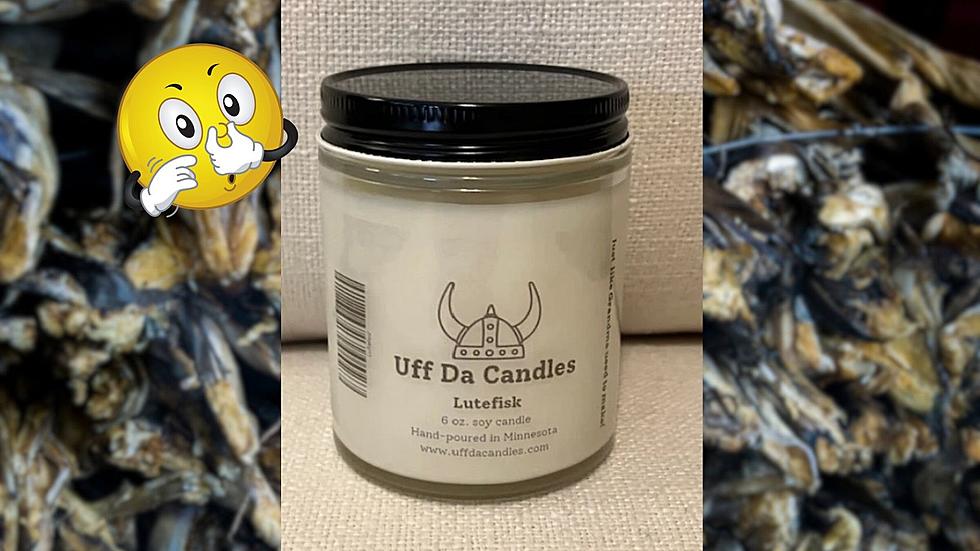 You Betcha! Minnesota Company Offering First Lutefisk-Scented Candle
Uff Da Candles
There are definite signs that fall is approaching. We're seeing less daylight each day and leaves beginning to change their colors. It's times like these when we turn the page on summer and start preparing for the next season.
For me, one thing that instantly makes me think of fall is a candle. That's likely because scents such as pumpkin spice, apple cinnamon, and others that are similar seem so prevalent. My personal favorite is vanilla, which is also the most popular candle scent in America.
Recently, a Minnesota company threw its hat into the ring by creating a first-of-its-kind candle, but I don't think it'll become America's new favorite scent. However, I'm guessing they'll sell plenty of them for the opposite reason.
Uff Da Candles has introduced "The World's First Lutefisk-scented candle!" According to FOX 9, the company was started by Kristin Johnson of New Brighton, Minnesota and it's the first in what she expects to be many future Scandinavian-inspired scented candles the company produces.
So, what exactly does lutefisk smell like? Wrap your nose around this description, provided by Mashed.com:
Most people describe it as a very pungent, fishy smell that can't be easily forgotten. Simply put, lutefisk smells strongly of fish, with notes of sourness and ammonia.
Kristen Johnson had heard of other companies making unusual candles and since lutefisk gave her a sense of nostalgia, she decided to explore that further. She was ultimately able to find a company that could recreate the scent of the traditional Scandinavian dish of cod cured in lye and Uff Da Candles was born.
Of course, Johnson realizes what lutefisk smells like so she hopes people get a kick out of her candles, which she believes would make a perfect gag gift for the upcoming holiday season and beyond.
The 6 oz. soy candle, hand-poured in Minnesota, is currently available to order for $20.
Uff Da Candles plans on making other Scandinavian-scented candles, like Swedish meatballs, bread and butter pickles, and tater tot hotdish in the future. Might I suggest a Tom & Jerry batter-scented candle for winter?
LOOK: 20 American foods that raise eyebrows outside of the US
Stac



ker
compiled a list of 20 unusual and uniquely American foods that might raise eyebrows outside the U.S.
11 Bad Laundry Habits to Break Immediately
Save time, money, and frustration with these simple laundry life hacks.