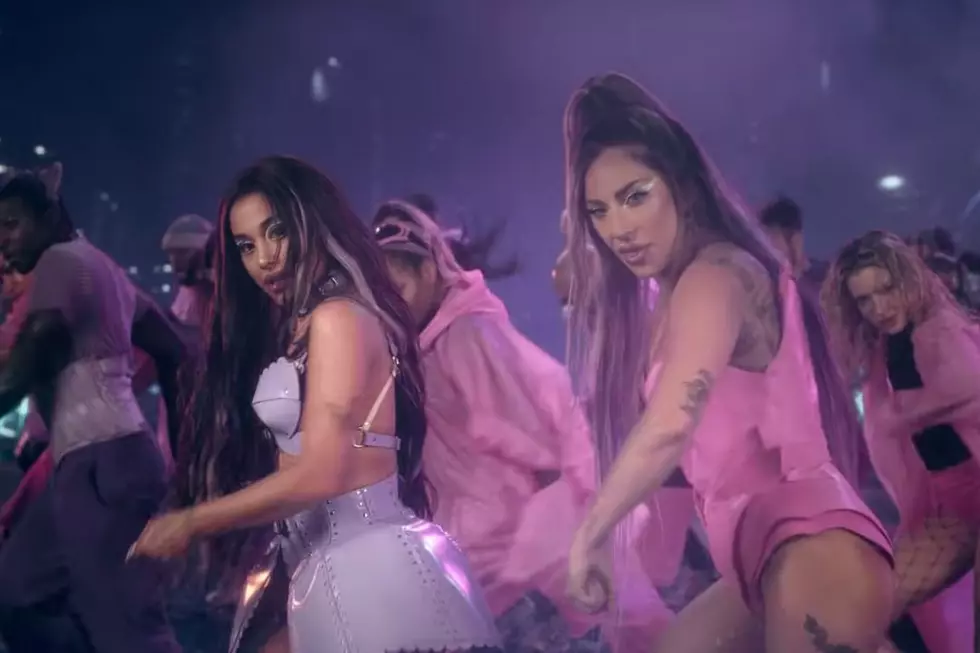 Fans Are Using AI to Make Their Favorite Pop Stars Sing Whatever They Want
YouTube
What if you could hear your favorite pop star sing literally anything you want?
Some fans are making that a reality using AI technology to make it sound like stars such as Ariana Grande and Lady Gaga are singing covers of songs by the likes of Lana Del Rey, Normani and more.
And the results are eerily realistic.
Just listen to Ari sing Normani's 2019 single below:
One edit of Ariana singing SZA's "Kill Bill" even has over 2 million views on Twitter.
In another TikTok, the user makes it sound like Ariana  is singing Olivia Rodrigo's "All I Want" seemingly by using a website called BandLab.
The AI also transcends languages, such as one viral video of Ariana's voice singing Anitta's "Envolver."
Fans have also given Lady Gaga's voice the AI treatment with a cover of Lana Del Rey's "Video Games."
"Why isn't it on Spotify," one person commented.
"I need them to collaborate immediately," another fan wrote.
However, not everyone finds the AI covers so entertaining, such as one person who commented, "I THINK ITS SCARY."
Another person agreed with that sentiment on Twitter.
"These AI singing snippets are genuinely creepy and scary as f--- like I need ya'll to shut this down," they wrote.
On the other hand, some fans have been making requests, including one person who tweeted, "Somebody make an AI of Whitney Houston singing ain't no other man by Christina Aguilera. Now."
"Someone generate Ariana singing a Harry [Styles] song QUICK," another fan wrote.
"I hate AI but can someone please do Beyoncé singing 'Emily' by From First to Last. After that….end this!" someone else added.
Regardless, AI has become a much more prevalent part of our lives.
In one TikTok, a content creator digs into the kinds of websites that allow users to create AI vocals using an array of song options and singers to choose from.
In another TikTok, two men demonstrate how an AI track is made.
Using a web portal, they tell the AI technology what kind of song they want: "a party anthem in the style of Charli XCX/Ava Max."
The website then creates an entire song based on their criteria.
Ava Max hypes their creation in her own video duetting the pair. Watch below:
See more AI-generated covers, below:
Famous Pop Songs That Are Actually Covers