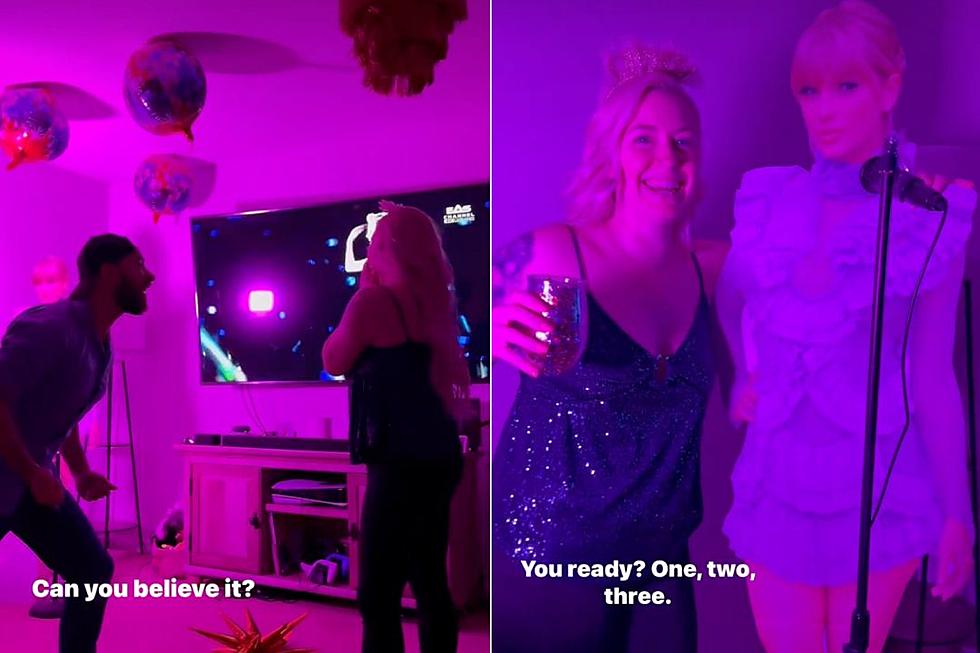 Man's Wife Missed Taylor Swift's Tour so He Brought Concert to Her at Home Instead
@theBlondeBrewer via Facebook
A fan who wasn't able to get tickets to Taylor Swift's tour was given a sweet concert experience when her husband brought the magic of The Eras Tour to their living room.
Maggie Clayton was devastated after she failed to snag tickets to Swift's record-breaking tour. Thankfully, her husband, Jaron, had a backup plan.
"My wife couldn't get Taylor Swift tickets, so I brought the concert to her," Jaron wrote on Facebook, sharing a video of him setting up his and his wife's home to look like The Eras Tour unbeknownst to Maggie.
The viral clip shows Jaron blowing up balloons, hanging streamers and banners, installing a chandelier and fixing a glittery "Eras Tour" sign to the wall as he sets the Swiftian mood.
Once Maggie gets home, Jaron hands her a sequined top and cocktail before leading her to a special meet and greet, complete with cardboard cut-out of Swift, as Swift's music plays in the background.
"This is so cool!" Maggie tells her husband.
"Welcome to The Eras Tour! Front row seats!" Jaron replies, joining her on their makeshift dance floor.
Watch the adorable video, below.
In the comments section on Facebook, Swifties were impressed by Jaron's sweet gesture.
"AND THAT'S HOW IT WORKS…THAT'S HOW YOU GET THE GIRL," one user wrote.
"And that's how you *keep* the girl!!!" someone else countered.
"TAYLOR DIDN'T STUTTER WHEN SHE SAID SHE WROTE THE PLAYBOOK FOR HOW TO GET THE GIRL," another fan commented.
READ MORE: 10 Times Taylor Swift's Tour Was Actually 'The Errors Tour'
"So, as a husband who also has a wife who wasn't able to get tickets, could you share more about this?" one person asked.
"Wait... is this real? I couldn't imagine anyone in my life caring that much about me... I'm not saying people don't care... but this is an extra level of thoughtfulness," someone else shared.
"Consider my standards raised," another viewer wrote.
Celebrities Remember Their Awkward First Kiss