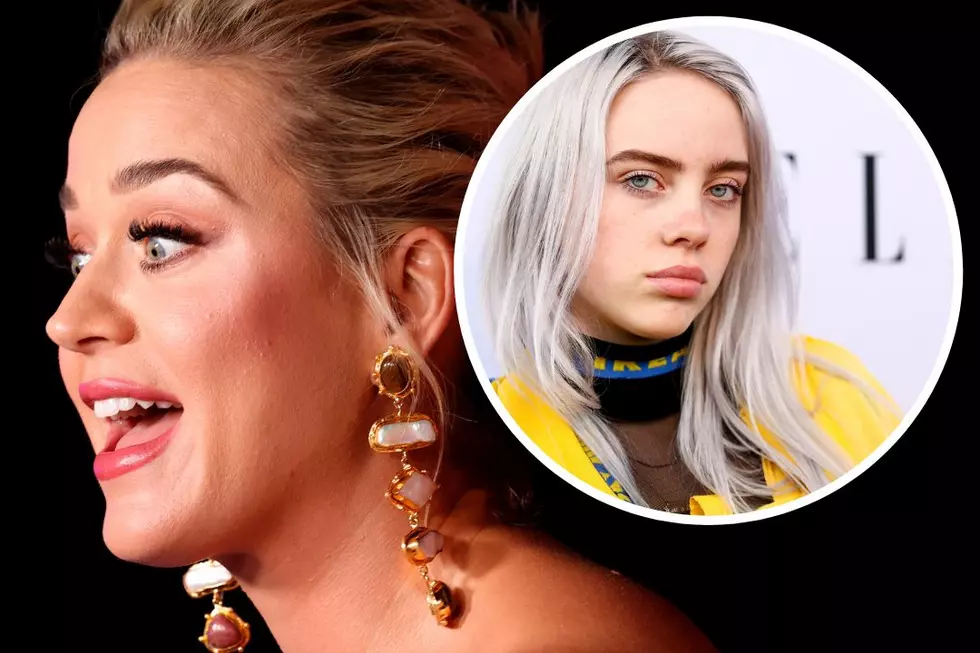 Katy Perry Made 'Huge Mistake' Turning Down Working With Billie Eilish: 'I Was Like Meh, Boring'
Rich Fury / Frazer Harrison, Getty Images
Katy Perry says she regrets turning down the opportunity to work with Billie Eilish at the start of the latter's career.
While speaking at the Los Angeles listening party for up-and-coming artist Cyn, who is signed to Perry's Unsub Records, the American Idol judge revealed she was once offered the chance to work with Eilish before the latter star exploded onto the scene back around 2015 and 2016.
In a video from the event posted by radio station 102.7 KIIS FM, Perry shared how someone she worked with at Unsub Records had sent her an "email one time that was [like], 'Hey, check out this new artist. I'd really like us to work with her...'"
"It was a song called 'Ocean Eyes,' and it was just a blonde girl. And I was like, 'Meh, boring,'" Perry recalled, calling it a "big mistake, huge mistake."
As many pop fans know, Eilish's 2015 debut single "Ocean Eyes" propelled her into superstardom.Today, Eilish is a multi-Grammy-winning musician and one of the biggest pop stars on the planet.
"Don't let this hit the internet," Perry continued, joking.
Although Perry didn't have a hand in working with or signing Eilish at the start of her career, the pair have since become friends.
The 2021 documentary Billie Eilish: The World's a Little Blurry features a sweet scene in which Perry introduces herself to Eilish during Coachella.
"My fiancé who doesn't listen to modern music, he'll only play you in the car all the time," Perry tells Eilish about her now-husband Orlando Bloom.
"Congrats, I'm so proud of you ... I wanted to say, this is going to be wild for 10 years. If you ever wanna talk… because it's a weird ride," Perry adds.
After Perry introduced herself, Eilish's brother and collaborator, Finneas, had to remind Eilish that Bloom played Will Turner in the Pirates of the Caribbean series.
Celebrity Friendships That Imploded