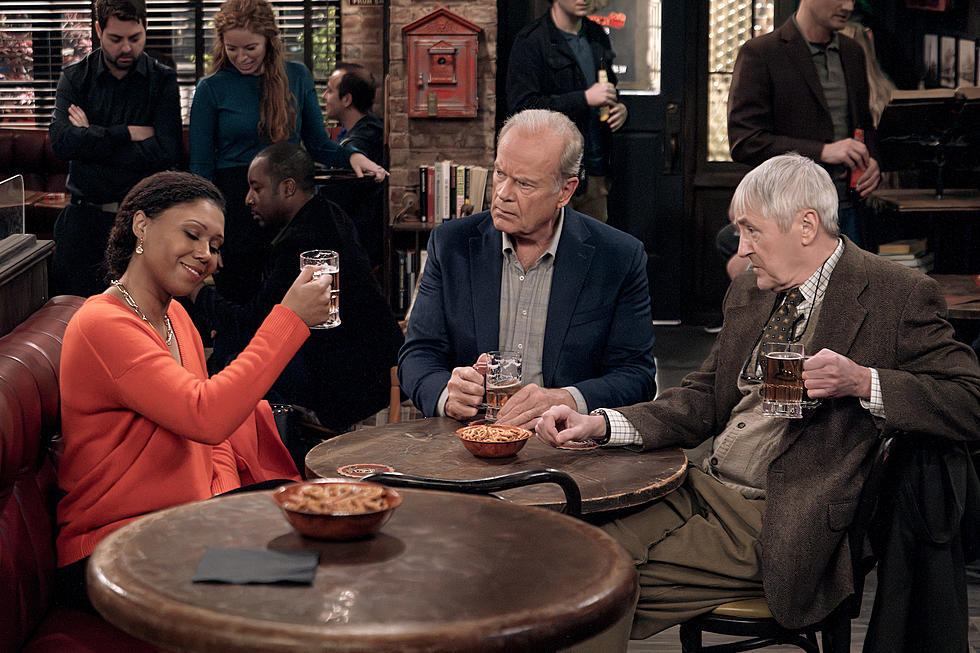 'Frasier' Revival First Look Reveals New Series Premiere Date
Paramount+
Do you hear that? Sounds like the blues a'calling. And tossed salads and scrambled eggs.
(Wait, what do tossed salads and scrambled eggs sound like? Man, that was a weird theme song.)
Weird theme song or not, Frasier has officially returned. The long-running and award-winning sitcom — itself spun off from the long-running and award-winning Cheers — has been revived by Paramount+ for a new series starring original star Kelsey Grammer. Joining Grammer on the new show are Jack Cutmore-Scott as Frasier's now grownup son Freddy; Nicholas Lyndhurst as "Frasier's old college buddy turned university professor Alan," Toks Olagundoye as Olivia, "Alan's colleague and head of the university's psychology department," Jess Salgueiro as Freddy's roommate Eve; and Anders Keith as Frasier's nephew David. (That would be the son of Frasier's brother Niles, who was played by David Hyde Pierce on the original Frasier.)
The first teaser for the new show is here:
READ MORE: Somehow, ALF Has Been Revived For New Segments
The original Frasier aired from 1993 to 2004 on NBC, winning a gazillion Emmys and remaining one of the top-rated sitcoms on television through much of its run. There's no actual footage from the show in there, so here are a few more official stills from the revival to check out:
Here is the new series' official synopsis:
Filmed in front of a live studio audience at Paramount Studios in Los Angeles, the new series follows Frasier Crane (Grammer) in the next chapter of his life as he returns to Boston with new challenges to face, new relationships to forge and an old dream or two to finally fulfill. Frasier has re-entered the building!
Frasier will premiere on Paramount+ on Thursday, October 12. The first two episodes debut on that date, with new episodes following weekly on Thursdays (in the U.S. and Canada).
Sign up for a Paramount+ trial here.
10 TV Revivals That Were So Bad They Ruined Their Original Shows