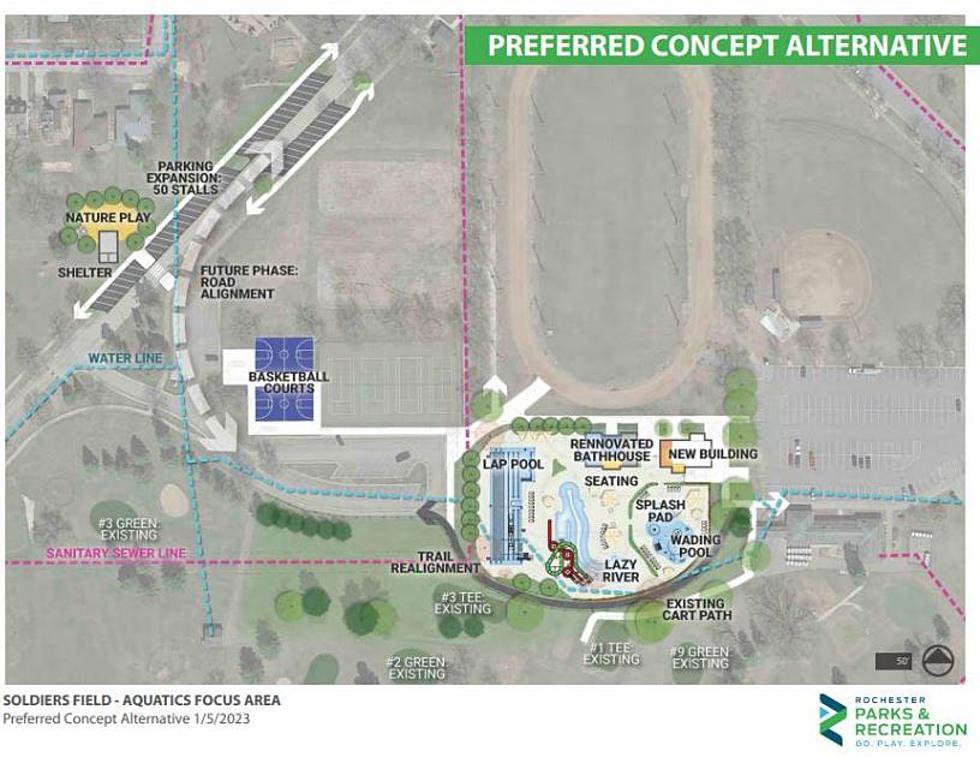 Rochester City Council Asked to Seek Bids For Soldiers Field
City of Rochester
Rochester, MN (KROC-AM News) - The Rochester City Council could be asked to vote Monday on a resolution authorizing staff to begin accepting bids for portions of the Soldiers Memorial Field Park Project.
City staff will be presenting the elected officials with an updated concept plan for a new aquatics center that would replace the existing Soldiers Field swimming pool. It incorporates a variety of amenities, including a "lazy river," waterslides, and splash pads, along with a traditional lap pool and training pool.
The plan also calls for renovating the existing pool house rather than new construction, although some questions concerning that component remain unresolved. There have also been some questions raised about the inclusion of a new walking and biking trail along the west edge of the Soldiers Field Golf Course. At least two members of the City Council have expressed reservations about that portion of the plan.
It's hoped that authorizing advertisements for bids now will allow for portions of the project to begin this summer and have the new aquatics center ready for use by next summer. City staff has described the schedule for the project as "rather tight," with the lead time for ordering some of the equipment needed for the project extending out as long as 50 weeks.
The project also still needs to be approved by the State Historic Preservation Office. City staff says a delay in the agency's permitting process could force the opening of the aquatics center to be delayed until 2025.
Places in Minnesota with Free Stuff for you on your Birthday
It's your BIG day and although you may not always want to celebrate adding another number to your age, there are several places in Rochester and throughout Minnesota that do want to celebrate your big day. Check out the list and start making a plan to visit all of these on your next birthday.