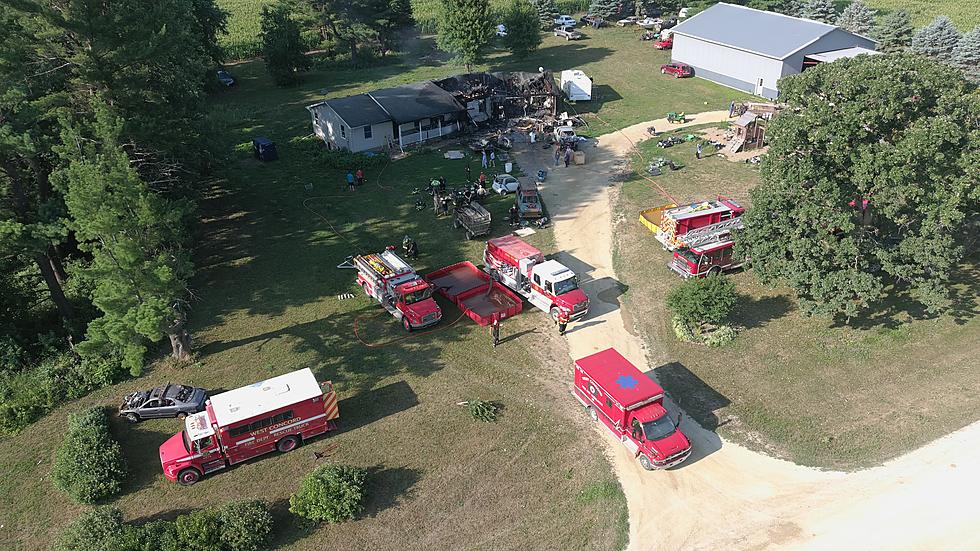 Two Dogs Killed in Dodge County Fire That Severely Damaged Home
DCSO Drone Team
West Concord, MN (KROC-AM News)- A  fire in rural Dodge County claimed the lives of two dogs and severely damaged a home Friday morning. 
A news release issued by the Dodge County Sheriff's Office Friday says dispatch received a 911 call from the West Concord home's resident reporting her garage had started on fire and that black smoke was seen billowing from the structure shortly after 6:50 a.m. The first firefighting crew to arrive at the property along 540th St. Northeast reported the structure was fully engulfed in flames shortly after 7 a.m.  
Firefighters battled the flames for roughly two hours before extinguishing the fire. The nine people living at the home escaped the burning structure, several by climbing through an egress window in the basement. 
Three dogs were initially reported to be unaccounted for. Two of them did not survive. 
None of the nine people living at the home or first responders were injured. The Dodge County Sheriff's Office deployed its drone to search for remaining hotspots, map the incident and begin the damage assessment. 
The Minnesota State Fire Marshal's Office also responded to the home. The cause of the fire and a damage assessment are not available as of Saturday morning. 
The Dodge County Sheriff Chaplin and American Red Cross are assisting the family. The West Concord Fire Department, Dodge Center Fire Department and Kenyon Fire Department fought the fire.
34 Stunning Photos Of Magical Night Of Northern Lights In Minnesota + Wisonsin
May 19, 2023 was a night I'll always remember. The Northern Lights put on quite a show for a brief period of time. They were so bright you could even see them in town with the bright city lights. Here are some fantastic images submitted by B105 listeners.