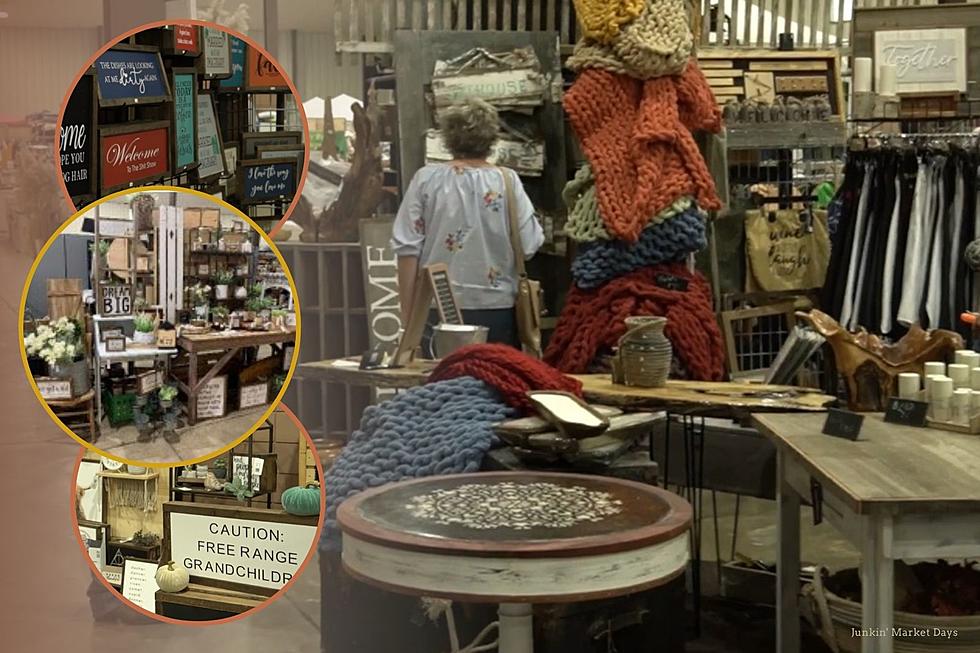 Love Vintage? Check Out the Amazing Event Happening in Rochester
Credit: Junkin Market Days
Farmhouse, Magnolia Market, Shabby Chic, Vintage...if those words make you happy inside, you'll love these 2 bits of crafty news happening in Southeast Minnesota!  One involves a huge sale happening in Rochester, Minnesota and the other is about a store full of gorgeous decor reopening in a brand new building.
Junkin' Market Days Coming to Rochester, Minnesota March 18th and 19th!
I may need to find a second job because I just heard that Junkin' Market Days is filling up the Graham Arena this weekend.  It will be full of vendors that are bringing repurposed, vintage, and rustic items that I know would look amazing at my house by my barn doors.  If you are loving that farmhouse and shabby chic look too, I've got all the details below about the event.
WHAT: Junkin' Market Days -  two-day indoor market FILLED with unique products from vendors in a six-state area. The event features over 150 booths of Repurposed, Rustic, Shabby Chic, Farmhouse, Vintage and One-Of-A-Kind finds.
WHERE: Graham Arena Complex, 1570 Fairgrounds Ave. SE, Rochester
WHEN: Friday, March 18, 2022, 4:00 p.m. – 8:00 p.m. and Saturday, March 19, 2022, 9:00 a.m. – 4:00 p.m.
ADMISSION:$5 per person.  Tickets can be purchased here or at the door.
Learn more at their website, JunkinMarketDays.com.
Check out the brand new store that Real Deals is building in Rochester, Minnesota!
Hey Rochester, Minnesota, are you ready for some good news?  The super cute Real Deals store in town that was located near downtown just closed the doors at 525 6th Ave. NW because they are getting ready to open at their new location by Costco!
If you love shopping at TJ Maxx, Marshall's, Hobby Lobby, creating signs at Board & Brush, you will LOVE this place.  It features home decor items, clothing, and seasonal items too!  Check out the videos and a few photos of the new place and see when they are planning to have their grand re-opening here.
New Real Deals Store Getting Closer to Opening in Rochester
Buy Tickets Now to Sample 100 Different Wines at Rochester UnCorked
Remember when the North Target in Rochester, Minnesota was where Hobby Lobby is now?
Rochester is known for two things - Mayo Clinic and having lots of construction.  Ok, we probably have a few more fun facts about our town but the fact is, our town has changed a lot through the years.  We've got bars that are now providing funeral services and schools that have disappeared from our map and roads that have completely changed.
Wow! Check out how Rochester has changed throughout the years in these Google photos.
As we are soaring down Hwy 52, it is hard to imagine what life was like in our town before the Target store was built where it is today. Or the house that you live in now, at one point in town, that wasn't there. In fact, Rochester has grown so fast throughout the years, most of our houses weren't even around 50 years ago! Don't believe me? Look through these photos to get a glimpse of what Rochester was like years ago.