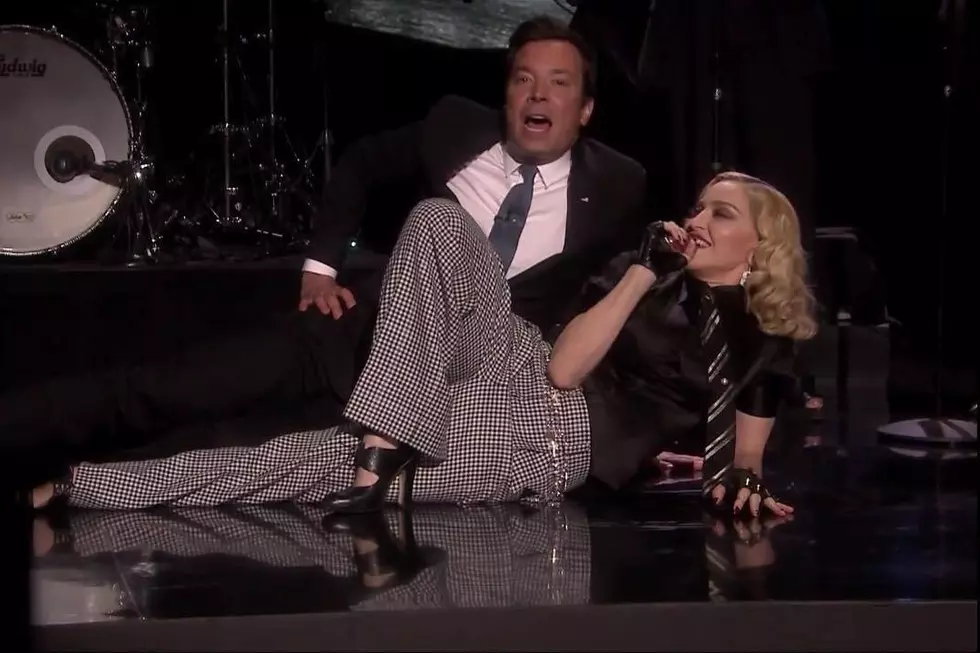 Madonna Finally Got Pushed Over the 'Borderline', Thanks to Jimmy Fallon
NBC
Look: Madonna's been going on about pushing her love over the borderline for well over thirty years now. It's about damn time someone went and pushed her already.
Inexplicably, but not undesirably, the Queen of Pop showed up during President Barack Obama's first-ever appearance on The Tonight Show Starring Jimmy Fallon this evening (June 9) to perform a song. Rumors ran rampant this week about what she might be singing, but none of them accurately predicted this one: a rendition of her 1984 classic, "Borderline."
No interview, no rhyme or reason or #RebelHeartPromo — just crooning a fan favorite in front of super-fan Jimmy and company. (No doubt, she probably just wanted an excuse to rub elbows with POTUS backstage and offer him a complimentary Hard Candy Fitness membership once he's done with the whole President thing.)
The "Borderline" performance was a solid and straightforward affair, as M passionately crooned her tune and slowly spun around the stage. It wasn't until the very end, as Jimmy started to walk over to greet the icon, that she pulled a M-Dolla stunt, dropping to the floor with a devilish grin.
"Push me over the borderline. Push me!" she demanded of the late night host. And so, he did! Or, well...she pushed herself, rolling almost entirely off the stage. She does love a good push...
Never a dull moment when it comes to Madge. All hail!
Madonna Brings the 'Rebel Heart Tour' to Madison Square Garden