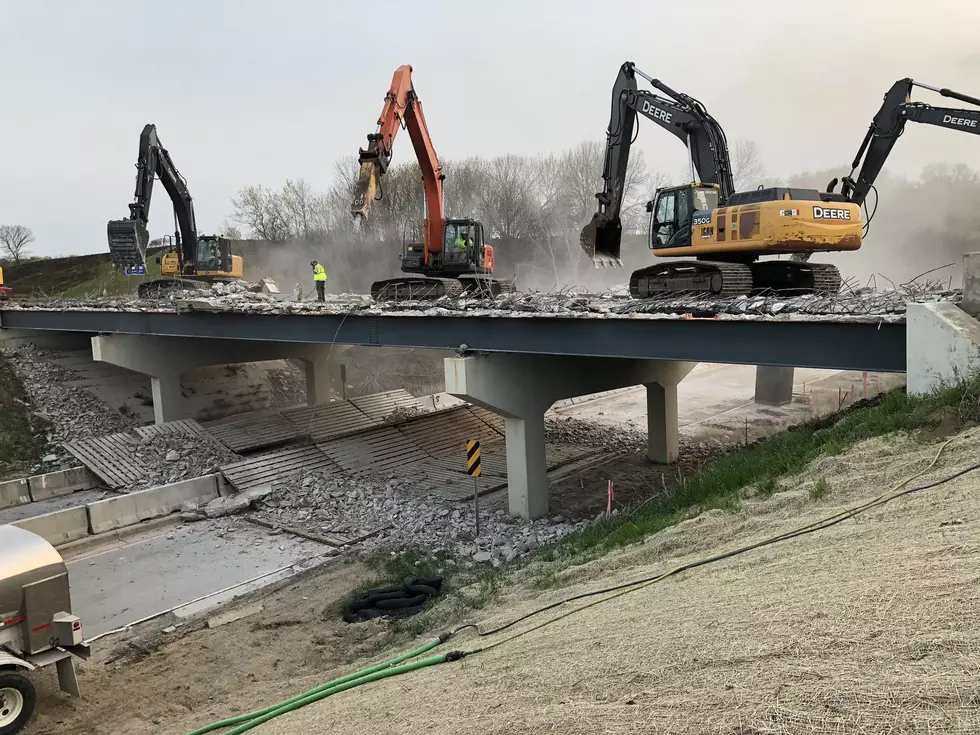 MnDOT Crews Demolished a Highway-52 Bridge in Minnesota [watch]
Minnesota Department of Transportation/Twitter
Even though it's only early May, we're already in the middle of road construction season here in Minnesota and crews just demolished a busy bridge on Highway-52 north of Rochester.
Well, in the interest of clarity and transparency, the bridge wasn't actually busy when these crews started taking it down, but it WAS busy. At least, it used to be busy, that is. It's a bridge you've probably traveled over many times on your way back to southeast Minnesota, especially if you spent any time in the Twin Cities.
The bridge I'm talking about is the southbound Highway-52 bridge over Highway-60, just south of Zumbrota. As the Minnesota Department of Transportation posted on their Twitter page, crews worked Tuesday night to dismantle the bridge deck and eventually remove the massive steel girders that once held the bridge up over eastbound Highway-60.
It's all part of a massive project MnDOT started last year (when they removed the old northbound bridge) that will re-do major sections of Highway-52 between Zumbrota and Cannon Falls, as well as build a new overpass at the intersection of Highway-57 near Hader.
You've probably noticed those work zones if you've headed up to the Twin Cities within the past few weeks. The project to replace the southbound Highway-52 bridge over Highway-60 has reduced traffic on Highway-52 to a single lane in each direction beginning one-half mile north and south of Highway 60 east interchange. It started on Monday (May 9th) and is expected to take roughly four months to complete.
https://twitter.com/mndotsoutheast/status/1524212962533195781
https://twitter.com/mndotsoutheast/status/1524213195749183488
Listen to Curt St. John in the Morning

Weekdays from 6 to 10 a.m. on Quick Country 96.5
Rochester's Most Annoying Intersections
We travel on them nearly every day, and they cause a lot of stress... because these are the Most Annoying Intersections in Rochester!