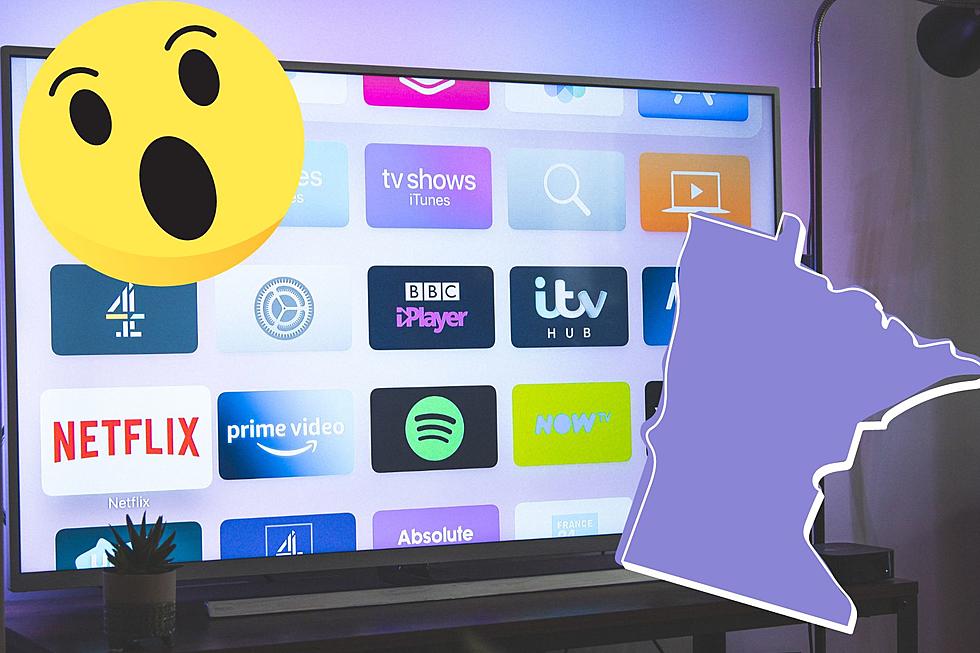 Really? Can You Believe This is Minnesota's Favorite Streaming Show?
Original photo by Nicolas J Leclercq on Unsplash
Did you know that more than 20% of American households currently pay for two or more streaming subscriptions?
I mean it makes sense because there is honestly so much content for us to stream, but then it's stretched and jumbled between so many different platforms.
With all this algorithmized content to watch and love, we wonder, what are the most popular shows? Or better yet, what are the most popular shows in each state?
That is where All About Cookies is here to help. The Online Privacy and Digital Security informational website recently did a study that collected data on the top 10 shows on six different major streaming platforms in the U.S. in 2022.
Noted by allaboutcookies.org, Data was collected from Google Trends in January 2023, with search parameters set to cover "The United States" for the time frame covering the "Full Year-2022." Ties within a state were broken by comparing tied shows directly in Google Trends with the specific state chosen as the geography.
Before we get into Minnesota's favorite show, here are some other things All About Cookies found out:
Streaming Services With the Most Top Shows:
#1: HBO Max
HBO shows were most popular in 15 states
#2: Hulu
Hulu shows were most popular in 10 states
#3: Netflix
Netflix shows were most popular in 8 states
#4 Amazon Prime
Amazon Prime shows were most popular in 8 states
#5: Disney+
Disney+ shows were most popular in 6 states
#6: Apple TV+
Apple TV+ shows were most popular in 4 states
You know I'm actually not surprised that HBO Max reigns on top. I feel like Netflix has been digging itself a big hole lately, and Hulu has more hit shows that aren't produced by them so it makes sense. Plus with HBO Max Having G.O.T and Euphoria, it just makes sense
Most Popular Streaming Shows Overall:
#1: Euphoria (HBO)
Euphoria was the most popular show in 7 states
#2: Game of Thrones (HBO)
G.O.T was the most popular show in 6 states
#3: Candy (Hulu)
Candy was the most popular show in 4 states
Also, All About Cookies shows that based on a survey taken by 1,500 U.S. Adults, "Nearly two-thirds of people, 64%, said that they have previously subscribed to a streaming service specifically to watch a single show or movie. Of that group, only 17% of people said they actually canceled that subscription afterward."
Okay, can you guess what Minnesota's Favorite Streaming Service show is?
It is…. The Peripheral from Amazon Prime
I was kind of shocked by this, but hey it seems like a good show.
The Peripheral plot is set in "the future when technology has subtly altered society, a woman discovers a secret connection to an alternate reality as well as a dark future of her own."
And Despite it only premiering on Amazon Prime this past October, it has a 77% on Rotten Tomatoes, a 7.6/10 on IMDb, and was just renewed for a second season. And you know a streaming show is good when it breaks the first-season barrier!
Here are Other Midwest States and Their Favorite Streaming Show:
Iowa: Tom Clancy's Jack Ryan (Amazon Prime)
Illinois: Game of Thrones (HBO MAX)
North Dakota: Pam & Tommy (Hulu)
South Dakota: Candy (Hulu)
Wisconsin: Dahmer – Monster: The Jeffrey Dahmer Story (Netflix) (Also not surprised)
So, with that, do you agree? Are you interested in watching any of these shows now?
All information is credited to allaboutcookies.org.
13 Minnesota Urban Legends That People Still Believe