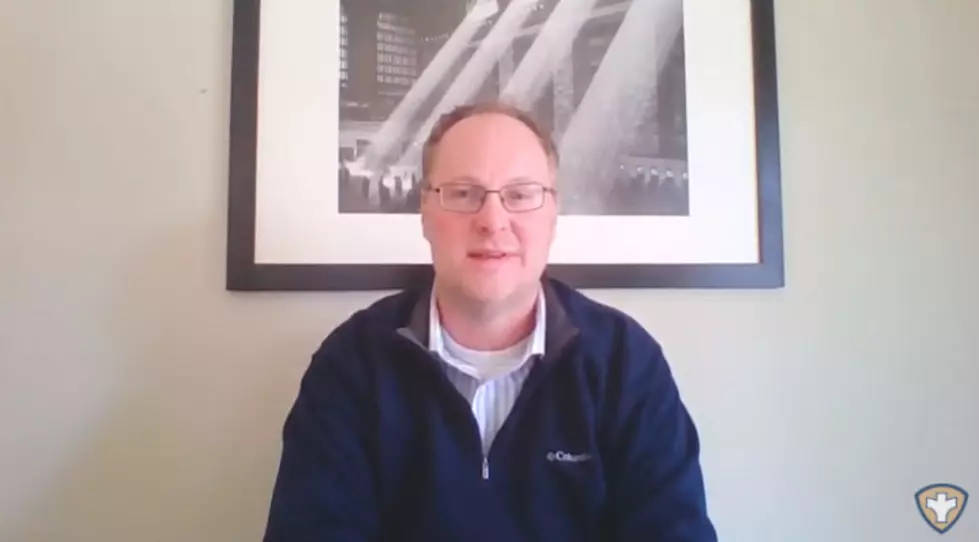 Rochester Area Pandemic Response is Winding Down
Graham Briggs, OCPH Director
Rochester, MN (KROC-AM News) - Olmsted County Public Health has begun demobilizing its pandemic emergency response.
County Public Health Director Graham Briggs made the announcement Tuesday as he delivered what he said was likely his last regular COVID-19 response update to the Olmsted County Board. Sounding upbeat, Briggs stated that we "are moving to the end of this event here." While he noted there is still work ahead and the virus is still infecting local residents, he indicated the high percentage of Olmsted County residents who have been vaccinated has created a situation where "we are seeing this pandemic end locally."
(Watch the update below - Briggs starts speaking at about 1 hour 51 minutes) 
The most recent information from the Minnesota Department of Health shows just over 91,000 Olmsted County residents have received at least one dose of COVID-19 vaccine. That represents just over 76 percent of County residents 16 years and older and about 60 percent of the county's overall population. Over 83,500 Olmsted County residents are now fully vaccinated.
Starting Wednesday, Olmsted County Public Health will be offering COVID-19 vaccination shots to 12 to 15-year-old children for the first time. Briggs noted that other providers in the Rochester area are also offering the Pfizer shots to that age group, which means approximately 8000 additional County residents are now eligible to be vaccinated.
The weekly COVID-19 activity update from Olmsted County Public health shows the number of cases decreased to 83 last week, marking the first time that number has been below 100 since early September last year. The average number of new cases reported daily dropped from 16 to 12 last week.
Briggs says there are currently no Olmsted County residents being treated for COVID-19 in intensive care and the number of local people hospitalized due to the viral illness is down to six. The current R-Value, which measures how quickly the virus is spreading, has dropped to .84. That means, on average, each infected person is infecting fewer than one other person and suggests the virus is in retreat.
The Olmsted County Board plans to recognize the performance and dedication of the County Public Health Department and other County staff involved in the pandemic response this summer. The county's partners in the effort will also be recognized during the event, which has been scheduled for July 6th at Graham Park.
News Update:  Groundbreaking At Popular Olmsted County Park
LOOK: Answers to 30 common COVID-19 vaccine questions
While much is still unknown about the coronavirus and the future, what is known is that the currently available vaccines have gone through all three trial phases and are
safe and effective
. It will be necessary for as many Americans as possible to be vaccinated in order to finally return to some level of pre-pandemic normalcy, and hopefully these 30 answers provided here will help readers get vaccinated as soon they are able.