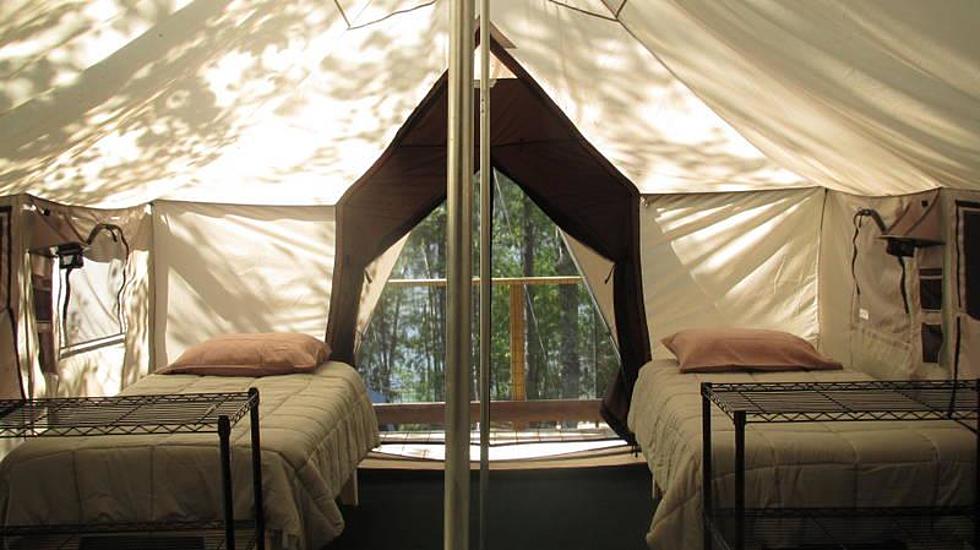 Stay In A Glorified Tent On A Beautiful, Secluded Tiny Island In Minnesota
Riverside Resort and Island Campsites
Minnesota is the perfect place to pitch a tent. With numerous wilderness areas throughout the state, one's options are pretty endless. 
However, camping does require some skills and, truthfully, some uncomfortableness. (I can easily say sleeping on an air mattress has never eased my back pain.)
So, why not have the best of both worlds?
Get away from the hustle of daily life, and enjoy this peaceful glampground on Minnesota's White Iron Lake. 
Riverside Island Campsites, located on a tiny 10-acre island on White Iron Lake in Ely, is perfect for a private weekend away. The island has two campsites, so you're guaranteed a peaceful stay. 
The large 12x20 elevated sleeping tents are actually rather spacious.
Plus, the beds are definitely a step-up from an air mattress. Both tents have a king-size bed that, according to the website, can be converted into two twins.
Outside your personal sleeping tent, visitors will find a cooking tent and a private outhouse and sauna.
The gorgeous sunsets and excellent fishing are perhaps the best part of staying at these glorified campsites.
This is what a guest had to say about their experience on the lake:
"Fantastic glam-camping experience. Our kids were first time campers and now they are fully initiated and spoiled by this experience. When we arrived, our two-year old was tickled to find her own comfy toddler bed and our 5 year old thought the tent was her personal playhouse! Megan and Ryan thought of everything and the creature comforts were very much appreciated. Highlights of our trip were: Enormous tent, marshmallow roasters, eagle sightings, raspberries for the pickin' (in August), king size bed and plenty of blankets (that we didn't have to haul!), fancy outhouse, and midnight sauna that yields warm water the next morning. We loved it and will be back."
If this area sounds like a dream, make sure to make a reservation before they're booked out!
Rent this Adorable, Vintage 1984 Volkswagen Camper Van in Minnesota
There's a website called Outdoorsy where you can rent other people's campers. I particularly love vans-turned-campers and found an amazing, vintage Volkswagen camper van that you can rent from Minneapolis, Minnesota. But don't worry, you don't have to stay in Minneapolis, you can drive the camper van up to 140 miles per day for free with the cost to rent per night.