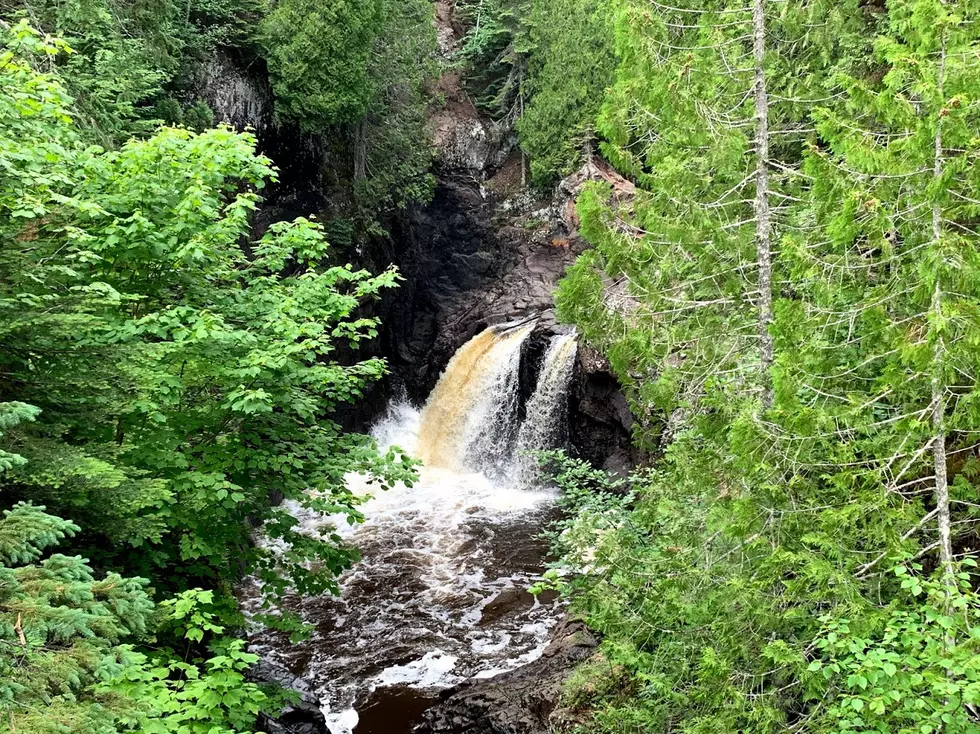 Summer 2022: Your Guide To The Ultimate Minnesota Waterfall Road Trip!
Cascade River State Park in Lutsen, MN. (CSJ/TSM-Rochester)
The kids are barely out of school for the year, and your already looking for ways to keep your kids entertained. Why not take a family road trip to check out what some have called the 'ultimate waterfall' road trip up in Northern Minnesota.
Not many would think of waterfalls when they think of Minnesota, let alone Northern Minnesota, but there are plenty of waterfalls along the arrowhead region of the state, and what's great is that many of them are in places where everyone can enjoy their majestic beauty. Here are 7 state parks you drive to and thru to check out the 'ultimate' Minnesota waterfall road trip!
Grand Portage State Park
You can either start at Grand Portage or end there, as it's home to Minnesota's tallest waterfall! The MnDNR page for Grand Portage says it best! "Take in the majesty and scenic wonder of Minnesota's tallest waterfall! Three viewing decks at High Falls provide park visitors with various vantage points for photography or quiet contemplation." Just know that Grand Portage right now has got ALOT of water flowing over the falls, you will get wet, and rainjackets are recommended.
Judge C.R. Magney State Park 
Judge C.R. Magney State Park boasts waterfalls, and it falls along the Superior Hiking Trail. You might have already been to the 'Judge' before as it is home to Devil's Kettle, where the Brule River splits in two, and on one side it's the traditional waterfall, while the other side plunges into a hole, and doesn't seem to meet back up with the Brule. Visitors should note that this spring, with all the rain, portions of the park are still closed due to high water and washouts, along with some construction going on. This would be one of those stops you'd want to call ahead and see what's open and what isn't.
Cascade River State Park
This is one of the most convenient state parks to run across as you can check out a TON of attractions in an hour. The MnDNR recommends if you've only got a little bit of time to simply "Discover the Cascades, a series of five small waterfalls, and the Cascade Falls on a half-mile hike on the Cascade River Lower Loop." This park also is dealing with high water, but so far none of the trails are closed, and you can still get around, but with all of that water, the water is really flowing over the falls. You might want to dress appropriately, as you might be getting wet.
Temperance River State Park
Located in Silver Bay, off Highway 61, you can take in a milder flowing waterfall along the Temperance River, skip rocks in the gorge, or simply relax along the beach. The waterfall at Temperance isn't as spectacular as some of the other parks but it's worth a stop for all of the views available to those who want to get out and enjoy Minnesota during summer. You'll find a nice view of the waterfall in the Upper Gorge portion of the park. Currently, there aren't any high water warnings in the park but call ahead to check.
George H. Crosby Manitou State Park 
George Crosby offers another grouping of cascades to check out for fans of waterfalls. The MnDNR page lists them as something to "enjoy...after a gorgeous hike through a rugged landscape." No posted high water issues at this State Park, and it offers up chances to trout fish for those looking at giving that a try.
Tettegouche State Park
Perhaps one of the most known of the listing of State Parks featuring waterfalls along the North Shore/Arrowhead region, Tettegouche offers fans of waterfalls some really breathtaking sights. The Baptism River flows through Tettegouche and offers those willing the walk a chance to view "the Cascades Waterfall" surrounded by stately pine trees. Unfortunately due to all the rain, the DNR website states that "the High Falls bridge is CLOSED due to flood damage." Hopefully, they can get the bridge back open later this summer.
Gooseberry Falls State Park
The furthest South, therefore closest to us, State Park is Gooseberry Falls. It's wildly popular, and often a stop either coming from or to the Split Rock Light House. Not only does the park offer camping and hiking, but it also has an electric vehicle charging station and fat bike trails for use.
Go in any order you want, but this might be one of those trips that you take once or every year with your family or friends as waterfalls are always different every time you see them.
The Ultimate 2022 Summer-Fun Guide For Southeast Minnesota
You and the family are sure to be searching for plenty of fun events that will get you outside and enjoying the Minnesota summer sun!
Below you will find The Ultimate 2022 Summer-Fun Guide for Southeast Minnesota! All of the biggest events that our area has to offer. If we missed one, let us know on
our app today!