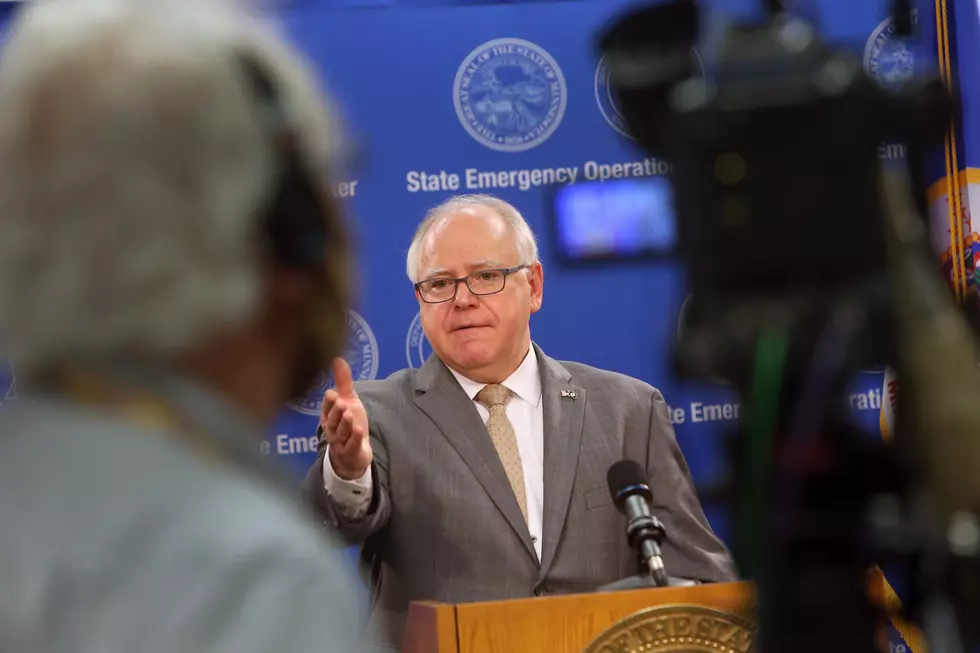 The Latest on What Minnesota Gov. Walz Will Announce Wednesday
Getty Images/Scott Olson
Enter your number to get our free mobile app
We'd heard since late Monday that Minnesota Gov. Walz was set to announce a 'loosening' of COVID restrictions Wednesday, and now we have a better idea of just what he's going to say.
All throughout the pandemic, when it comes to the various executive orders Minnesota Governor Tim Walz has announced, someone has always found a way to get the information BEFORE the announcement. And the latest announcement, set for 2 pm today (Wednesday, January 6) is much the same.
1. Restaurants re-open at 50% capacity, not to exceed 150 people.
2. 6 people maximum per table / 6 ft apart.
3. Bar seating open to parties of 2.
4. Gyms 25 percent 9-foot distancing - classes of not more than 25 people
5. Pools open at 25% capacity.
Olson went on to say in other Twitter posts, that other loosening of restrictions concerning outdoor events will also be included in the announcement, as will additional guidance for churches and other religious institutions. He also provided some insight that the mandatory mask requirement, in place since last summer in Minnesota, will remain.
BringMeTheNews is also reporting similar information regarding just what will be included in the Governor's official announcement later today. (Which, I've gotta say, always makes me wonder WHY the Governor just doesn't come out and release all these guidelines right away, instead of allowing various leaks to come out with the information before his official announcement, am I right?)
Now, even though these inside tips are usually fairly accurate, it's still just speculation at this point. We'll have to listen to the Governor (which you can do HERE on our mobile app) for ALL the official details, of course.
And, of course, we know the ongoing pandemic has not been kind to MANY small businesses all across the country and here in our own backyard. Keep scrolling to check out just some of the businesses that, sadly, closed their doors in Rochester last year.
KEEP READING: Rochester Businesses That Have Closed in 2020