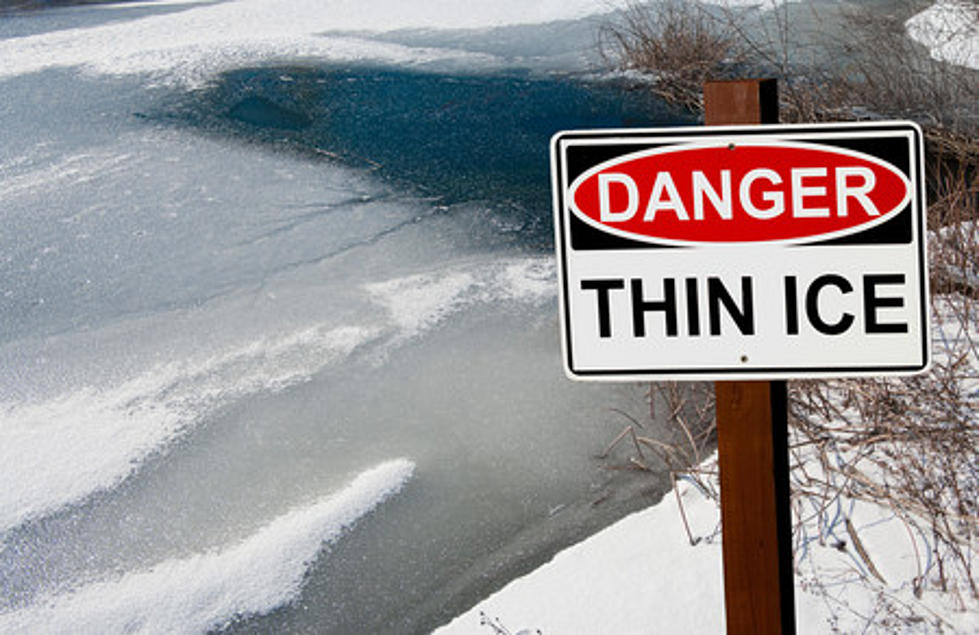 Why the DNR Just Sent an Obvious Warning About Thin Ice in Minnesota
ThinkStock
Given how mild it's been so far this fall in Minnesota, you wouldn't think the DNR would have to send a warning about thin ice, right?
Wrong.
Kind of like when you see a sign warning you about anything that seems obvious, that warning is likely there because someone, somewhere didn't heed it. Such is the case with a special warning the Department of Natural Resources (DNR) issued last week regarding the ice on many of Minnesota's 10,000 Lakes right now.
Specifically, that the ice is VERY THIN right now in most areas of the North Star State, and that you should use extreme caution before heading out to do some ice fishing. But, of course, as we know, that warning likely wasn't heeded by everyone.
In fact, BringMeTheNews reports that the latest weekly DNR conservation officer report is 'littered with warnings about thin or questionable ice, with CO Nicholas Prachar noting they've heard "numerous" reports of people falling through ice on lakes in the Blackduck area,' the story notes.
In its warning, the DNR points out that while inland lakes in some areas of northern Minnesota (near Lake Superior and the North Shore, for example) are already showing between 4 to 7 inches of ice, that's not the case all over the state.
Where there is ice, its thickness this time of year is highly variable and subject to the whims of Mother Nature. And where ice hasn't formed – or where it freezes at night and opens during the day – the water temperature is so low that an unexpected fall in can be deadly.
The DNR also said a minimum of 4 inches is needed before you can safely walk on the ice, with much thicker ice required before it's safe to drive a vehicle on it. (You can check the DNR's ice thickness chart HERE.) It also listed several suggestions about what to do if you are heading out ice fishing this time of year:
Always wear a life jacket or float coat on the ice (except when in a vehicle).
Carry ice picks, rope, an ice chisel, and tape measure.
Check ice thickness at regular intervals; conditions can change quickly.
Bring a cell phone or personal locator beacon.
Don't go out alone; let someone know about trip plans and expected return time.
Before heading out, inquire about conditions and known hazards with local experts.
And speaking of lakes, while Olmsted County is one of only four in Minnesota without any naturally-occurring lakes, keep scrolling to check out 11 other 'lakes' that are here in our backyard in Rochester.
Listen to Curt St. John in the Morning
weekdays from 6 to 10 a.m. on Quick Country 96.5
11 "Lakes" in and around Rochester, Minnesota
When you think of Rochester, what comes to your mind first? Yeah, not lakes. But we actually have 11 lakes or reservoirs in town including Lake Maroo. Yep, it is a real thing.