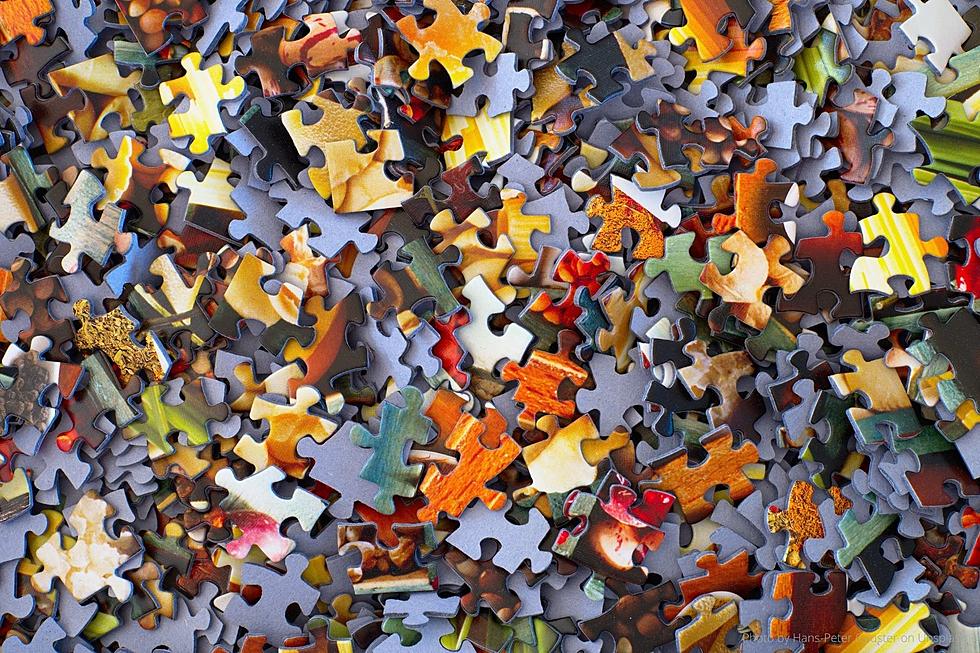 Never in a million years did I think I'd be walking by the World's Largest Jigsaw Puzzle this weekend.  But, as luck would have it, our last-minute "last day of summer vacation" to Jordan, Minnesota, made this unknown bucket list item a reality.
Here's where you can see the World's Largest Jigsaw Puzzle in Minnesota
In case you didn't know, less than 2 hours from Rochester is a very yellow building that is Minnesota's Largest Candy Store at 20430 Johnson Memorial Dr in Jordan.  Until the pandemic, I had no idea that this place existed but it is now one of my kids' favorite places to go and I'll just warn you...it is MASSIVE!  There is SOOOO much candy inside.  I even found some of my favorites from when I was a kid that I completely forgot even existed.
What I wasn't expecting though on this last-minute end-of-summer vacation trip was the World's Largest Jigsaw Puzzle.  We are jigsaw geeks at my house and we almost always have a puzzle taking up space on our dining room table so this was pretty cool for our family.
World's Largest Jigsaw Puzzle Ever Put Together is in Minnesota
Check out this HUGE jigsaw puzzle! It is actually the world's largest jigsaw puzzle ever put together and is in the Guinness Book of World Records and it was put together by a guy in Mankato, Minnesota. You can enjoy the photos below but if you'd like to see it in person, it is just a short drive to Jordan, Minnesota, and is located outside of Minnesota's Largest Candy Store!
If you love puzzles, you MUST check out the puzzle collection at Minnesota's Largest Candy Store!
As you walk through the candy store, look up.  There are puzzles EVERYWHERE in this place that you can buy.  And, I forgot to take a photo of it, but there are these pullout shelves that are piled high with puzzles that you can browse and take home to enjoy.  This is by far the biggest puzzle collection I have ever seen in my entire life.
Quiz Time!
Minnesota is an awesome state but I'm guessing you don't know all there is to know about the land of 10,000 lakes.  Go through the list below and see how many of the items below you knew.  Don't forget to tell me your score!  Just shoot me a message with your number to my Facebook Page - Jessica On The Radio - Instagram page, or via e-mail at jessica.williams@townsquaremedia.com.
FIVE THINGS YOU DIDN'T KNOW ABOUT MINNESOTA
From purposefully spinning the car around on snow/ice to the Minnesota Nice Department of Health Inspectors and the Hot Dog Stand, you'll probably had no idea these things were true in Minnesota.