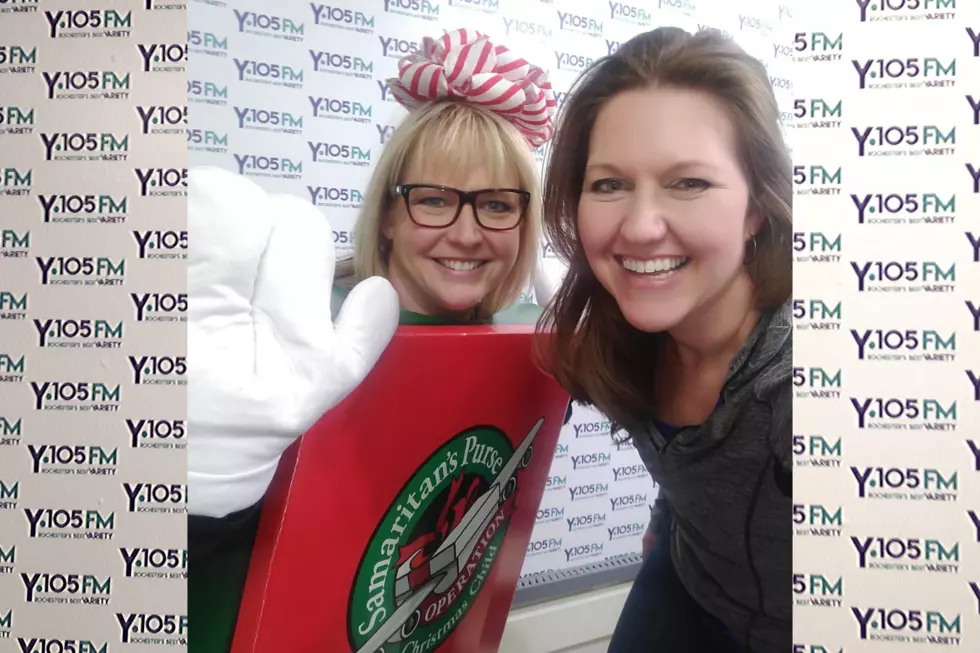 A Rochester Woman Is Wearing A Cardboard Box For 30 Days
Amy and Jessica at Y105FM - Townsquare Media Rochester
Have you seen this lady around town?  She's shown up at Hobby Lobby, Caribou Coffee, been seen with the Mayo Brothers in downtown Rochester, and has even been on a Lime Scooter...all while wearing a really big box!
Her name is Amy and I'll just say it, she is an amazing person who makes life fun and is bringing smiles to a lot of people.  Right now, she is bringing that smile as she models a huge Christmas box all over Rochester for 30 days to help spread the word about Operation Christmas Child.
What is Operation Christmas Child?  OCC is what we call Operation Christmas Child at my house, and it is one of our favorite things to do this time of year.  Shoeboxes get packed up with all sorts of great goodies for kids, of all different age ranges, and are sent to kids all over the world.
The kids that receive the boxes, they get 1 Christmas gift in their lifetime from Samaritans Purse, the organization that coordinates OCC.  One.  One gift.  So, this box of goodness is truly special for a little one in our world, because it might be the only gift they ever receive.  Being part of that for a child, knowing that you helped make Christmas magic happen for them, it is so special.
Last year, I got to meet Alex, who is an adult now but when he was 7 years old he was fleeing the genocide on foot for months in Rwanda.  It truly is a miracle that he escaped and wasn't killed, and he even shared how slipping in a pile of cow poop helped save his life.  It was that exact moment as he slipped that a bullet flew an inch over his head.  Later on in his life as a kid, he ended up in an orphanage, and that is where he received his Operation Christmas Child box.  There is a bit more about Alex and his story here.
If you are looking for a way to give back this Christmas season and want to help a child enjoy their Christmas, here is some info on how to pack a shoebox and where to drop these off in Rochester.  (You can even see where your box goes and track it!)