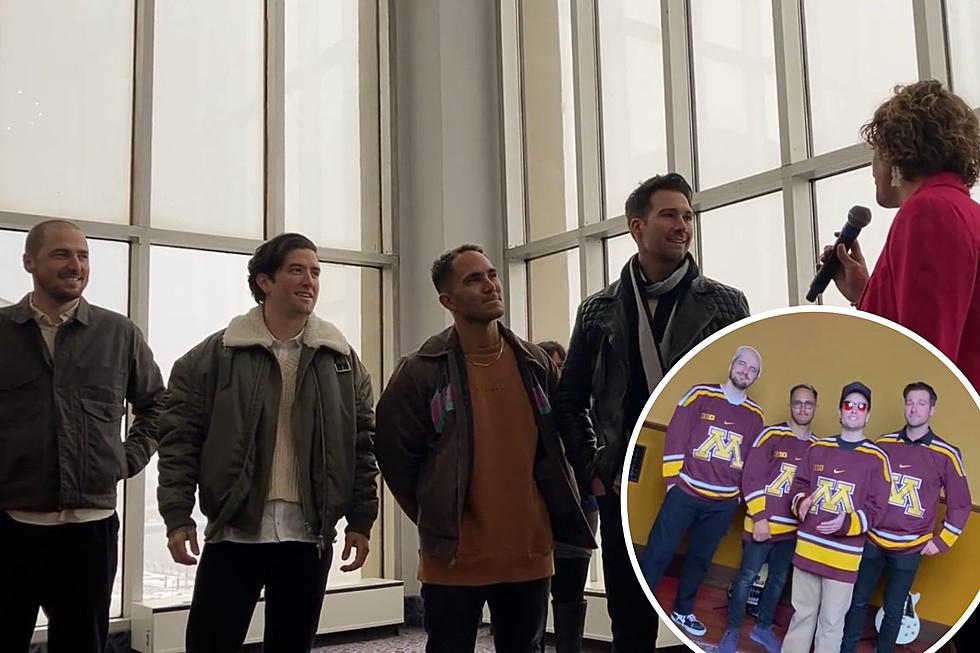 Beloved Boy Band Gets Their Own Day in Minnesota!
Photo credit to Dan Williamson, Duluth News Tribune's video, and @bigtimerush on TikTok
While there has been a Boy Band or two for every generation I'm so excited to see that one of my favorite Boy Bands growing up has been honored their own day here in Minnesota!
Aside from One Direction, which I didn't even fully get into till the end of high school, my first celebrity crushes consisted of members from the boy band, Big Time Rush. And I felt truly connected to them and they made me feel special. And now you are asking how?
Because the real-life boy band stemmed from the fictional band of the same name and members from their show on Nickelodeon. And not only did I grow up with the show Big Time Rush being one of my favorites, but it was special because the imagined members were hockey players from Minnesota who turned into pop stars.
It was so cool to watch the first episode seeing the boys with their gopher hockey jerseys on and making it 'big time' and I fell in love right there!
While the show was only on from 2009-2013, the band reunited during the pandemic and has started making music again! And of course, my inner child-self has been fangirling since 2020, especially when I saw them perform their first ever show back, which was in Chicago in 2021 (and then of course I had to see them again when they came to the Armory in Minneapolis this past July).
However, I was blown away yesterday when a post from the band's TikTok showed up on my FYP and they were in Duluth! And I was like WHATTT??!
While I knew and loved that the fictional members are from Minnesota, I didn't know they were specifically from Duluth, so it was absolutely amazing when Duluth had the band visit, but it was even cooler because…
Duluth proclaimed April 4th Big Time Rush Day in the city of Duluth!!!
So of course the Band spent the day in Duluth (for the first time btw, lol) and was awarded a proclamation from Duluth Mayor Emily Larson. She notes in part of her speech the following:
"Big Time Rush is four friends that were plucked from Duluth, Minnesota, to become worldwide pop stars," declared Larson. "Their vibrant energy and infectious music have brought joy and excitement to millions of fans around the globe."
Many people gathered in the Duluth Entertainment Convention Center to see the band accept their proclamation from Larson, answer some questions, and even received their own street sign! Okay while the street sign isn't actually going up on some street in Duluth the band's and the fans' hearts were warmed and it was really cool for Larson to share that with them.
"There was nothing like getting the proclamation (of Big Time Rush Day) that warmed my heart," quipped Henderson, which is shared by an article from Duluth News Tribune, where you can read all the details about Big Time Rush's day and celebration in Duluth.
The article shares the following on how member Kendall Schmidt felt about the experience:
"I kind of got choked up a little bit," said Schmidt. "There's something really special about the full circle of the TV show. It's a big dream to make something like that. ... It has its own pop culture that surrounds it, and to be in the place that sort of originated, it's very cool."
Not only did fans get to ask the band questions and hear about their Duluth experience, but the band announced their 4th album that day!!
Duluth News Tribune shares that member Carlos PenaVega exclaims how "It's kind of crazy that we're here in Duluth. We just announced our fourth album, in Duluth. It just kind of all feels like it's falling into place."
So do not forget that every April 4th from here on out is dedicated to our beloved boy band, Big Time Rush, and will forever be known as BTRDay!
All information is credited to duluthnewstribune.com.
Check Out Former Minnesota Vikings GM Rick Spielman's Home
The Eden Prairie home where former Minnesota Vikings GM Rick Spielman lived is now for sale.