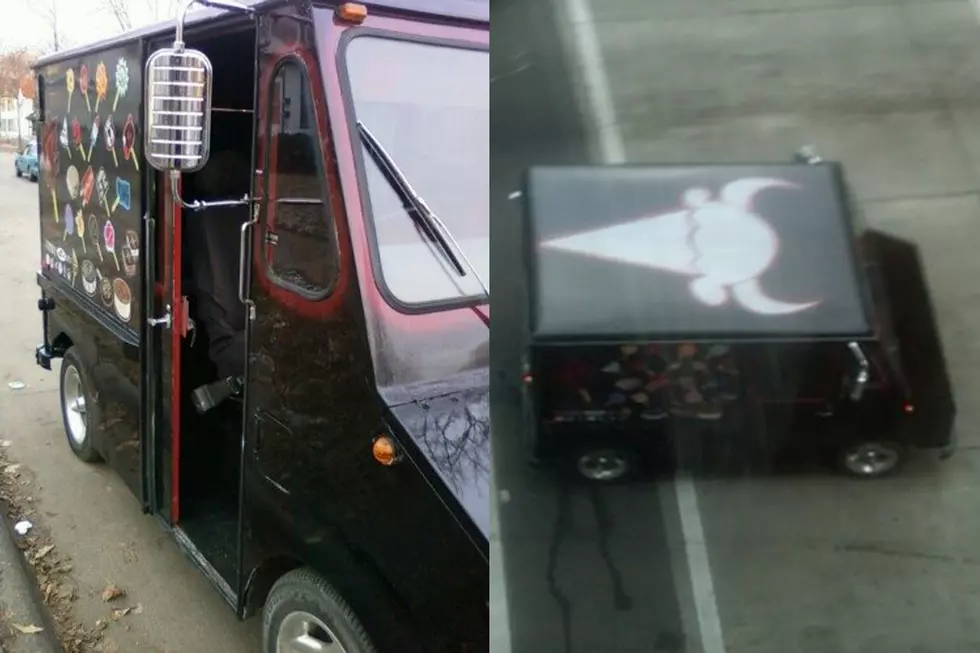 Death Metal Ice Cream Truck Exists Just to Annoy Minneapolis Kids
Facebook: Hell General
The Death Metal Ice Cream Truck rolls thru northeast Minneapolis neighborhoods, playing ice cream truck music. Then, if kids approach, the driver does something that I can only describe as bizarre.
When the kids try to stop him to get ice cream, he blasts them with death metal and then takes off. PS - He doesn't  In the City Pages, the truck owner, Matt Peterson, says the truck's called Hell General. "Peterson says the idea for this demonic contraption came to him after his own Batman villain-esque experience with an evil ice cream man."
It's a long story, but basically, as a kid the ice cream man stopped, Peterson didn't have money, ran in the house to get some, and as he ran back, the truck drove off. Scarred him for life.
In all actuality, my intentions with the truck have nothing to do with selling ice cream. Rather than indulge brats with over price cream pops, I mean to deny those looking to buy a cold tasty treat by playing my happy chimes through the streets. And when the children materialize in the streets?

I will coast right past them with the sinister look of rejection.
Is it just me, or does this guy sound like a jerk? I mean, yeah, I'd laugh if I saw it in a show, but knowing it really blows off kids? Meh.
Listen to James Rabe Monday, Wednesday, and Friday from 11-Noon on KROC AM 1340 and 96.9 FM and Weekdays with Jessica Williams Weekday from 6 - 10 AM on Y-105 FM
10 Movies Filmed in Minnesota
Enter your number to get our free mobile app