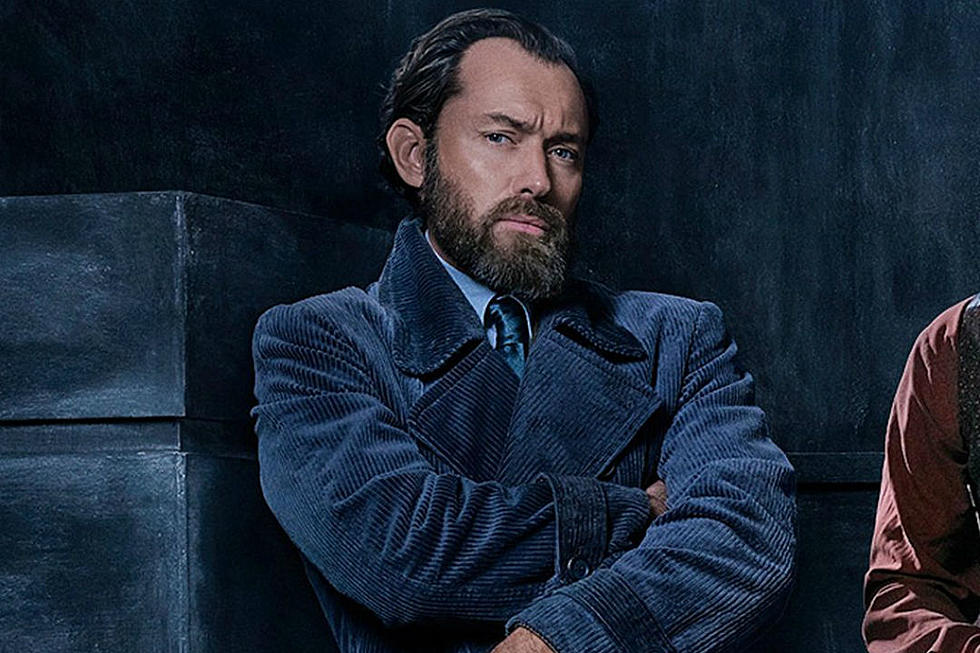 Surprise Surprise, Jude Law's Dumbledore Won't Be Gay in 'Fantastic Beasts 2'
Warner Bros.
As soon as it was announced that the Fantastic Beasts series would feature a young Dumbledore, as a dedicated Harry Potter fan, I wasted no time asking J.K. Rowling if her younger rendition of the beloved wizard would be portrayed authentically, or in other words, openly gay. Back in 2016, when doing press for the first Fantastic Beasts film, she gave me a bit of a non-answer about the depiction of his sexuality, simply saying "watch this space." Today, we finally got word on whether the new sequel will explore Dumbledore's queer sexuality. In the most unsurprising news yet, it will not.
Entertainment Weekly asked director David Yates, who's helming the next four Fantastic Beasts films, if the sequel, The Crimes of Grindelwald, will acknowledge that Dumbledore (Jude Law) is gay. His answer: "Not explicitly." Yates added, "But I think all the fans are aware of that. He had a very intense relationship with Grindelwald when they were young men. They fell in love with each other's ideas, and ideology and each other."
Over a decade ago, Rowling revealed to Harry Potter fans at Carnegie Hall that she always thought of her character as gay. While never mentioned in the books or films, Rowling's own backstory follows that Dumbledore fell in love with his best friend Grindelwald. And that romance (though seemingly unrequited) wasn't without reason; Rowling explained that Dumbledore's affection for the Dark Wizard is part of what blinded him to seeing Grindelwald for what he truly was. And now Warner Bros. is also playing blind, pretending their character isn't actually gay. You're actually going to cast stud Jude Law as young Albus and that other dude (let's not talk about it) as Grindelwald, and not show a love story? What a waste.
On one hand, it's totally likely the Fantastic Beasts series never intends to address Dumbledore's sexuality – a major studio introduce a lead gay character?! Magic is more realistic. But since I'm a painfully hopeful romantic, and because I want to have some tiny bit of faith in Rowling, maybe there's a semi-decent reason for this. Perhaps Rowling, not wanting to further enrage her fans, is planning to address it in the sequels. As disappointing and frustrating as it is, the latter reasoning could make sense considering the new movie's timeline.
The Crimes of Grindelwald takes place in 1927 when Grindelwald has already risen to power. We know Grindelwald and Dumbledore met in 1899 and became friends as teenagers, so if we do ever see Dumbledore struggle with his love for his friend, it would likely be with an even younger version of the character. But then why not include a flashback? Regardless though, that shouldn't matter; if Dumbledore was gay as a teen, guess what, he's still gay as an adult! The second film could still reference his sexuality or show him with another man – and hey Rowling, if you do write that, please don't give us a pathetic "exclusively gay moment."
Fantastic Beasts: The Crimes of Grindelwald stars Eddie Redmayne, Katherine Waterston, and Dan Fogler, Alison Sudol, Johnny Depp, Carmen Ejogo, Zoe Kravitz, Ezra Miller, Callum Turner, and Claudia Kim. It hits theaters on November 16, 2018.
Gallery – The Best Harry Potter Characters, Ranked: