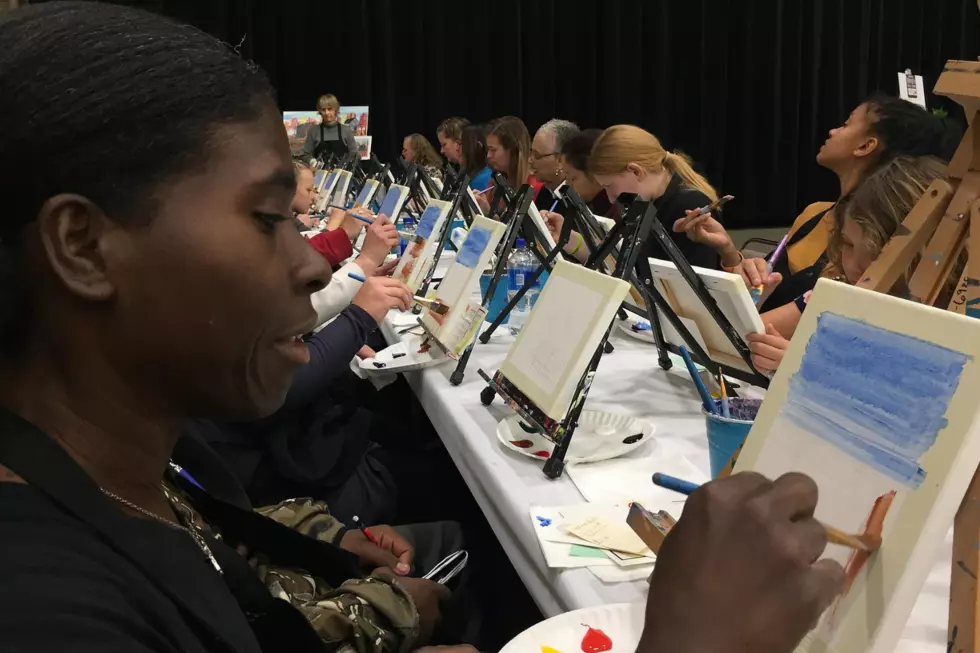 Free Canvas Painting Class For Women In Rochester This Saturday
Painting at the Rochester Women's Fall Expo
Hand me a paintbrush and a white canvas and some blobs of paint...I have no idea what to do.   I've seen those classes where you can go paint and follow what the instructor says and I'm like, "Yep, that is never going to happen."
My art skills are great on a computer and I have created thousands of graphics...some that you have probably seen in publications and around on billboards or flyers all over Rochester.  Give me a paintbrush and blank canvas though...I get stuck and basically freeze. I am really good at buying all of the supplies at Hobby Lobby and creating gorgeous Pinterest boards, but my creations with craft supplies are usually a disaster.
Who knew that with a little bit of instruction, I could actually paint?!  I tried one of those classes where the instructor helps you out and shows you, step-by-step, what to do and to my amazement, I actually made something that looked like I had some talent.
I've got some good news for you if you have been wanting to try one of these classes.  This weekend at the Rochester Women's Fall Expo,  Sunshine and Roses Canvas Paintings will be offering two free canvas painting sessions for the first 50 people at their booth. The first session starts at 10:00 a.m. and the second session starts at 12:30 p.m.
Minnesota State College Southeast Cosmetology Academy will be doing a variety of treatments throughout the day including hand treatments, makeup touchups, hair styling, and nail painting.
Sistique Boutique will have a shopping haven for all with the return of "Roxy" the shopping bus. There will be something for every woman with trendy tops and dresses, activewear, leggings, and seasonal items.
We've teamed up with First Alliance Credit Union to offer you a chance to win a Girls Weekend Getaway for four! The prize includes an overnight stay at Hilton Garden Inn, Bloomington, right next to Mall of America, for one winner and three friends, as well as a $100 MasterCard gift card for each person! Online registration starts October 14th and ends October 25th at 11:59 PM. You will also have the opportunity to register to win at the First Alliance Credit Union booth at the Women's Expo on October 26th. We will pick and notify the winner on October 27th.  👉 ENTER THE GIRLS WEEKEND GETAWAY CONTEST