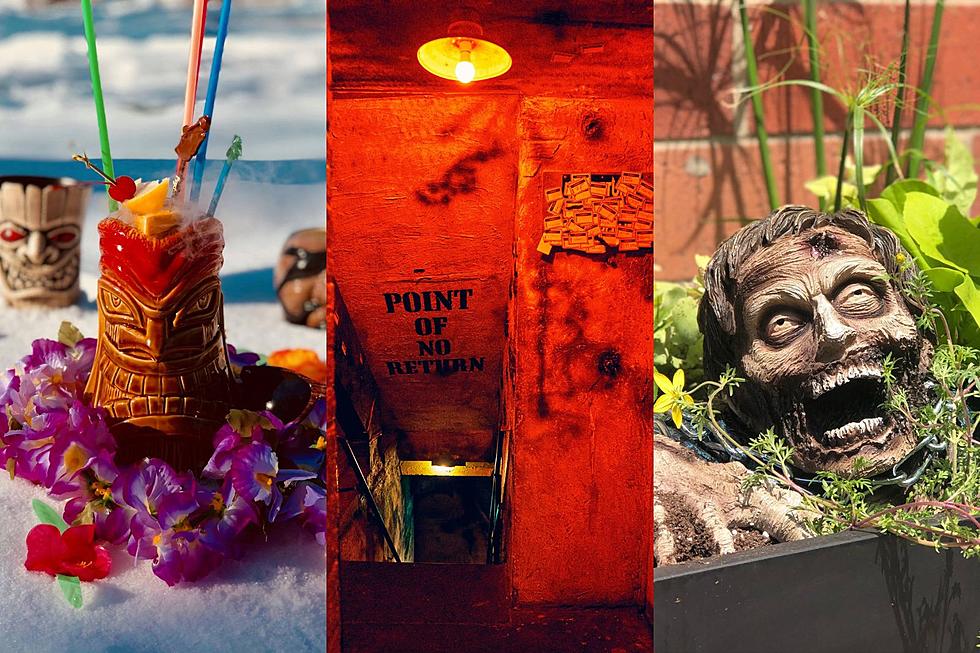 Have You Been to Any of These Unusual Midwest Restaurants?
Psycho Suzi's Motor Lounge, SafeHouse Milwaukee, Zombie Burger + Drink Lab/Facebook
The website Love Food recently put together a list of the most unusual restaurants in all 50 states, and now we have some travelling to do!
Here in Iowa, it's no surprise that Love Food named Zombie Burger + Drink Lab in Des Moines as our most unusual restaurant. The eatery describes itself as "post apocalyptic chic" and features all sorts of zombie decor, including zombie heads mounted on the wall! On top of that, the menu offers a variety of burgers inspired by iconic zombie movies and TV shows. There's the Juan of the Dead, the They're Coming to Get You Barbara, and the 28 Days Later burger. My personal favorite is The Walking Ched, an insane creation that replaces buns with deep-fried mac & cheese patties. Oh, and don't forget the famous cereal shakes!
Here are some of the other unusual restaurants in surrounding states that were recognized by Love Food:
What makes it different?

Brother Sebastian's first opened its doors in 1977 and is designed to look like an early Spanish monastery. There are shelves of books, large barrels, stone walls, stained glass windows, LOTS of wine, and even a "Chapel" that guests can diner in! In addition, diners' orders are taken by waiters dressed as monks. The restaurant has won awards for its romantic atmosphere and its prime rib.
What makes it different?

As soon as you search "Lambert's Cafe" online, you can figure out what sets it apart from other restaurants. It markets itself as "The Only Home of Throwed Rolls!" Yes, the restaurant staff literally throws their homemade rolls for diners to catch every few minutes. They are also known for their large portions and "pass arounds" that are free with each meal - onion fried potatoes, fried okra, macaroni & tomatoes, and black-eyed peas. Lambert's Cafe first opened in 1942 and now has three locations, but the one in Sikeston is the original. The official website lists all the famous people that have eaten at the restaurant, including Elvis Presley, Clint Eastwood, Morgan Freeman, and Jay Leno!
What makes it different?

Psycho Suzi's Motor Lounge doesn't just have an interesting name, it also has an interesting look! The restaurant's website says that they are "a retro tiki bar and pizza paradise overlooking the high seas of the Mississippi River in Nordeast Minneapolis." The place is decked out head to toe with Hawaiian decor, greenery, leopard print furniture, and fake wood carpeting, and it has an impressive outdoor patio! And what would a tiki bar be without tiki drinks? All of the beverages on the extensive menu are served in a cool glass, and some even feature smoke and fire!
Illinois - Frontier, Chicago
What makes it different?

The most unusual thing about Frontier is definitely their menu. They serve all sorts of different meats, including elk, duck, octopus, lamb, and even camel! The restaurant also offers a "Whole Animal Experience" for larger groups, and you can choose from a wild boar, a goat, an antelope leg, an alligator, and more. The official website reads: "We've captured the early pioneer's celebration of family dinner gatherings in order to create you an unparalleled dining experience that is well paired and well fueled." Frontier has received awards for their exotic food, their group dining experiences, and their ambiance, and Chef Jupiter has been nominated for two James Beard Awards and is a 'Chopped' champion!
Wisconsin - SafeHouse, Milwaukee
What makes it different?

SafeHouse in Milwaukee is MUCH more than just a restaurant... it's an experience! You can visit the hidden business and be transformed into a "spy." The official website says: "Enjoy a family-friendly mission during the daytime, or join us for a night out in downtown Milwaukee. Spies looking for refuge can locate the Red Door in an alleyway, and provide MoneyPenny with the password for entry. Spies who do not know the password will have to pass a fun clearance test to prove they are not a double agent." SafeHouse is filled with all sorts of fun artifacts and puzzles and guests are welcome to explore the space while they're waiting for their food. And now you can check out another location in Chicago!
What makes it different?

Cheyenne Crossing has a very long history. Located in the Black Hills, the building was built in 1878 and served as a stagecoach stop called Ice Box Canyon Valley Station. All these years later, Cheyenne Crossing is still standing and serves as a general store, bed & breakfast, and cafe. Guests are welcome to shop and enjoy some "country home cooking." The Indian Taco comes HIGHLY recommended!
You can check out the rest of Love Food's list of the most unusual restaurants in all 50 states HERE.
LOOK: 25 must-visit hidden gems from across the US
From secret gardens to underground caves,
Stacker
compiled a list of 25 must-visit hidden gems from across the United States using travel guides, news articles, and company websites.
LOOK: See how much gasoline cost the year you started driving
To find out more about how has the price of gas changed throughout the years, Stacker ran the numbers on the cost of a gallon of gasoline for each of the last 84 years. Using
data from the Bureau of Labor Statistics
(released in April 2020), we analyzed the average price for a gallon of unleaded regular gasoline from 1976 to 2020 along with the Consumer Price Index (CPI) for unleaded regular gasoline from 1937 to 1976, including the absolute and inflation-adjusted prices for each year.
Read on to explore the cost of gas over time and rediscover just how much a gallon was when you first started driving.