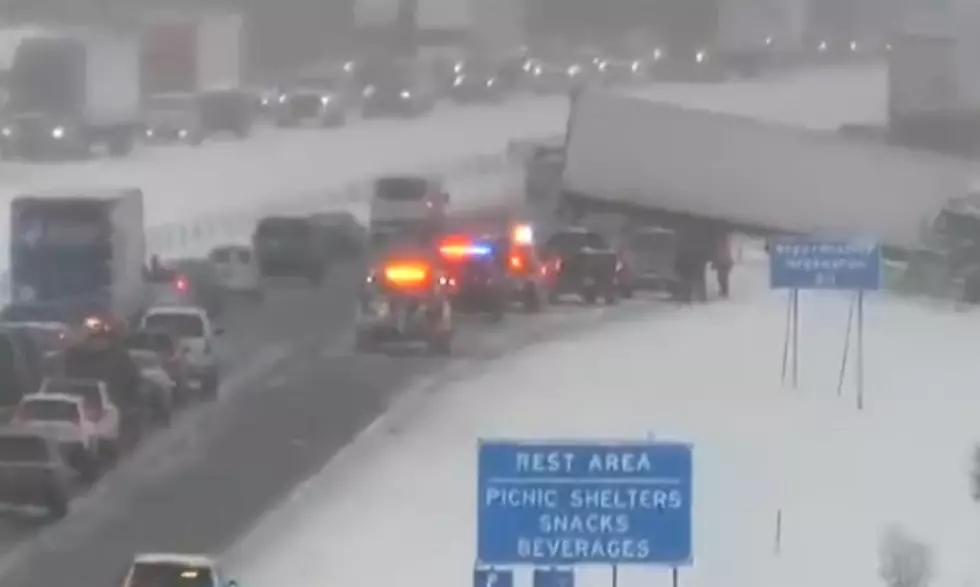 [watch] Scary MnDOT Traffic Cam Videos From Thursday's Snowstorm
@SafetyAlertsMN/Twitter
That winter storm that blanketed Minnesota with between six to 10 inches of snow earlier this week also caused spinouts and crashes on our roads and highways, some of which were captured on traffic cam videos.
Our latest bout with Old Man Winter caused not only plow drivers to be busy across the Land of 10,000 Lakes but first responders as well. The Minnesota State Patrol noted on their Twitter page that troopers responded to nearly 200 vehicle spinouts and 110 crashes during that snowstorm on Thursday, January 19th. Luckily, while there were several injury crashes, none of them involved fatalities or serious injuries.
While southeast Minnesota received between six to eight inches of snow this time, amounts were somewhat less in the Twin Cities metro area, with reports of between two and three inches. However, enough snow fell to make roads slippery.
And the Twitter page, MN Safety, posted another set of crash and spinout videos. MN Safety notes that they're not an official public safety site, but instead describes its page like this:
Volunteers promoting traffic safety & 1st Responders. Not an official source. Videos + Education + Data = We all can be a little safer.
And in this case, being 'a little safer' would no doubt involve slowing down while driving on the interstates in Twin Cities. Check out their video below, made up of video footage from several different Minnesota Department of Transportation (MnDOT) traffic cameras throughout the Twin Cities.
Just take a moment to be glad that *your* vehicle wasn't one of the ones shown. And, keep scrolling to take a walk down memory lane to see how much gas cost when you first got your driver's license, as well as 10 things officials recommend you keep in your vehicle during the winter here in Minnesota.
Listen to Curt St. John in the Morning
Weekdays from 6 to 10 a.m. on Quick Country 96.5
LOOK: See how much gasoline cost the year you started driving
To find out more about how has the price of gas changed throughout the years, Stacker ran the numbers on the cost of a gallon of gasoline for each of the last 84 years. Using
data from the Bureau of Labor Statistics
(released in April 2020), we analyzed the average price for a gallon of unleaded regular gasoline from 1976 to 2020 along with the Consumer Price Index (CPI) for unleaded regular gasoline from 1937 to 1976, including the absolute and inflation-adjusted prices for each year.
Read on to explore the cost of gas over time and rediscover just how much a gallon was when you first started driving.
Are You Prepared For A MN Winter? Keep These 10 Items in Your Car
The cold is here, and that means the snow isn't far behind. Are you ready to tackle Minnesota roads this winter? Do you have these ten items in your car?