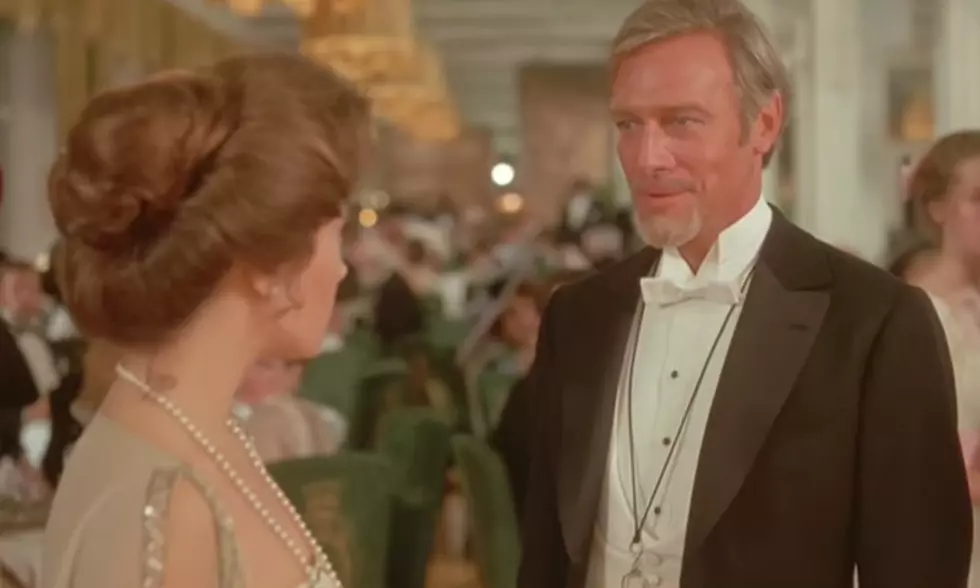 Magical Moment Rochester Boy Meets Christopher Plummer on 'Somewhere In Time' Set
Universal Pictures - Screen shot, video in story.
Enter your number to get our free mobile app
A man living in Rochester in 2021 has a great, funny, and tear-inducing story about meeting Christopher Plummer on the set of Somewhere In Time.
In 1979, he was 11-years-old and got to watch an actual Hollywood movie being made. Not just for a few minutes, but for a whole summer, he learned as he watched the famous actors, the not famous actors, the set designers...all of it.
The biggest lesson he learned was probably "it's boring." Waiting around forever for the light to be just right, or for a horse to NOT snort at the wrong time. It WAS boring, but even then, there was something about it that made a kid happy, excited, and wide-eyed.
The Setting: Grand Hotel on Mackinac Island, Michigan. A small resort island between Michigan's Upper and Lower Peninsulas. Grand Hotel, now well over 100 years old, as elegant and romantic a setting as a director could hope for.
The Movie: Somewhere In Time. Starring Christopher Reeve, Jane Seymour, and Christopher Plummer. Reeve sets out to travel thru time to find his love, played by Seymour, but her manager, portrayed by Plummer, is against it.
The Time: Summer, 1979. A wonderful time to be a young boy named Jim who does everything he can not to make a fool of himself in front of one of the world's biggest stars...but fails.
"Holy smokes, there's Superman! The actual Superman, and he's right in front of me!"
"What's going on?" his mother asked. "NOTHING! They're doing something behind that wall and it is so boring," the boy replied. "I can't believe I've been watching for 30 minutes."
"Is that Jane Seymore? She has SO MUCH HAIR!"
It was the day he saw Jane Seymore's hair. His father did a lot of things, one of them was spend time on the island, taking pictures and writing about Grand Hotel for newspapers. He spent most of the days that summer running errands for his dad, which is how he spent most of his days on the island for as long as he could remember.
No errands this day, though. He stuck close to his dad, happier than usual because lunch at the golf course was coming. They had a delicious French onion soup with lots of cheese and he loved twirling it onto breadsticks.
"Let's go...no dilly-dallying," said his dad. His dad hated dilly-dallying and dawdling for that matter.
"Is it just us for lunch?" the boy asked. His father often met people for lunch, but every now and then it was just the two of them, and he liked that best. They didn't talk a lot, but he liked being there, the two of them sharing a newspaper. His dad the front page and crossword puzzles, the boy comics, and advice columns.
"We're meeting Christopher Plu...oh, there he is now, waiting for us."
The soup and cheese twirling were forgotten. He'd said hello to Jane Seymour, and she smiled back. He'd told Christopher Reeve, "Thank you for letting me sit in your chair," after his father told him to sit there for a picture. And that was fun.
But Christopher Plummer? From Sound of Music? A whole different level of nerves hit him as they sat down after his dad said,"...and this is my son Jim," and Plummer's hand took Jim's and shook it and he never felt so very adult ever.
He sat quietly, as they talked about who-knows-what-because-who could-focus-when-a-real-movie-star-was-there-having-lunch-with-you-at-the -hotel's-golf-course -restaurant-and-bar. Here's a photo from some July 4th lost to the past. See if you can find Jim.
The family rule was not the usual, "kids will be seen and not heard" you've heard about from some families. The rule was, "Be heard...but make it good." So, obviously, Jim was very eager to make it good.
He'd been practicing saying, "variations on a theme of Paganini," just in case it came up. That was the music used in the movie and it was beautiful. Jim was quite taken with it, so he practiced in his head while eating a cheeseburger quietly so as not to attract attention.
He only knew that thing about Paganini because he'd heard some other people talking about it and it sounded like something one could repeat and sound like you know what you're talking about.
Finally, they talked about the movie's music, and the 11-year-old boy named Jim Rabe screwed up all his courage and...botched it completely. I don't even remember what I said exactly, something like, "Isn't that called a Paganini themtion?" Themtion? That's not even a word!
I knew I'd screwed it up, and maybe my face turned red. Or maybe Christopher Plummer, who passed away last Friday morning at 91-years-old, was just a nice guy and new how I felt.
"That's it. Exactly," he said. "Eighteen Variation of Rhapsody on a Theme of Paganini."
It was a teeny tiny moment of time, yet it has run through my head eight million times. Sure, he corrected me, but he made it sound like he didn't.
I think that was a pretty nice thing to do for an 11-year-old kid.
As always, if you have a comment, complaint, or concern about something I wrote here, please let me know: james.rabe@townsquaremedia.com
Listen to James Rabe and Jessica Williams Weekday from 6 - 10 AM on Y-105 FM
If you've never seen Somewhere In Time, here are some trailers you might enjoy.
It's Black History Month, and since we're talking about movies, I'd like to share something very much worth scrolling through:
LOOK: A history of Black representation in movies