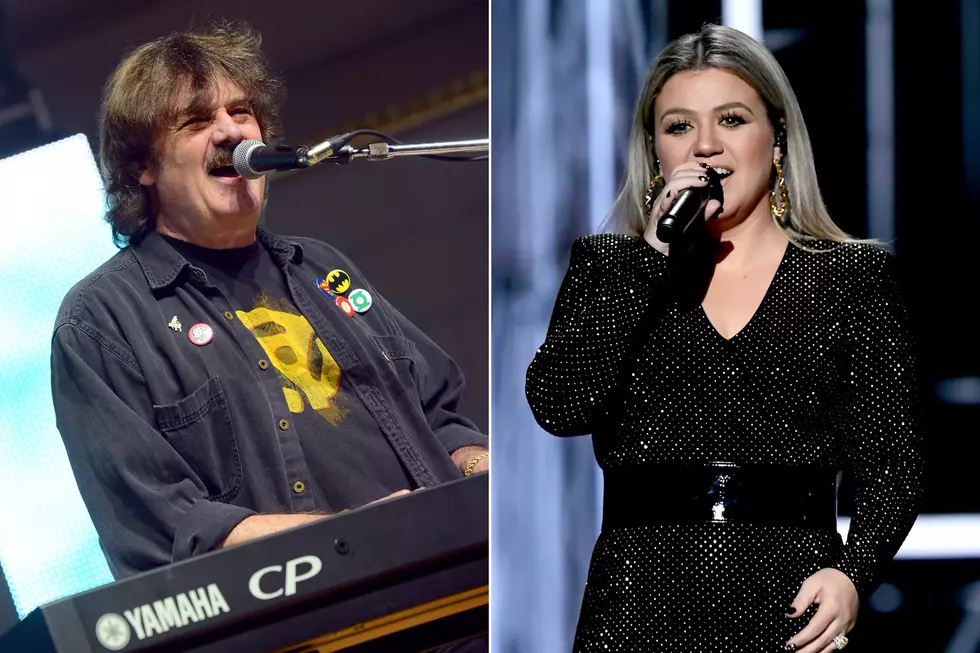 Watch Kelly Clarkson Cover the Guess Who's 'American Woman'
Rick Diamond / Kevin Winter, Getty Images
A new sitcom called American Woman will premiere on the Paramount Network tonight. For its opening theme, the producers hired Kelly Clarkson to cover the Guess Who's hit of the same name.
The singer gave fans an early taste of her version last night, when she premiered "American Woman" at the CMT Music Awards.
Clarkson belts her way through the song with background vocals provided by a gospel choir. And even though her big voice fits the tune, it appears to be an odd choice for a sitcom theme and the singer, given that the Canadian band's lyrics have been interpreted by some to be both misogynist and anti-American.
"Don't come hangin' around my door / I don't wanna see your face no more / I got more important things to do / Than spend my time growin' old with you," Burton Cummings sang on the Guess Who's only No. 1 single in the U.S. He later takes aim at the Vietnam War and unrest in American cities: "I don't need your war machines / I don't need your ghetto scenes."
You can watch Clarkson perform her version below.
Guess Who bassist Jim Kale, who co-wrote the song, has always insisted it's not a swipe at the U.S. "The popular misconception was that it was a chauvinistic tune, which was anything but the case," he told Superseventies.
"The fact was, we came from a very straitlaced, conservative, laid-back country, and all of a sudden, there we were in Chicago, Detroit, New York -- all these horrendously large places with their big-city problems. After that one particularly grinding tour, it was just a real treat to go home and see the girls we had grown up with. Also, the war was going on, and that was terribly unpopular. We didn't have a draft system in Canada, and we were grateful for that. A lot of people called in anti-American, but it wasn't really. We weren't anti-anything."
The song was released as a single in 1970 and spent three weeks at the top of the Billboard Hot 100. Lenny Kravitz covered it in 1999 for Austin Powers: The Spy Who Shagged Me. His version peaked at No. 49.