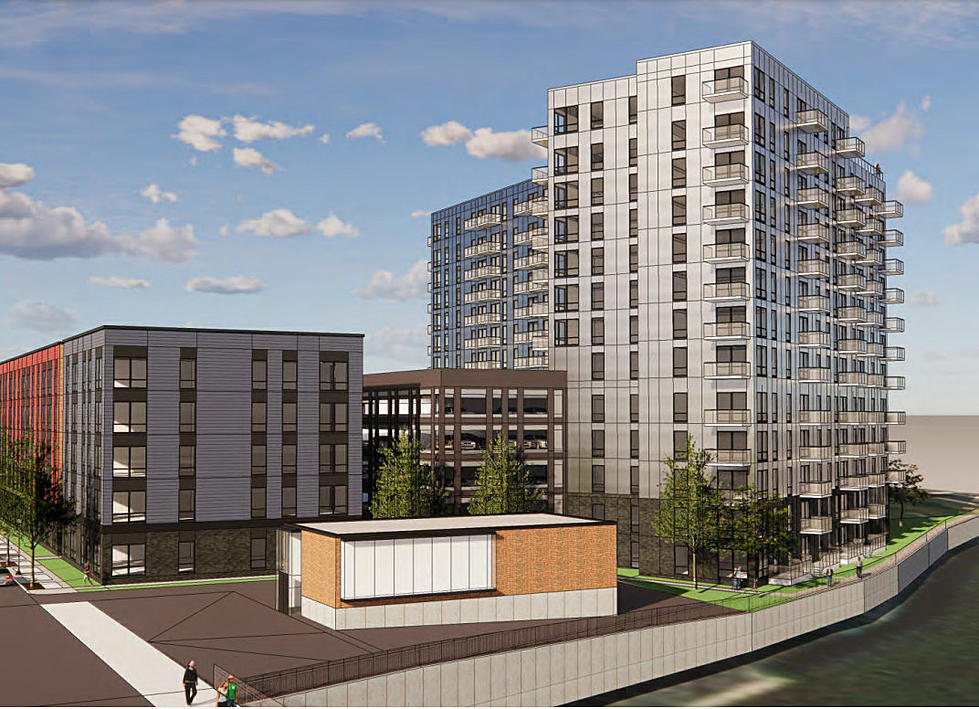 Major Downtown Housing Project Back on City Council Agenda
Sherman Dev. rendering
Rochester, MN (KROC-AM News) - It appears the City of Rochester is now ready to enter into exclusive negotiations with the company that has plans for a major development in downtown Rochester.
The City Council is scheduled to vote Monday on a resolution authorizing the execution of an Exclusive Negotiating Rights Agreement with Sherman Associates Development. The firm was previously designated as the preferred developer for the Civic Center North surface parking lot along the north side of East Center Street.
Sherman Associates has proposed a $100 million housing project on the parcel of land to the west of the Zumbro River across from Mayo Field. The plan calls for two towers, one 13 stories tall and the other five stories tall, which would contain nearly 300 market-rate and affordable apartment units. The company is requesting $12.5 million in public subsidies for the project.
The exclusive negotiating period would run through July 15 of next year. During that time, representatives from Sherman Associates and the city would be working toward a formal development agreement for the city-owned land. City staff has indicated that the company hopes to begin construction at the site by late August of next year.
The issue previously appeared on the City Council agenda in September but was removed at the last minute at the request of city staff.
SCARY: 10 of The Most Haunted Places In Minnesota
Minnesota may not be the most frightening place on earth, BUT there are some scary places that you may want to visit if you are ever looking for that "haunted" experience. Check out the list of some of the most haunted places in Minnesota below!