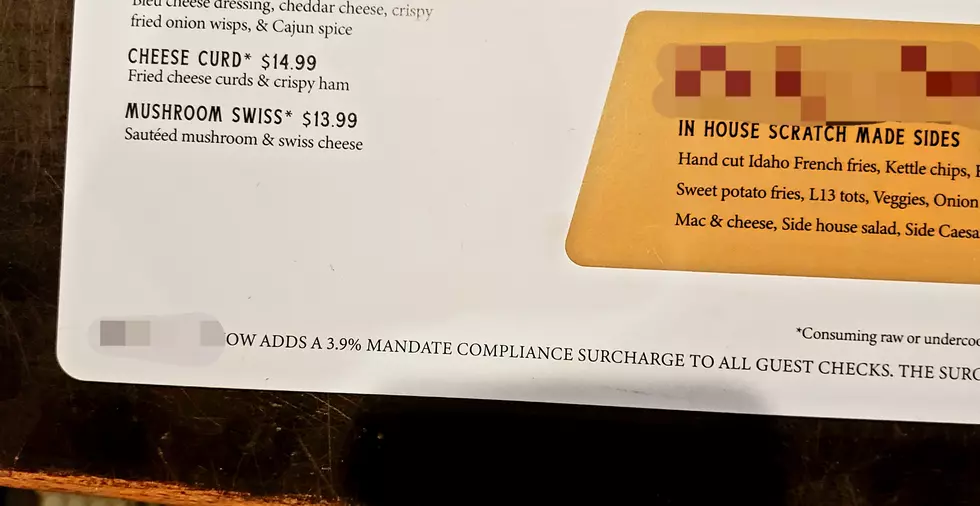 MN Restaurant Adds 'Mandate Compliance' Surcharge To All Checks
Image Credit: Paul Shea/TSM
It was a weekend that found us out and about shopping for a 4-year-old's birthday gift. [Paw Patrol was the winning gift idea] While we were out shopping we stopped at a restaurant to grab something to eat, it was a typical chain restaurant, burgers, wraps, wings, etc. After we ordered our meal my eye drifted down to the bottom of the menu and I noticed a 3.9% 'Mandate Compliance Surcharge' would be added to the check. Check it out.
The surcharge is to cover masks and PPE for employees along with paying for extra cleaning done at night.
My wife and I were a little surprised it was basically 4%. Had we known about the 4% surcharge before ordering and/or sitting down to eat we still would have eaten at the restaurant, but it would have been nice to know right away.
They got $2 off of our check and the place was pretty 'full' by COVID-19 standards. I'm not naming the restaurant as in the end it doesn't matter as we will more than likely start to see other industries add some sort of surcharge passed along to the consumer in some form over the next few months. If that's what it takes for local businesses to survive then that's what it takes.
Is there a breaking point for consumers as in how much they are willing to pay? I didn't notice a surcharge on our receipt for the birthday gifts at the retail store, could that be coming along next?
Enter your number to get our free mobile app
SAY WHAT? 20 of the Hardest Lake Names to Pronounce in Minnesota