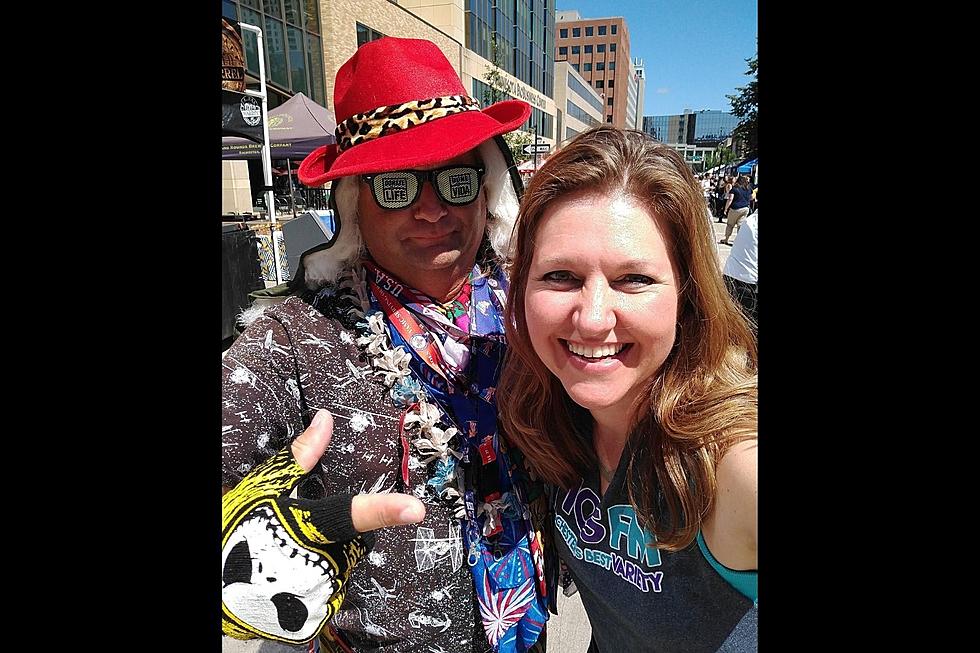 Rochester Bakery Whipping Up Cookies To Show Support to Second Street Joe
Jessica Williams
One of Rochester, Minnesota's favorite celebrities, 2nd Street Joe, has been out waving his flags to cheer us up every day.  Now, it is time to return the favor because he has a loved one in the ICU at St. Mary's and needs our support now more than ever.  Thanks to a local bakery, you can show support by ordering some delicious cookies!
ICYMI - Second Street Joe Was Waving HIs Flags On Top of the Canadian Honker Restaurant
You can only see it from high above but on top of the Canadian Honker Restaurant is a sign that says "Get Well Soon - God Bless".  It's in the perfect place for patients and visitors at St. Mary's to see and maybe have some encouragement when they need it the most.  Well, 2nd Street Joe was up on that roof, next to that sign the other day to spread some more love to his brother who is in the ICU.  You can read the entire story and see photos here, but it sounds like Joe is not able to visit him right now.
Rochester, Minnesota Bakery Stepping Up To Help Out Second Street Joe
A local bakery, Roasted Bliss Coffee and Bakery, saw that Second Street Joe had a loved one in the ICU and have stepped up to help him out.
If you live around Rochester or have driven down 2nd Street, you have likely witnessed Joe, waving the American Flag. His smile lights up your drive and makes you incredibly grateful to be an American. 🇺🇸
With permission from Joe, we are naming a cookie after him, calling it "The All American". This sugar cookie will be available next Tuesday-Saturday. If you would like to show how much you appreciate Joe's daily kindness, please consider pre-ordering a 6 pack for only $7. We will tally up all cookies sold and let him know the total. We will also give him a free box for every 10 boxes sold. $1 per box will be donated to Joe. - Roasted Bliss - Coffee and Bakery Facebook Page
Want to order a box of "The All American" to help out Joe?
Buying some flag-colored cookies named after Joe is such a cool way to show support and love towards our favorite flag-waving Joe!  If you'd like to be part of that, orders can be placed starting Wednesday, September 15th and you can do that easily by giving Roasted Bliss Coffee and Bakery a call at 507-226-8011.
Listen On-Demand with the Y105FM app, and on the following podcast platforms: Apple Podcasts | Google Podcasts | Spotify
30 Reasons Why People Still Like Facebook
If it wasn't for Facebook, I would have had ZERO idea that Roasted Bliss Coffee and Bakery was creating a cookie just to help out Joe!  Why do you still use Facebook?  I asked that question to a bunch of people and below are the top 30 answers.  See if your answer is on the list.
30+ Reasons Why People Still Like Using Facebook
A bunch of people have jumped off the super popular social media platform called Facebook for various reasons but for those that have stayed, why are they still logging in? I asked around and got a bunch of answers from people that live in Minnesota to see why they still have a Facebook account and here's what they said their reason was.