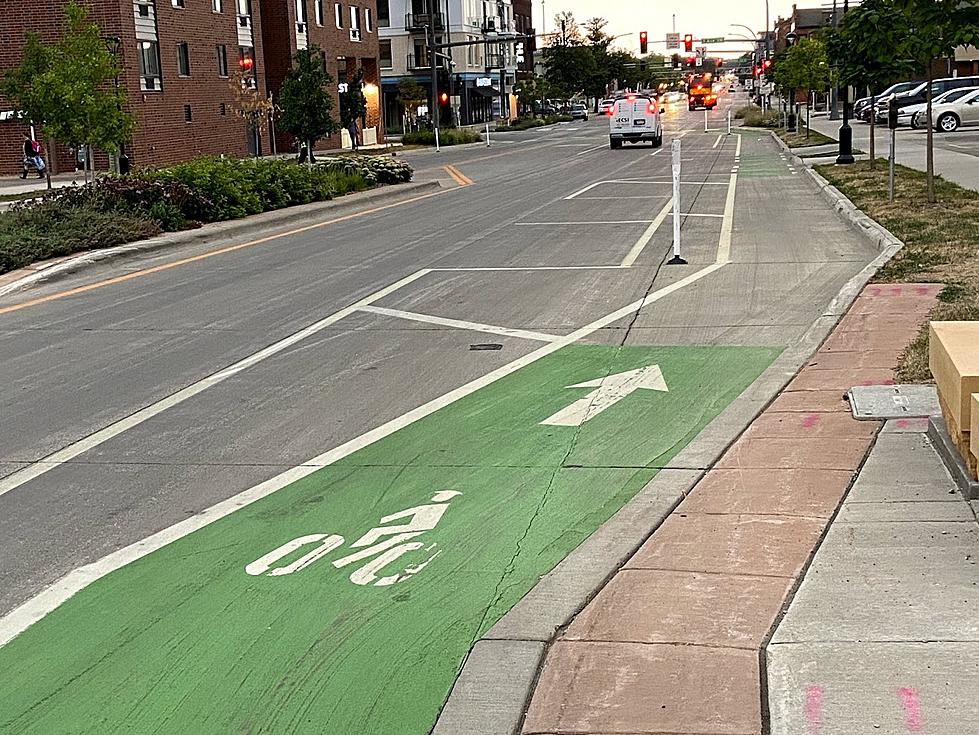 Rochester Has New Bike & Pedestrian Friendly Transportation Plan
Bike lane on 4th Street Southwest (CSJ/TSM-Rochester)
Rochester, MN (KROC-AM News) - The Rochester City Council voted 6-1 last night to adopt a long-range plan for adding bike, pedestrian, and wheelchair-friendly features to the city's transportation systems,
A public hearing on the "Active Transportation Plan" was held two weeks ago, but the City Council held off on taking a vote to give staff addition to address questions and clarify a number of issues. In particular, city staff has renamed what had been identified as a list of "potential near-term projects" to a list of identified "gaps" in the development of what the document called "An All Ages and Capabilities" network connecting major destinations in the city for "human-powered modes of transportation.
The report estimates the overall projects that would address those "gaps" would carry a price tag of about $20 million. At last night's meeting, city staff stressed the document's identification of the "gap" projects does not mean there are current plans for advancing those individual projects. Specifically, the discussion centered on the plan's inclusion of Elton Hills Drive on the list despite a decision by the City Council in 2019 to reject a plan that would have reduced the busy four-lane road to two lanes while adding dedicated bike lanes.
The report's recommendations also include hiring a dedicated bike and pedestrian planner and requiring pedestrian facilities as part of the development approval process. It also lists providing amenities for bicycle commuters and options for downtown bike repair, along with proactively identifying grants that would support bike and pedestrian projects.
The Active Transportation Plan is designed to replace the Rochester Area Bicycle Master Plan that was adopted in 2012. The vision statement used in developing the plan is, "Active transportation provides equitable freedom of movement. Walking and bicycling in the City of Rochester are primary modes of transportation that are safe, convenient, and enjoyable."
6 of the Best Chocolate Shops in Southeast Minnesota
If you are a true chocolate lover, there are 6 chocolate shops in Minnesota that need to be on your list to taste-test. They were picked by OnlyInYourState.com as some of the best just a few years ago.