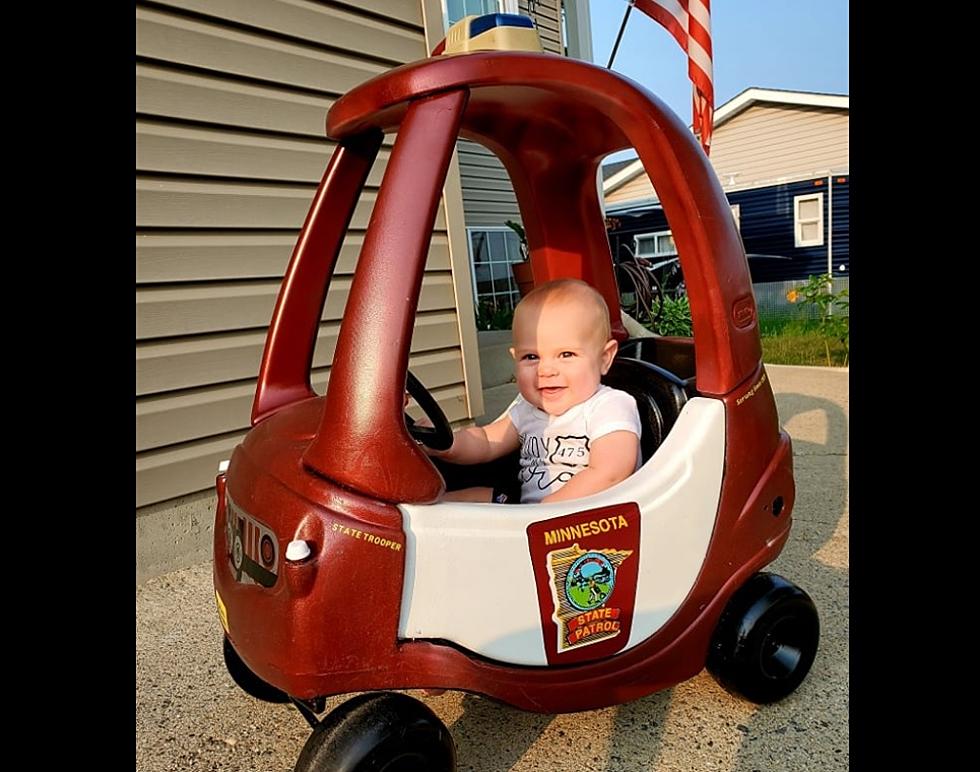 This Minnesota State Trooper's Son Has the Best Toy Squad Car
Minnesota State Patrol/Facebook
Most young kids in Minnesota have toy cars or trucks, but this young Minnesotan has the BEST toy police car in the Land of 10,000 Lakes.
The Minnesota State Patrol has been keeping our roads, highways and interstates safe across the Land of 10,000 Lakes since 1929 when the Minnesota Highway Patrol was created. And since then, many dedicated men and women have worn the familiar tan and maroon uniform and have driven those maroon State Patrol squad cars.
And just as many kids across Minnesota have probably been fascinated by those squad cars throughout the years. Kids love police and fire vehicles, right? Many might even have some version of them as toys. But few have the toy that THIS boy has.
That's because his dad is Minnesota State Patrol trooper Garrison Elsenpeter. Trooper Elsenpter has been deployed with the Minnesota National Guard, and while he's gone, his wife "worked hard to make sure his 6-month-old son is properly equipped and ready to take his dad's place on the road," the State Patrol said in a post on their Facebook page showing the replica Minnesota State Patrol squad car she made for their son.
It's adorable! And it's really accurate, too, from its maroon color to its white door with the State Patrol logo on it. My dad was a police officer while I was growing up over in Wisconsin, and I can tell you that I would have LOVED to have a toy like that when I was a kid. (Heck, I'd almost like one like that NOW.) Check out the way-cool pictures below.
And, a special shout-out to Trooper Elsenpeter for his service to Minnesota, both in the National Guard and as a member of the State Patrol-- thank you for your service!
Listen to Curt St. John in the Morning
Weekdays from 6 to 10 on Quick Country 96.5

COMING IN HOT: Which U.S State Has The Best Patrol Cruiser?
Voting is on now for the 2021 Best Looking Cruiser contest, and there are some GREAT cruisers out there, and each photo tells a short story about each state. Which one is your favorite? Take a look at all 45 submissions below!