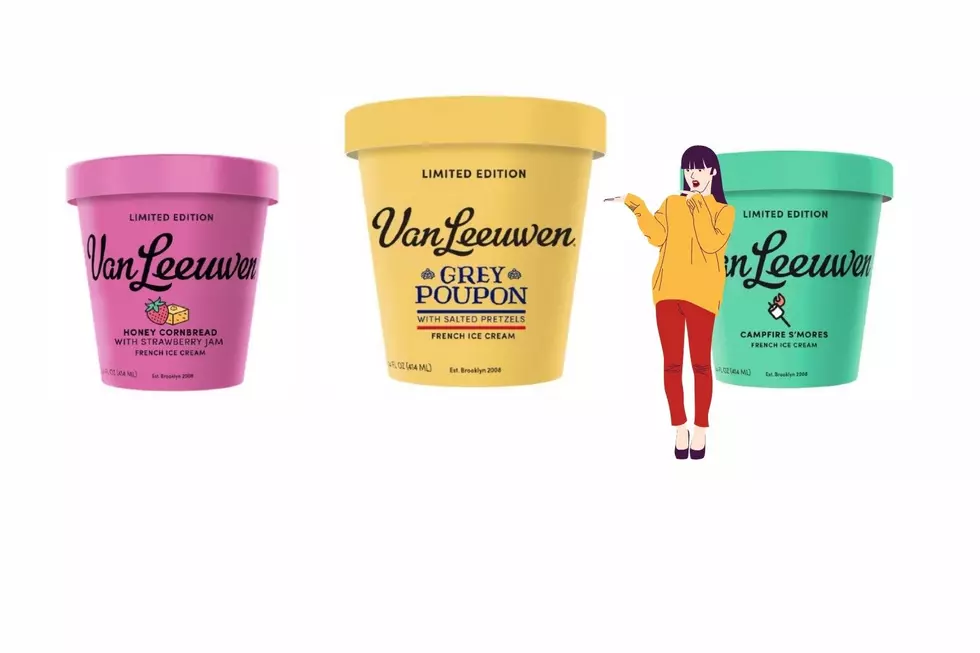 Grey Poupon Ice Cream is Available in Rochester
Photos by Walmart, Art by Rabe/Canva
Van Leeuwen New Summer Flavors Are Available in Rochester, Minnesota
I was today years old when I heard someone going on and on about how excited they were to try the new Honey Cornbread with Strawberry Jam ice cream at Walmart. I did a double-take...excuse me, not sorry for interrupting, but did you say Honey Cornbread with Strawberry Jam ice cream?
She did. And she wasn't sorry I interrupted either.
"You HAVE to try Van Leeuwen ice cream, it's so good! Well, except the Mac and Cheese flavor, but everything else is so good."
See the List of Minnesota and Iowa Sears Hometown Stores Set to Close
Turns Out Van Leeuwen Has FIVE New Flavors Out.
Each pint'll set you back about $5.00 (if you buy just one...does anyone do that with ice cream?) and they're available at Walmarts in Minnesota and across the nation. Even Iowa and Wisconsin.
1) Honey Cornbread with Strawberry Jam French Ice Cream
This one sounds like a simple equation. Honey is good, cornbread is good, strawberries are good, and jam made with strawberries is good.
2) Grey Poupon with Salted Pretzels French Ice Cream
You read that right, they're mixing the fancy French mustard with salted pretzels. All of THE WORLD knows sweet + salty is the best thing since laughing babies, but paired with white wine flavored mustard?
3) Campfire S'mores French Ice Cream French Ice Cream
I don't want to shock you, but I'm only iffy on the S'mores. I like about one out of 3, which yes, means I have to have six every time its S'mores time. I'm not ashamed...I found the workaround.
4) Summer Peach Crisp French Ice Cream
Peach crisp? Yes. Also, apple crisp, apple rhubarb crisp, strawberry rhubarb crispt. Add "crisp" to it and even a morel would taste...better (momentarily, until you realize you're eating something resembling brains or snakes).
5) Espresso Fior di Latte Chip French Ice Cream
They use actual cold brew coffee (probably doesn't melt the ice cream so fast as hot coffee). They also use cinnamon, molasses, vanilla bean, and sea salt, so I'm going to be guessing this is pretty tasty! Also, Google says Espresso Fior di Latte Chip translates to Fior di Latte Chip espresso. You're a lotta help there, Googs.
Online some people call their ice cream "complex" while others call it "confusing." I've never tried it, but let me know with the link below if you've had any of these new flavors!
As always, if you have a comment, complaint, or concern about something I wrote here, please let me know: james.rabe@townsquaremedia.com
Listen On-Demand with the Y105FM app, and on the following podcast platforms: Apple Podcasts | Google Podcasts | Spotify
This amazing Minnesota Home Has Its Own Island
A hovercraft comes with the house????
Breathtaking Home on an Island in Minnesota Comes with a Hovercraft
If you've ever wanted to live on an island, you are in luck because there is a gorgeous home for sale in Minnesota that is smack dab in the middle of water. It even comes with a Hovercraft!
One Bald Eagle Island is currently listed
for $6,600,000 and features 5 bedrooms, 9 bathrooms, and over 9,700 square feet. According to the listing on Zillow.com, the home was completely rebuilt and is now a Smart home controlled by iPads and also comes fully furnished with RH furniture.
Some of the really cool features that you can see in the photos below are the racquetball court as well as the home theater that has one of the coolest star ceilings!
Concerts are coming to your Rochester neighborhood
See the 6 forWARD Concerts in Rochester This Summer
There are six wards in Rochester, Minnesota, which means there will be six free concerts during the summer, one in a park within each ward.