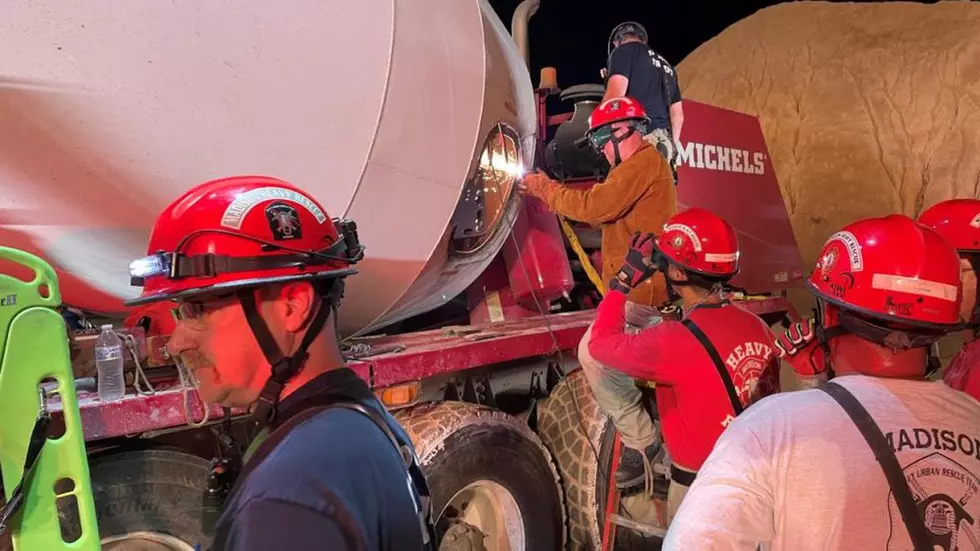 Odd Wisconsin: Man Survives Tumble In Spinning Cement Mixer
Madison Wisconsin Fire Department
Madison Wisconsin Man Takes A Tumble In Cement Mixer
A Madison, Wisconsin man that was working on a cement mixer in Vienna, Wisconsin had to be rescued after he fell into the mixing drum as it was spinning on August 1, 2022.
Twenty-five to thirty miles north of Madison Wisconsin, the Madison Fire Department, including their Heavy Urban Rescue Team (HURT), arrived to find the man stuck and injured in the at that point stopped drum.
The man could not exit thru the access hatch, though paramedic teams (from Madison and Sun Praire) could enter thru the hatch, so they immediately started treating the man for his injuries.
The Mixer Was Empty at the Time of the Accident
Thankfully, the man inside the drum and the rescue teams did not need to deal with cement as HURT spent an hour cutting thru the drum with a plasma cutter. After he was extracted, he was taken to a nearby hospital by the UW Med Flight crew.
Being stuck in a cement mixer on a hot sunny day is not specifically on this list of awful jobs to have in the hot summer sun, but...it should be!
20 of the Worst Jobs to Have in the Summer Heat
We've had quite the heat wave this summer throughout the United States. But what would be the worst job to have in Minnesota, Iowa, Illinois, Wisconsin, or anywhere that is feeling temperatures higher than 90 degrees and that hot, sticky humidity? We took a poll on social media and below are the top answers for the worst jobs to have in extreme heat.
As always, if you have a comment, complaint, or concern about something I wrote here, please let me know: james.rabe@townsquaremedia.com
Listen On-Demand with the Y105FM app, and on the following podcast platforms: Apple Podcasts | Google Podcasts | Spotify