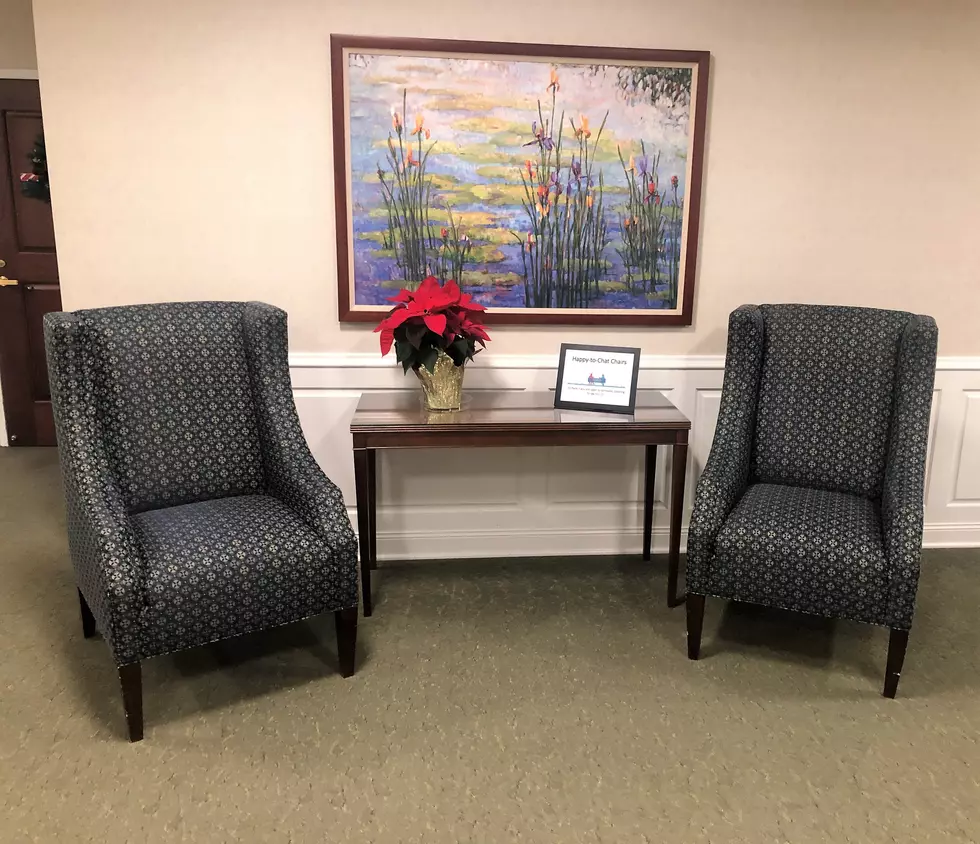 See The Two Most Important Chairs in Rochester Minnesota
Rabe
I was at Charter House over the weekend to visit a friend and walking out, I saw these two chairs, and realized, they just might be the two most important chairs in Rochester, Minnesota.
These are the two most important chairs in Rochester, MN?
That's a mighty bold statement to make, isn't it? "The most important chairs in Rochester." Why? They're not chairs that'll cure cancer, or magically put $10,000 in your account. They won't even teach you how to make the perfect waffle.
What makes them so important? The sign on the table between them.
Happy-to-Chat Chairs
Sit here if you are open to someone stopping to say HELLO!
I called Charter House to ask about these special chairs...who are they for, how long is the time commitment, etc. Their answer told me I was making it way to complicated.
"The Happy-to-Chat Chairs are for anyone that is in the mood to chat. It doesn't matter if you're living here or not, you're in the mood to chat, sit on down."
An article on the National Library of Medicine website (link) says, "Engagement in social and leisure activities is an indicator of quality of life and well-being in nursing homes."
It's not just about nursing homes, though. Places like Charter House offer a range of living options, from complete care to "Hiya!" as you walk past because you're super independent. But being independent doesn't mean you don't feel lonely now and then, so, the Chat-Chairs.
We Need Chat Chairs All Over Minnesota
Imagine being in the mood to talk to people at, say Social Ice, but you don't know anyone and you're not much at making conversation. Look to see if anyone's in the Icy-Chat-Chairs and head on over.
Or, if you're like me, and you love to chat, what's easier than sitting in the Chat-Chairs and being there for someone else?
Who knows, you might meet a very retired one-star general that's been a Twin Cities developer just like his dad who convinced Henry Ford to build in the MSP. He just showed up at my table during breakfast on the Amtrak Empire Builder.
Want a snow-filled weekend getaway Up North? Here's what you need to know for the outside fun part.
Places To Rent Skis, Snowboards & Snowshoes In Duluth
As always, if you have a comment, complaint, or concern about something I wrote here, please let me know: james.rabe@townsquaremedia.com
List of Rochester Businesses That Closed in 2022
Saying goodbye is never easy, and in Minnesota, it takes us a few hours to actually get out the door when we are visiting friends. Sadly, a few businesses in Rochester, Minnesota had their own goodbye in 2022 - some in more of a Minnesota style with a note and a few weeks or days to have closure, while others just seemed to disappear in the night forever.
America's 15 Most-Googled Celebrities of 2022
Below, discover the most-Googled celebrities of 2022 in the U.S.