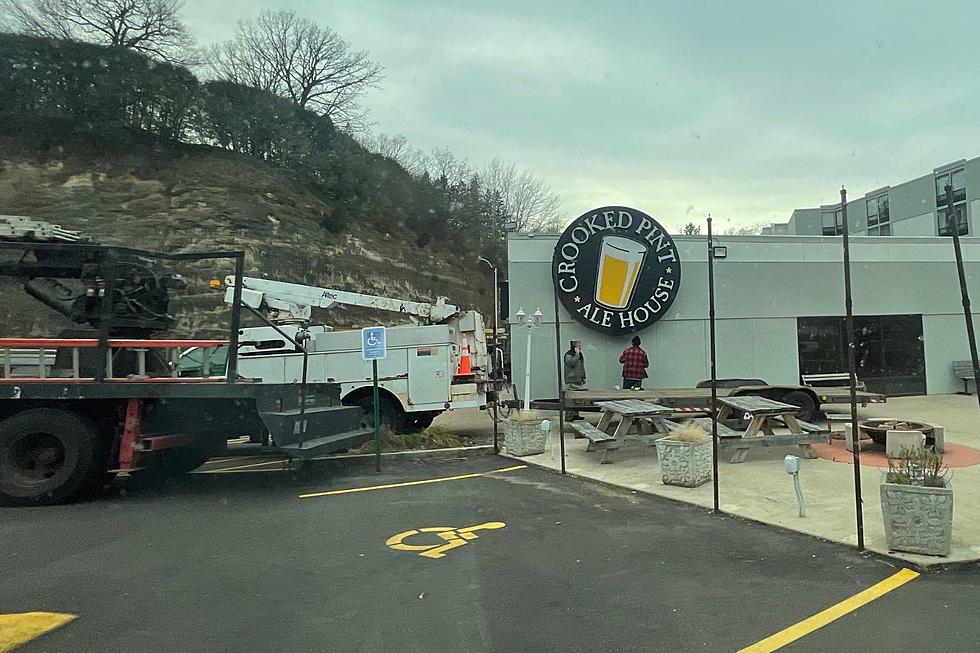 New Sign Alert! Looks Like a Business is Planning on Reopening in Rochester
Jessica Williams
New sign alert in Rochester, Minnesota on South Broadway!  Looks like the rumor of a restaurant reopening is coming true.  But that's not the only signage that went up recently!  The Shopko North and Shopko South stores have quite a bit of activity happening right now for new businesses opening up.
Crooked Pint Ale House signs are up in Rochester, Minnesota
Remember back when the pandemic hit and it seemed like every week a huge list of restaurants were announcing that they were closing?  One of the restaurants in Rochester that never reopened was the Crooked Pint Ale House.  No one really seemed to have answers about it.  Eventually, news hit that the building was on the market which solidified that Crooked Pint Ale House was NOT going to ever reopen in the NW Rochester location.
If you missed the story I wrote in July, I shared the news that it appeared Crooked Pint Ale House would be reopening.  Permits were filed on June 9th, 2021 that stated "remodel of existing restaurant space to a new full-service restaurant" was indicated with "Crooked Pint Ale House" listed after.  The remodel was for 1625 Broadway Ave. South, which is home to the Ramada by Wyndham.  It is also the spot where Cowboy Jacks used to be before their sudden closure.  Looks like that is moving forward now that the signs are up outside.
When is Crooked Pint Ale House Reopening in Rochester?
I've been asking around to see who might know when Crooked Pint Ale House is reopening in their new location.  Crooked Pint saw that question on my Facebook page - Jessica On The Radio - and said,
"We will announce a date once we have one set!".
Is it true Carbone's Pizzeria is coming to Rochester?
Is it true that Carbone's Pizzeria will be coming to Rochester, Minnesota?
I hope you love pizza, Rochester, Minnesota, because one of the hot spots in the Twin Cities area, Carbone's Pizzeria, is coming to town.  September 8th is when I first started hearing the rumblings that Carbone's Pizzeria was going to be making a permanent home in Rochester at the old Crooked Pint Ale House at 2723 Commerce Dr NW in Rochester.  Learn more about the new restaurant here.
We Now Know What's Going in Rochester's Old Shopko North Store
Remember the old Shopko North store in Rochester, Minnesota?  Many of us, including my family, loved shopping there back in the day but we also had friends and loved ones working at the Shopko stores up until the final days before they closed forever.  Both stores sat empty for a bit but it looks like we've got one more update happening with those buildings because something new has shown up on the right side of the old Shopko North building.  See that update here.
We Now Know What's Going in Rochester's Old Shopko North Store
Listen On-Demand with the Y105FM app, and on the following podcast platforms: Apple Podcasts | Google Podcasts | Spotify
FILL IN THE BLANK: Rochester has too many of ________.
I know you are going to put "banks" in that space already, but what else do we seem to have an excess of in Rochester?  Look through the list below and see if your answer for the blank is in the list.  (FYI...if it isn't, send me a message over at my Facebook page - Jessica On The Radio and I might add your idea to the list too!)
FILL IN THE BLANK: Rochester has way too many ________.
If someone asked you, "What does Rochester have too many of?", what would you say? I asked that question to people living in the Med City and got quite the list of answers. Some might make you laugh (cause they are true) and others may have you scratching your head a bit because this is the first time you've realized we have a few issues happening in our gorgeous city. Scroll through the list that were sent to me and see how many you agree with.
Wow! Check out how Rochester has changed throughout the years in these Google photos.
As we are soaring down Hwy 52, it is hard to imagine what life was like in our town before the Target store was built where it is today. Or the house that you live in now, at one point in town, that wasn't there. In fact, Rochester has grown so fast throughout the years, most of our houses weren't even around 50 years ago! Don't believe me? Look through these photos to get a glimpse of what Rochester was like years ago.