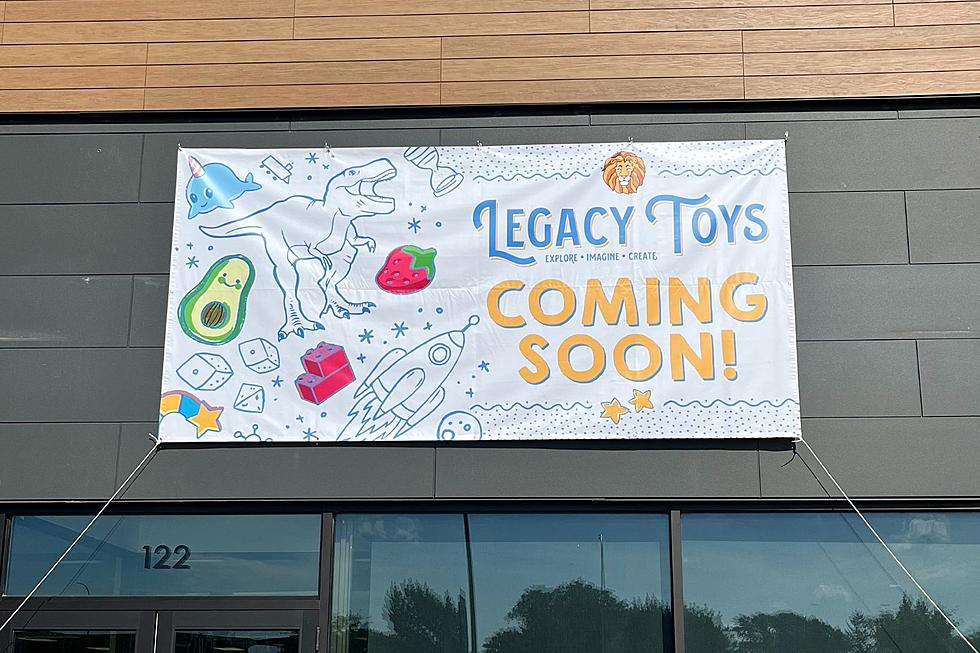 Opening Soon! New Toy Store in Rochester, Minnesota
Legacy Toys
I know that a bunch of families were feeling a sense of loss a few months ago when the news broke that ABC and Toy Zone was closing in Rochester, Minnesota.  The store just wrapped up its final Christmas in July sales and I know quite a few families that stopped in one last time to say "goodbye" to the store that they've loved for years.  Well...it is almost time to say "hello" because a new toy store is getting ready to open!
Is a Toy Store Opening in the Old ABC and Toy Zone Store in Rochester, Minnesota?
I just got off the phone with Peter who works with Legacy Toys and it is confirmed, they've got the keys and they are now working on the old ABC and Toy Zone location and transforming it into an amazing experience for kids and adults in Southeast Minnesota.
Everything You Need to Know About Legacy Toys, the New Toy Opening Soon in Rochester, Minnesota
Way back in 2012, an adorable toy store opened in Ely, Minnesota and that was the start of what is known today as Legacy Toys.  You can still visit it if you are traveling in that area of Minnesota but now, quite a few more have opened as well in Minnesota with one location in North Dakota as well.
All of their stores have one thing in common - they are there to provide experiences for kids and adults and bring that sense of awe and wonder back, just like we experienced in toy stores when we were kids.  And...maybe with a little bit more fun!
When ABC and Toy Zone announced they were going to be closing, Legacy Toys wanted to ensure that spaces like this toy store were still around and so the discussion began to expand to Rochester.
In my chat with Peter, he mentioned that families will experience some similarities and see some of the same toys that ABC and Toy Zone provided in their space, but there will also be a few new added features that sound absolutely amazing!  Legacy Toys wants to be that fun place for families where resources and educational toys are available to help foster the family time that is so badly needed in today's world.
Legacy Toys shared their opening plan with me and is working on three different phases:
Phase 1: getting the store prepped and ready (right now)
"The Rochester store is going to be our latest model. It will essentially be Legacy Toys 3.0.  The new prototype will take place in 3 phases and includes a town like feeling with interactive play areas. Phase 1 is well underway with demo, painting and prepping of the space for the installation of the base town fixtures. This will happen within the next few weeks and allow for product to be received and a possible soft opening. - Brad Ruoho, Owner of Legacy Toys
Phase 2: specialty fixtures will be installed including a market, candy store, school bus, doll house, and a very large interactive tree that will sit in the middle of the store. (end of September)
Phase 3 – the back of the store will be recreated to include some interactive play areas, party rooms as well as the place for some seasonal activities.
When is the Opening Date Going to Be for Legacy Toys in Rochester, Minnesota?
Legacy Toys said to watch their Facebook page for announcements, but I'll keep you in the loop too.  Go follow my page on Facebook - Jessica On The Radio - and I'll have the info posted as soon as I hear!
Check Out The Fun Giveaway Happening at Legacy Toys BEFORE They Open!
During my chat with Peter, he mentioned that every Legacy Toys location has its own Facebook page AND they've got something special happening on the new Rochester page right now.  Hint, hint...you are probably going to want to give their page a look.
Top 8 Restaurants in Rochester with Amazing French Fries
There's just something a potato peeled just right that's fried to perfection that hits the taste buds in all of the right spots. If you love a good french fry with your burger, or you just want to have a plate all to yourself, July 13th is a big day for you. It is National French Fry day! Yes, our beloved potato has its own day.
I asked a bunch of people what their favorite places were in town to grab a fry...or two. I learned that we have some very passionate french fry fanatics and as soon as we posted the question, e-mails started flying in on the best spots in town. Here are the top picks!