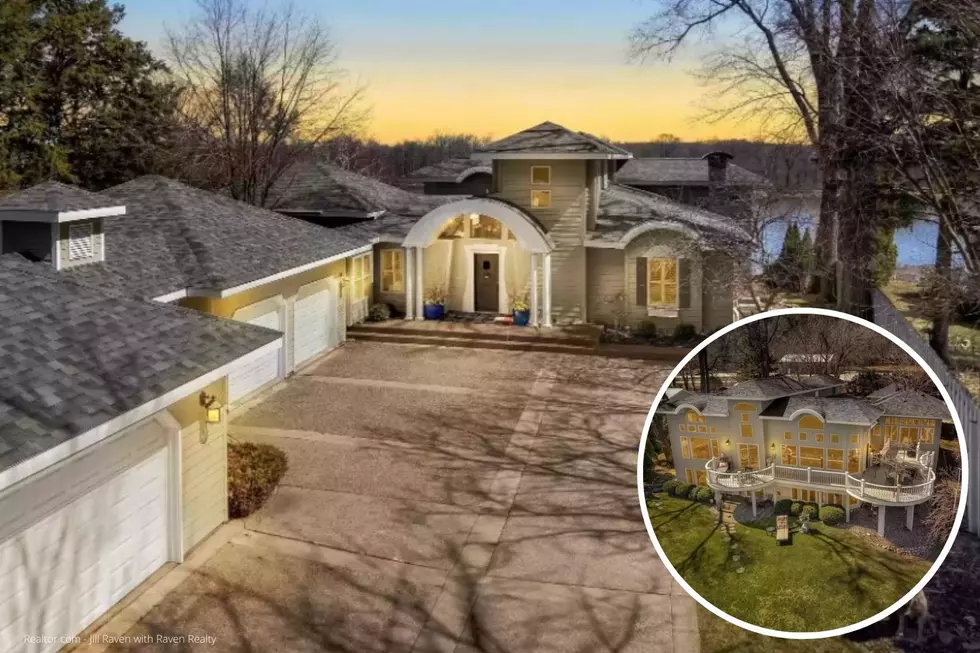 Luxurious Million-Dollar Minnesota Home for Sale on Mississippi River
Realtor.com - Jill Raven with Raven Realty
If you've ever wanted to live on the water or a lake in Minnesota, it doesn't get any bigger than on the Mississippi River!  If you have about $2,000,000, you are in luck because 31008 Old Mill Road in Dresbach is for sale and sits right on the mighty Mississippi!
Check Out This Million-Dollar Home for Sale in Minnesota that Has the Mississippi River as a Neighbor
I'm a huge fan of Lake Pepin and all of the towns that are on the edge of the Mississippi River in Minnesota.  They are so quaint and have tons of character, but the biggest draw for me is the boats.  I LOVE watching the boats go down the river, everything from the barges to the sailboats.  It is just a glorious sight as the eagles are flying around.
That entire view could be yours if you have a few million to spare.  I was doing a little bit of "house-buying" research and found this massive home that's for sale.
Massive Million-Dollar Home in Minnesota Overlooking the Mississippi River Now For Sale
If your dream is to live by the water in Minnesota, an amazing property that sits on the Mississippi River just hit the market in the super small town of Dresbach. Now, one of the listings says La Crescent and the other is Dresbach, so not sure what zip code you will end up with once you buy. All you really need to know though is that the Mississippi River is your neighbor.
31008 Old Mill Rd in Dresbach, Minnesota just hit the market and is listed at $1,950,000. The views are amazing and I'm sure this is a great spot for Eagle watching too! If you are in the market for some water-front property, this home features over 6,000 square feet, has 4 large bedrooms, 4 full baths, as well as a 4 car garage.
The photos below give you a glimpse of the open floor plan and huge space that could be yours!
Want to see this million-dollar home in Minnesota on the Mississippi River in person?
I'm not in this market for a lake home just yet (and can't afford this one!) but if you are and want to learn more, check out the full listing by Jill Raven with Raven Realty on Realtor.com here.  FYI - there are 2 listings in that listing and they both say that the home is in La Crescent, and both homes have different square footage amounts but the photos are the same.
Picture-Perfect Modern Farmhouse Home Now for Sale in Byron, Minnesota for $2,375,000!
Now, if the house below was sitting on the Mississippi River, I'd be moving ASAP but first, I'd need to ask Siri how I can make a million dollars in 30 days.  Take the dream of living on the water with this home and you basically are seeing my dream come true!
This dream home is everything farmhouse that I love and it is close to Rochester, Minnesota so I can still keep my day job.  There's just one issue...this dream house is $2,375,000.
While I am working on getting pre-approved (and coming up with a secret stash of cash), I thought I'd give you a sneak peek of where I will soon be living.
Picture-Perfect Farmhouse Style Home for Sale Near Rochester, Minnesota
The words I'd use to describe this new house for sale near Rochester, Minnesota are gorgeous, farmhouse, perfect, and mine.
I'll let you look at the photos of this 1985 built, 5 bedroom, 5 bath, 5,900+ square feet home below but just know, if a miracle happens and I can afford the $10,000+ monthly mortgage on this house, it is mine.
Besides feeling like Chip and Joanna Gaines designed this home just for me, I really love the fact that this house has geothermal features.