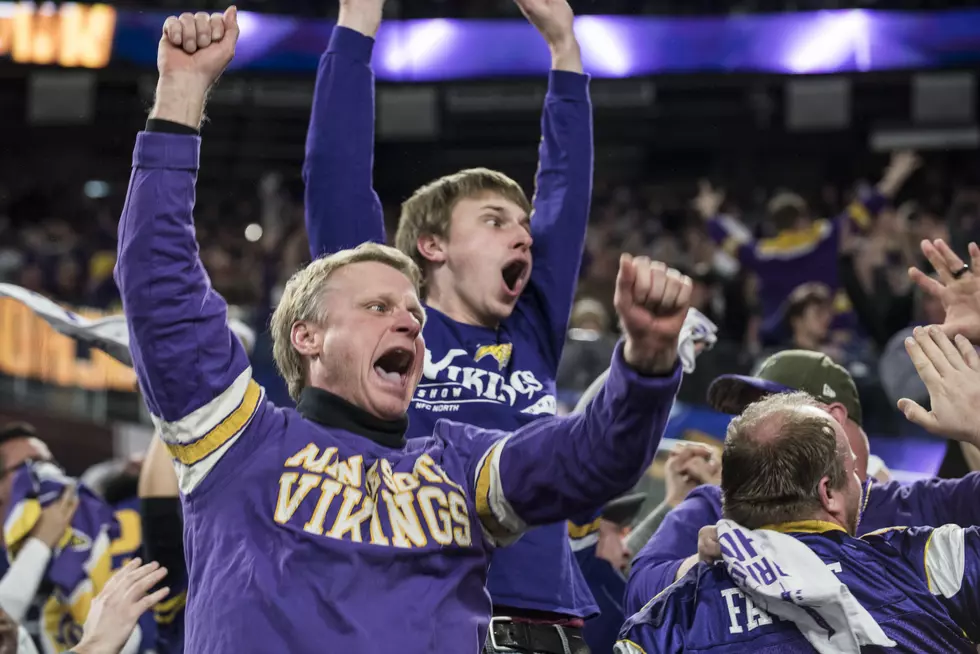 Minnesota Vikings a Top 10 Team For Most Fake Fans in NFL
Stephen Maturen/Getty Images
Do the Minnesota Vikings some of the most fake fans out there? They do, if you believe the findings of a new online survey.
It's no secret that many NFL fans take to social media, like Facebook and Twitter, to brag about their favorite team. (Many also dump on them, depending on how their team might be playing on any given week.)
But are fans of certain NFL teams (like, yes, the Vikings) really FAKE? Turns out, they are... kind of. That's the word from this new survey done by Pickswise which analyzed the Twitter following of all 32 teams in the NFL to reveal which have the greatest percentage of fake followers.
Now, by 'fake' followers, we're talking about bots, spam accounts, inactive users, propaganda, or other non-engaged/non-real users. It's not a measurement of how authentic any team's fans are; this is a summary of how many of a team's fans aren't really who they seem to be-- they're fake, literally, and often used just to inflate the number of followers on team's site.
And, according to Pickswise, the Vikings placed 10th on this list of NFL teams with the fakest following, with 34.9% of the Purple and Gold's Twitter followers deemed fake. I'm no statistician, mind you, but that number is over a third, which seems to be a tad on the high side.
It's not as high as the team with the biggest percentage of fake fans on Twitter, however. That honor goes to the Arizona Cardinals, who came in with a whopping 44.8% of fake fans! (Yikes-- that's closing in on half, right?) Contrast that with the Washington Football Team (and, come on, can they find a new nickname already?!?) which the survey said only has 28.5% of fake Twitter fans. The Vikings' border and division rival, the Green Bay Packers, came in 26th on the list, with 31.1% of fake Twitter fans.
The survey, of course, really doesn't mean a whole lot, except that just about ALL NFL teams have a certain amount of fake followers on Twitter. It is probably fodder, though, for Packer fans, to once again question the authenticity of Vikings fans. (And being a Wisconsin native and Packer fan, yeah, that's probably something my fellow fans might do.) Speaking of the difference between Wisconsin and Minnesota sports fans, keep scrolling to see what those of us born over the cheese curtain to the east really think about Minnesota!
Listen to Curt St. John from 6 to 10 a.m. on Quick Country 96.5
and from 2 p.m. to 6 p.m. on 103.9 The Doc
10 Things Every Person From Wisconsin Thinks About Minnesota