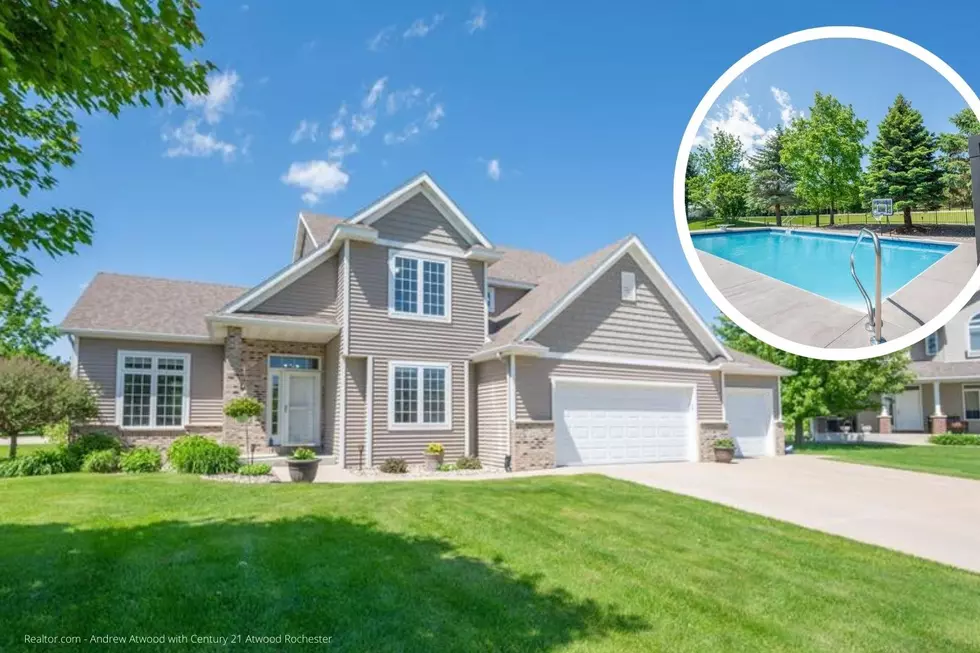 One of the Best Homes for Sale in Rochester That's Under $1,000,000
Realtor.com Andrew Atwood with Century 21 Atwood Rochester
A house just popped up on the real estate market in Rochester, Minnesota and it is seriously one of the best homes for entertaining and it doesn't even cost $1,000,000!  If your kids have been begging for a pool, you can check that off the list because it has an AMAZING pool and outdoor area!
One of the Best Homes for Sale in Rochester That's Under $1,000,000
I'm a huge fan of sitting outside practically all summer and when I saw the photos of the house at 3443 Limerick Ln NE that just hit the market in Rochester, Minnesota, I thought I found THE ONE!  I doubt I can actually afford this house but the entire place is remodeled and has a kitchen that is amazing, huge bedrooms, gorgeous woodwork, but also has an outdoor space that I've been dreaming of, including a huge pool.  I have never had a pool and I have zero idea how to maintain one but that's what YouTube is for!
Picture-Perfect Home for Entertaining Now for Sale in Rochester...and it even has a pool!
One of the best homes on the Rochester, Minnesota real estate market right now is a home that was just put on the market that looks practically brand new! Oh, and it comes with an amazing outdoor area WITH a pool that everyone in the family will love!
According to Realtor.com, 3443 Limerick Ln NE in Rochester, Minnesota is currently listed by Andrew Atwood with Century 21 Atwood Rochester for $665,000. It was built in 2005 but everything thing about this house looks like it is practically brand new. The entire home features more than 3,000 square feet, 4 bedrooms, 3.5 bathrooms, and has one of the most amazing garages that a car enthusiast will love!
Check out these amazing features of the house at 3443 Limerick Ln NE in Rochester, MN
According to Realtor.com, here are a few other features of the home:
Price - $665,000
4 bedrooms
3.5 bathrooms
3,364 square feet
firepit
pool
two-tier maintenance-free deck
gas-burning fireplace
Golf at 8 Courses in Southeast Minnesota for Just $99
And now for a house I know I can't afford...this gorgeous Farmhouse style multi-million dollar home in Byron, Minnesota
I feel like Chip and Joanna Gaines showed up in Southeast Minnesota and completely transformed this Byron, Minnesota home into one of my favorite things.  If I had the cash, I'd move in today.  See the photos for yourself and let me know on
my Facebook page - Jessica On The Radio
- what style of house is your favorite.
Picture-Perfect Farmhouse Style Home for Sale Near Rochester, Minnesota
The words I'd use to describe this new house for sale near Rochester, Minnesota are gorgeous, farmhouse, perfect, and mine.
I'll let you look at the photos of this 1985 built, 5 bedroom, 5 bath, 5,900+ square feet home below but just know, if a miracle happens and I can afford the $10,000+ monthly mortgage on this house, it is mine.
Besides feeling like Chip and Joanna Gaines designed this home just for me, I really love the fact that this house has geothermal features.