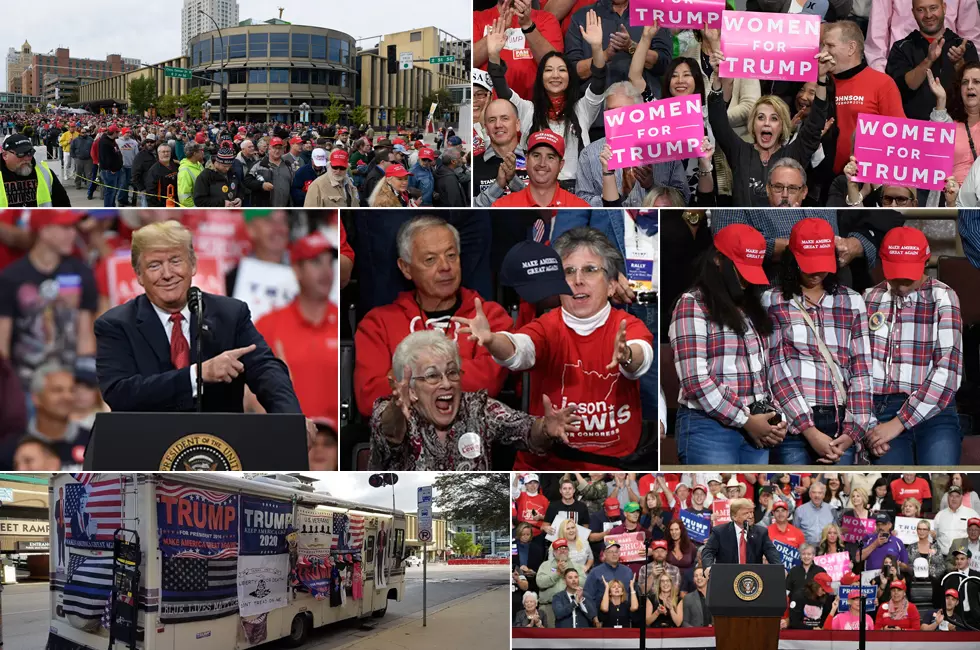 Remember President Trump's Visit To Rochester? [PHOTOS, VIDEO]
Donald Trump Visits Rochester, MN (Getty Images)
Supporters had gathered earlier in the day, lining up for blocks as they waited to get inside the venue. One of the topics he touched on was the ongoing controversial nomination of Brett Kavanaugh to the US Supreme Court. The Senate confirmed the nomination two days later. Trump also asked his supporters to vote for Republican candidates in the upcoming election.
Trump was the first sitting president to make a stop in Rochester since President George Bush made a campaign stop to push the US Senate campaign of Norm Coleman in 2002.
Trump's visit pushed ridership on the city's public transit system to a new record high. Rochester Public Transit says the expected traffic and parking disruptions connected to the president's rally at the Mayo Civic Center and the fare holiday aimed at encouraging ridership boosted the number of boardings on RPT buses for the day to 16,617. By comparison, average weekday ridership on the system results in around 7,500 boardings.
Also making news that day was a man with a history of disrupting appearances by President Trump. 36-year-old Samuel Spadino of Minneapolis was arrested on charges of obstructing the legal process, disorderly conduct, and trespassing. Police said Spadino repeatedly yelled "Dad!" at the beginning of the president's rally and the Secret Service requested officers escort him out of the venue. He was arrested when he resisted their efforts to remove him.
Here's what the crowd in front of the Civic Center looked like at noon:
Protesters gathered at Soldier's Field at noon:
GALLERY: Donald Trump Visits Rochester, MN - October 4, 2018
Enter your number to get our free mobile app