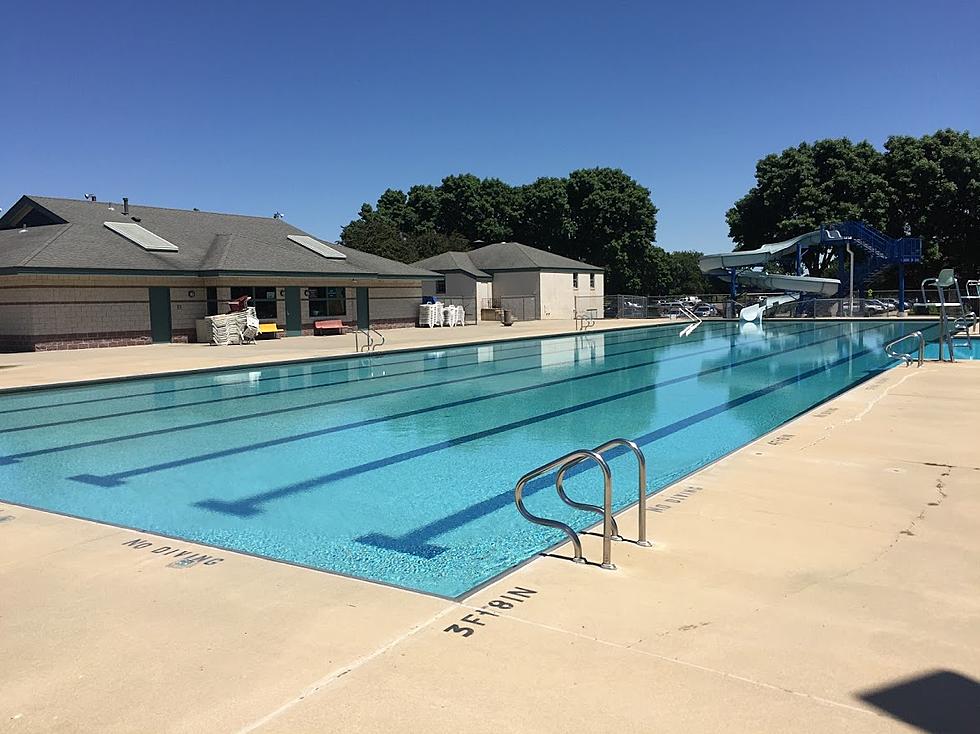 Fees Will Be Back At Rochester City Pools This Year
Rochester's Soldiers Field Pool (CSJ/TSM-Rochester)
Funding came through from the Rochester City Council, so both city-owned pools in Rochester, Minnesota will be open this summer in early as June. For specific dates, costs, and such, scroll down.
Parents in and around Rochester, Minnesota will be very happy to hear this news, especially after a shaky start to 2021 where we thought one of the city pools would close forever.o
(May 2, 2021) The Rochester Park Board last fall recommended permanently closing the outdoor swimming facility because of declining attendance and the high costs associated with repairing and replacing the equipment needed to operate the 62-year-old pool. Read More: Rochester Considering One More Season For Silver Lake Pool
Then, once we got to an actual pool opening, trouble reared its ugly head...
Unsafe behavior at Rochester, Minnesota's Soldiers Field Swimming Pool ended up closing the pool (and delaying the opening of Rochester's Silver Lake pool).

"Yesterday (Tuesday the 8th), the Soldier's Field Pool announced a capacity limit of 300 in an effort to control unruly guests but that policy quickly changed. Citing safety concerns, the City...announced the two city pools will be temporarily closed, effective immediately.

The city's press release says, "The unsafe activities have included fights, pushing, children being left unattended, lack of attention to the lifeguards, and general disregard for pool rules." Keep Reading - Rochester Closes City Pools
So news that both pools will open, money is already allocated, and that a contract has been signed is a huge relief.
Pool Opening Dates, Hours, and Fees
ROCHESTER SOLDIERS FIELD POOL INFO
Address: 244 Soldiers Field Drive SW
Season Opener: Saturday, June 4, 2022 (weather permitting)
Hours: 7 Days a Week: 12 PM - 8 PM (morning hours reserved for Swim Club activities)
Closes for the Season: August 28, 2022
ROCHESTER SILVER LAKE POOL INFO
Address: 840 - 7th Street NE
Season Opener: Monday, June 6, 2022 (weather permitting)
Hours: 7 Days a Week 12 PM - 5 PM (12 PM to 8 PM Tuesdays and Thursdays) Morning hours are reserved for Swim Club activities.
Closes for the Season: Late August 14, 2022
ADMISSION PRICES FOR BOTH ROCHESTER PUBLIC SWIMMING POOLS
$5 child (Ages 1-17)
$6 adult (Ages 18 & Up)
DO ROCHESTER POOLS CLOSE IF IT GETS COLD?
Not that it ever might get cool in Minnesota, but..."If the air temperature is below 70 degrees at 5:00 p.m. and attendance is 10 paid admissions or less, the pool will close. If the pool is not open by 3:00 p.m. due to weather conditions, it will not open that day.
As always, if you have a comment, complaint, or concern about something I wrote here, please let me know: james.rabe@townsquaremedia.com
Click Play to Hear The Y-105FM Early Morning Show Radio-On-Demand Podcast!
Listen On-Demand with the Y105FM app, and on the following podcast platforms: Apple Podcasts | Google Podcasts | Spotify
Speaking of Summer Fun
Who were the most successful food vendors at the Minnesota State Fair last year?
The Top 10 Food Vendors at the 2021 Minnesota State Fair
These food vendors made the most money during the 2021 run of the annual Minnesota State Fair.