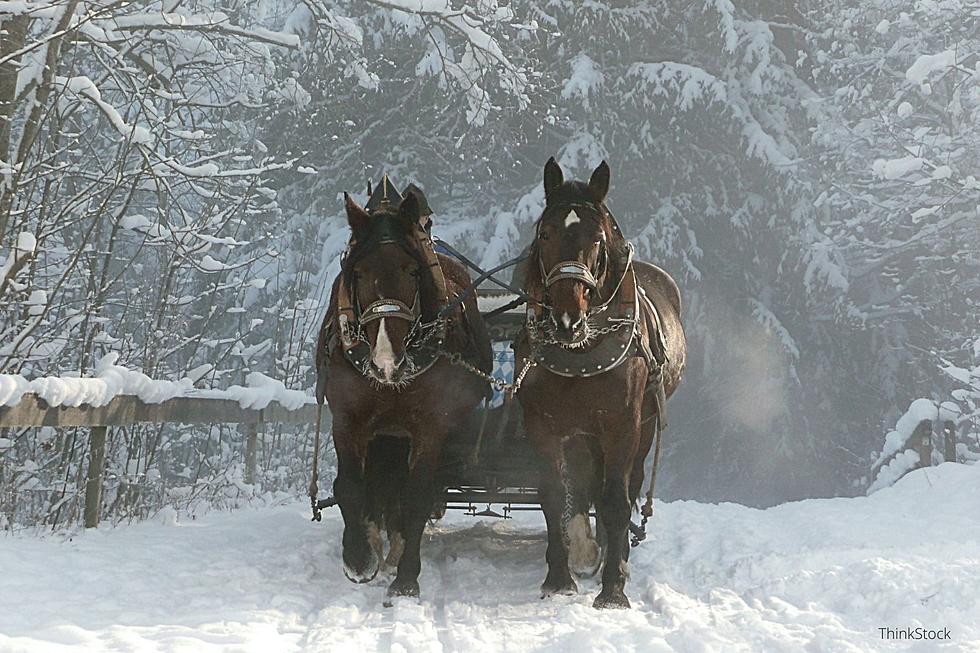 Don't Freak Out When You See Horses in Rochester Next Weekend – Sleigh Rides are Back!
ThinkStock
If going on a sleigh ride this Christmas season is on your bucket list, I've got amazing news for you!  Sleigh rides are BACK in Rochester, Minnesota on December 19th this holiday season at Forager Brewery and you can grab tickets now.
Sleigh Rides are Back in Rochester, Minnesota for the Holidays at Forager Brewery
Get ready for some good ol' family fun brought to you by our friends at Hanson Horse Ranch!!
Join us for a sleigh ride at Forager Brewery on December 19th from 10am-3pm as Hanson Horse Ranch will be bringing their team of beautiful horses with a wagon to provide a fun activity for the whole family! - Forager Brewery Facebook Page

 
How to Grab Tickets to the Sleigh Rides in Rochester, Minnesota
Tickets are only $2 per person + fees and all funds are going to the Hanson Horse Ranch team.  Reserve your time and grab your tickets here.
Drift Dough has moved out of Forager Brewery and something new has moved in!
Before you grab your tickets and start dreaming of enjoying a donut from Drift Dough while you are waiting for your sleigh ride, just an FYI...Drift Dough is no longer at Forager Brewery. 
Drift Dough has moved out of Forager Brewery
While Forager Brewery was making announcements about their new cafe opening up (which you could enjoy before or after you sleigh ride), Drift Dough broke the news on their Facebook page on October 28th with their plan to move around the corner.
..It's true! *soon* Drift Dough will be making a (short) migration a few blocks over to Old Abe's. This 🎃 weekend will be our last weekend of service at Forager. The transition to the new digs won't be instantaneous but we're shooting to have donuts back in Kutzky as soon as we can. We'll post updates here +follow @old_abe_and_co or shoot us or Old Abe an email to stay in the loop. And stay tuned for @foragerbrewery 's updates - the morning fun won't be stopping there either. More soon! 👋🍩🍩, dd - Drift Dough Facebook Page
Listen On-Demand with the free Y105FM app, and on the following podcast platforms: Apple Podcasts | Google Podcasts | Spotify
What do you despise most about winters in Minnesota, Iowa, and Wisconsin?
I got quite a few answers from people locally that matched a survey that was done by Heat Holders, but if one is missing, let me know! Sending me a message on Instagram or on my Facebook page - Jessica On The Radio.
30 Things People in Minnesota, Iowa, and Wisconsin Hate About Winter
When you think of the Midwestern states like Minnesota, Iowa, and Wisconsin, some people immediately think that we are freezing all the time. That's not 100% true, just about 56% true. In fact, being cold and freezing is something that most of us don't really appreciate about the winter months. That's not the only thing that we despise though. Check out the rest and see how may you give a thumbs up to.