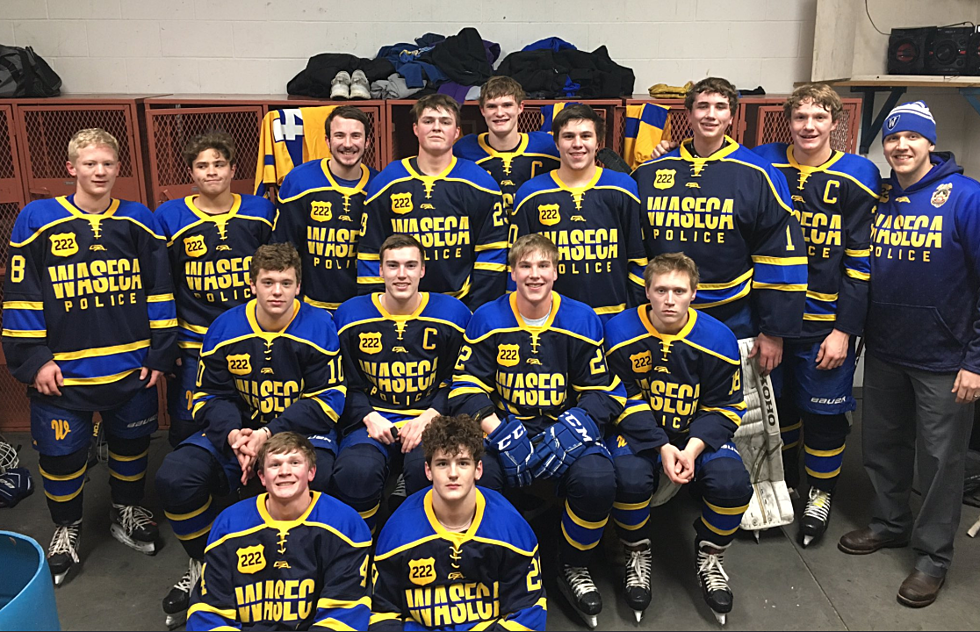 State League Will Not Allow Waseca Hockey To Wear Matson Jerseys
Image Credit: @BlueJayPuckBoss via Twitter
The Minnesota State High School League (MSHSL) has notified Waseca High School and their hockey teams, both boys and girls, that they cannot wear the Waseca Police hockey jerseys the teams had worn earlier in the month to honor shot Waseca Police Officer Arik Matson. The MSHSL told the teams that the jerseys are not in compliance with rules for special recognition or commemorative or memorial patches.
  The jerseys in question feature the words Waseca Police with a think blue line running through Waseca on the front of the jersey black jersey in yellow. The front of the jersey also features a badge with Officer Matson's badge number '222' on it. The back of the jersey features the player's number and 'Matson' on the rear nameplate for all players.
MSHSL's policy on jerseys, and memorial patches can be found here. A selected portion of that page is below I've highlighted the opening paragraph and item 4 under uniform modifications that likely is the reason the teams wore their normal jerseys for the games last night. "The increased recognition of charitable causes by professional sports teams has prompted questions from member schools that have an interest in hosting a contest in recognition of a charitable cause. Oftentimes, schools want to change uniform colors, add uniform adornments, or use colored balls. These changes may be in direct violation of game rules which creates problems for the team, their opponents and the game officials. In an effort to provide uniformity, the MSHSL Board of Directors has developed a policy and procedures to address special recognitions, commemorative or memorial patches.   4. All uniforms must meet the rule book requirements. Uniforms of a special color to bring awareness to a cause are not allowed. The following exceptions are allowed: a. A uniform patch four square inches or less may be worn. b. Wristbands (cloth) or sweatbands of a color different than the uniform color may be worn. c. Colored shoe laces, shoes, or decals on shoes are legal at any time d. Socks, unless disallowed by rule, may recognize a specific initiative. e. Helmet decals of four square inches or less may be worn. f. Ribbons of a color different from the uniform color may be worn if they can be fastened securely without causing a safety concern for players or opponents."   If you have any questions regarding this policy, please contact the League office at 763-560-2262."
I will saw the Waseca boy's team was an absolute class act last night as they wore the 'Matson' jerseys for warmups and they looked sharp. Check them out below.  
***********************UPDATE 1:48 PM 1/24/2020***********************************
The Minnesota State High School League has publicly commented on the uniform decision on its Facebook page.

The MSHSL also updated their cover photo to be the Waseca boy's hockey team in the Matson jerseys.
Enter your number to get our free mobile app