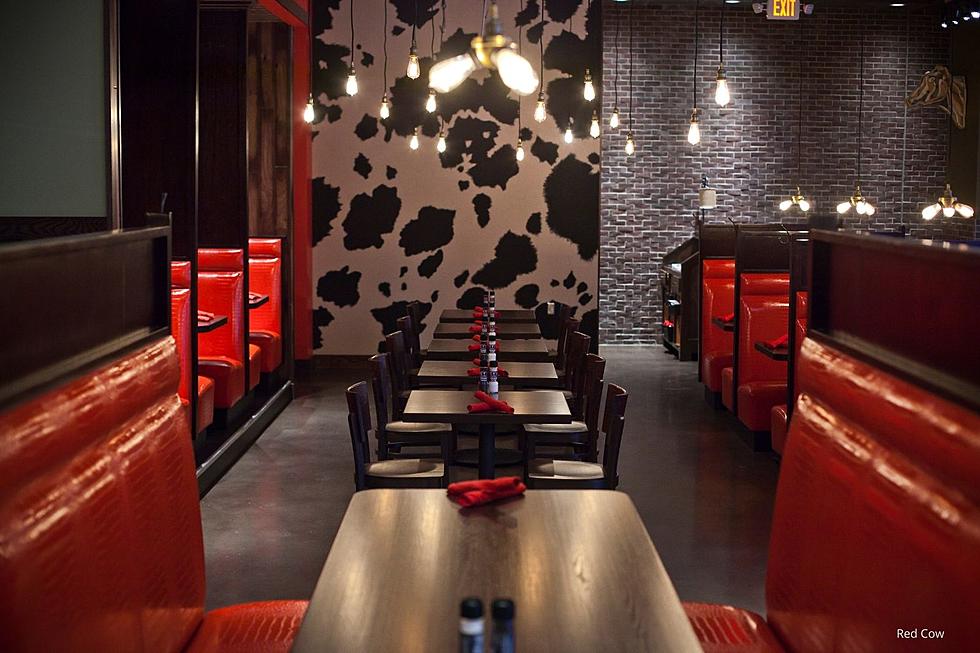 We Now Know The Opening Date for Red Cow in Rochester
Credit: Red Cow
Are you ready to bite down on what is supposed to be one of the best burgers in the entire state of Minnesota?  Well, get ready, because the rumor of an opening date was recently announced for one of Rochester's newest restaurants, Red Cow!
When is Red Cow Opening in Rochester, Minnesota?
About a year ago, we heard the exciting news that Red Cow was expanding into the Med City area.  Red Cow restaurant, which currently has four restaurants in the Twin Cities, announced in July 2021 that they were going to open their fifth location in the Med City across from St. Mary's Hospital at 1406 2nd Street SW in The Berkman.
"We're excited to bring Red Cow to Rochester and can't wait to welcome the community into our new restaurant.  Our neighbors will have a place to hang out, grab drinks at the bar, and enjoy a delicious meal. We hope it becomes the go-to neighborhood spot and convenient for those working in the area to get takeout." - Luke Shimp, Owner of Red Cow
According to the press release back in 2021, Red Cow has been voted "Best Burger" twice by Mpls/St. Paul Magazine and is known for its variety of gourmet burgers, an extensive list of local beers, fine wines, and craft cocktails.
If you are ready to enjoy this new spot in town, you won't have to wait too long because the rumor is that they are opening on August 10th, 2022!
Now, the trend for openings lately in Rochester, Minnesota seems to be a mixture of a lot of delays.  If for some reason August 10th isn't the actual day, I'll have an update over on my Facebook page - Jessica On The Radio.
Red Cow is Now Hiring for the New Location in Rochester
Before doors open, one thing that every business needs is employees and that is what Red Cow is looking for right now in Rochester.
NOW HIRING Red Cow Rochester🐮
We are currently accepting applications and interviewing for SERVERS, HOSTS, BARTENDERS, BUSSERS & COOKS.
Providing a sophisticated twist on the classic neighborhood tavern, Red Cow celebrates finely crafted eats and drinks with a focus on gourmet burgers, craft beers, and fine wine.
Our core purpose is to create Raving Fans all over the state of Minnesota! We Love This, We Want To Win, We Care Tons and We are Team First.
Join our badass team and grow with us!
Open interviews will take place in Rochester at the Berkman July 13-16 from 11AM-8PM and July 19-23 from 11AM-8PM. Or, apply online at redcowmn.com > careers.
Red Cow Rochester is located at 217 14th Avenue SW Rochester, MN 55902. - Red Cow Facebook Page

 
A few fun details about the new Red Cow restaurant in Rochester!
Because I think we all like to know a bit more about the places that are coming to town, here are a few fun details to get you excited:
The restaurant will be approximately 6,000 square feet
There will be indoor seating for 130 people
There will be outdoor seating on a patio for 50 people
And don't worry about parking - there will be plenty of spots!
Do you know another business that is opening up in Rochester?
I always appreciate getting tips on new places that are opening up in Rochester.  So, if you hear any rumors or know of places opening up in Rochester, send me a message to my Facebook Page - Jessica On The Radio or e-mail at jessica.williams@townsquaremedia.com.
If you want an amazing burger in Rochester now, check out these top spots!
Next time you need some beef, grab a burger at one of the spots below.  There are the top picks and winning burgers in Rochester according to people right here in town.
11 Best Places to Get a Mouth-Watering Burger in Rochester
A delicious burger is ALWAYS a good idea! But it can be hard to figure out where to go with all of the burger places in our area. To help you decide where to get your next burger, check out the 11 best places to get a burger in Rochester
according to Yelp
(in no particular order).