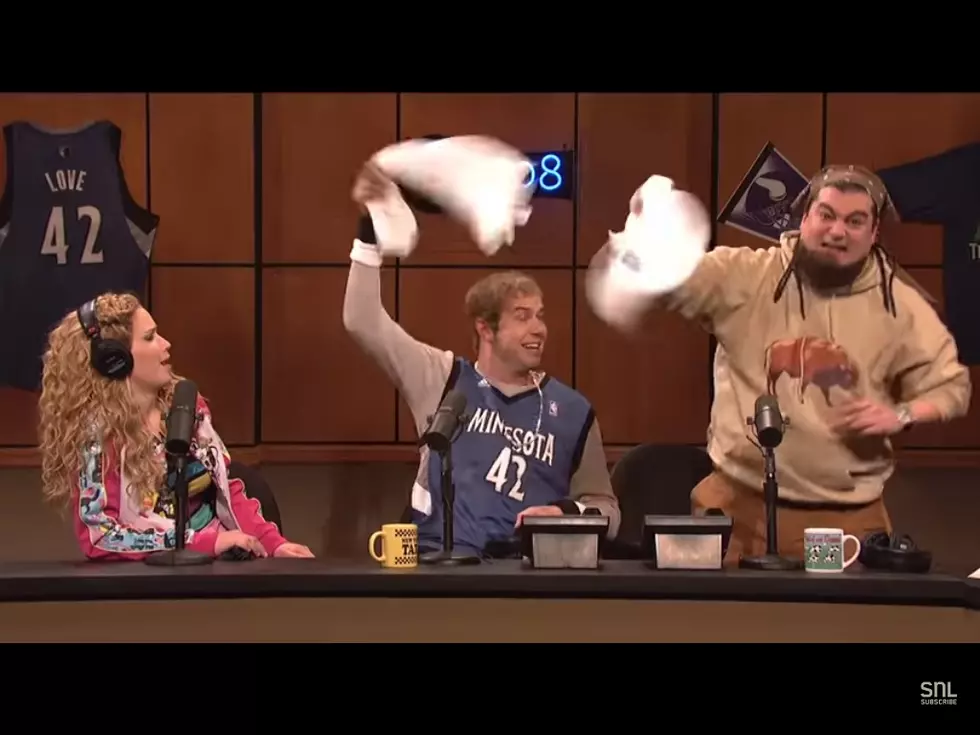 Zinger! The 6.5 Times SNL Targeted Minnesota (VIDEOS)
Screenshot - youtube video in story.
We're just a few days past Saturday Night Live's 47th Anniversary, so it's the perfect time to remember some of the times Minnesota has been mentioned or made fun of on SNL.
6 1/2  Times SNL Mentioned or Made Fun of Minnesota
Fly High Duluth!
A local band, led by Jack Daniels-guzzling Wally Hamrlik (Will Forte) and his wife Char (Scarlett Johansson), overstay their welcome while performing "Fly High Duluth," the theme song for morning show "Duluth Live." [Season 31, 2006]
Monday Night Football: Buccaneers vs. Vikings
Sportscaster Al Michaels (Darrell Hammond) is unsettled by the commentary coming from his new co-hosts including Dan Fouts (Will Ferrell), Dennis Miller (Jimmy Fallon) and Eric Dickerson (Tracy Morgan) on Monday Night Football. [Season 26, 2000]
BExtras08 FM: Busty Rhymes - Saturday Night Live
On Shakopee, Minnesota's hottest morning radio show the new intern takes a stab at freestyle rapping and the news anchor creates a flu panic in the studio. [Aired 01/19/13]
Also, SNL writer Erik Kenward is originally from Owatonna.
Weekend Update: Hot Dish
Weekend Update anchors Colin Jost and Michael Che tackle the week's biggest news, like a Minnesota Senator's Tater Tot Hot Dish.
Recall the Kid Mayor - SNL
An angry Tad Rankin (James Franco) vents his resentments and bitterness in a political ad that urges residents of a small Minnesota town to recall 4-year-old Tommy who beat Rankin in a mayoral election. [Season 40, 2014]
M&M Store - Saturday Night Live
The greeter at an M&M's store takes time to apologize to all of his coworkers (one from Minnesota!) for his various racist, sexist and homophobic comments.
Who Keeps Letting the Cows Out in Goodhue County?
Target Lady: Classic Peg
This one may not officially be Minnesota, but c'mon. TARGET!
The Target Lady (Kristen Wiig) annoys customers at the checkout between chatting with her friend Peg (Justin Timberlake) about products, neck injuries, Peg's upcoming date night, and other wild stories that are just "Classic Peg!" [Season 34, 2009]
Before Fall officially came in to visit us here in Rochester, Minnesota, an adorable lap dog won the Pup Cup Challenge.
The Cutest Pup In Rochester - Moose the Great Dane (42 Pawtastic Pictures)
Recent winner of the Little Thistle Pup Cup, the family of Moose the Great Dane couldn't be happier. "We love Great Danes, and Moose, from the second he came into our life, was one of a kind!"
As always, if you have a comment, complaint, or concern about something I wrote here, please let me know: james.rabe@townsquaremedia.com
Check Out The Rochester House With Over 100 Inflatables Up for Halloween!
One word...AWESOME! If you are looking for a Halloween display that goes all out, you've got to stop at the Boyer house at 51st Street NW in Rochester, Minnesota. They will have a massive display, including a tunnel, and invite everyone to come out and see their display. They usually collect donations to help those facing food insecurity in our community as well. So, bring a few dollars, or $10, and enjoy this amazing display created for you.
LOOK: Things from the year you were born that don't exist anymore
The iconic (and at times silly) toys, technologies, and electronics have been usurped since their grand entrance, either by advances in technology or breakthroughs in common sense.
See how many things on this list
trigger childhood memories—and which ones were here and gone so fast you missed them entirely.