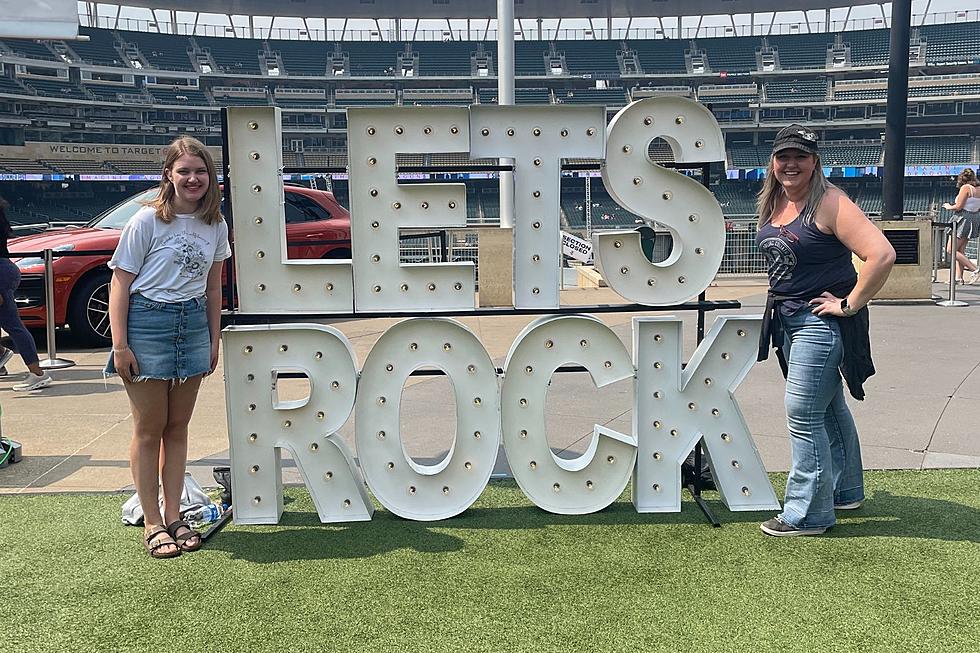 5 Amazing Bands That Rocked Out In Minnesota This Weekend! (PHOTOS)
Jessica Williams - TSM Rochester/Preston
Life is an interesting thing.  You can either enjoy it all, including mundane tasks like washing dishes, or you can be a cranky individual that always finds the negative.  Heck, you can just hang out on a few pretty popular Facebook pages where the cranks seem to live and just dwell in that all day if that's what you are picking.  Personally, I am picking the opposite and enjoying this journey called "life".
My Minnesota Weekend in Pictures: July 15th & 16th
If you and I haven't met, "hello"!  My name is Jessica On The Radio.  There's a good chance you've read a few of my other stories and if you ever turn on a radio, you have probably heard my voice.  I make the end of a workday a little bit more exciting (and am sometimes a tad bit sassy) over on Y-105FM, Rochester's Best Variety.  If you aren't listening, you and I should hang out!  You can find me every weekday from 3 pm until 7 pm on the Y-105FM app.
If you have been hanging out, you have probably heard me mention that we've been dealing with some sickness at my house.  The last few months have been challenging but Mayo Clinic and Olmsted Medical Center have amazing teams of people that have been super helpful.
As we wait for answers and meds to start working, a choice is in front of me.  Either be cranky, like a huge chunk of people whining on Facebook, or enjoy the moments that are right in front of me.  I picked that second option and here's what life was like in photos this past weekend.
I had the pleasure of grabbing coffee with Wendy Paulson, President of the Minnesota Broadcasters Association, and Tim Hyde, Director of Operations and Member Services at Minnesota Broadcasters Association.  I have the pleasure of being chosen as the mentee for the year and am honored for this opportunity.
After coffee at Cafe Steam, we made a stop to check out and congratulate KTTC on 70 years and their new exhibit at the Olmsted County Historical Center.
One of my kids was heading out for a full day of fun - shopping at the Mall of America and enjoying a concert by NF.
My daughter and I hit the road about the same time and before we went to our concert, we made a stop to one of our favorite places - IKEA!  I asked her if she wanted to join me for the selfie with the big whale but she said "no".
Always look for smiles!  You'll be surprised where they start popping up in your life once you start looking for them.
FYI, if you love selfies, IKEA now has a selfie spot!  It is so cute and is near the area where they have all of the plants.
After IKEA, we made our way to one of my favorite spots in Minnesota, Target Field.  Now, I wasn't there to enjoy a game, although I hear that the Twins did bring that "W" on Saturday for us.  #NiceJobTwins  I was actually at Target Field for TC Summer Fest and I was ready to rock.
Before the headliner hit the stage, the crowd was entertained by a few other bands including Talk.
Em Beihold helped get the crowd excited where her hits.  I even knew a few of these!
Chelsea Cutler was a new artist for me.  If you haven't had a moment to hear her, make sure you check her out on YouTube or Spotify because her voice is amazing.
AJR was supposed to hit the stage next but sadly, their father passed away so they were taking some much-needed time away from the road to celebrate their dad.  Filling in for AJR was Oliver Tree.
And finally, the act that the crowd was waiting for...Imagine Dragons!
If you ever have a chance to see them live, BUY TICKETS!!!  They are in one word, phenomenal.  They brought everything that they had to the stage and had so much gratitude for everyone in the audience.
Oh, and one of my kids was convinced that he could beat me at Cup Pong.
Yeah, his mom has some mad skills that he wasn't aware of until I was crowned "winner".
Where Should I Go Next Weekend?
Right now, I have zero plans for the upcoming weekend so if you've got any ideas, let me know!  You can send me a DM over on my Facebook page - Jessica On The Radio.
Top spots in Rochester with amazing customer service!
Not sure if this is a priority for you but the majority of people like to see a little bit of R-E-S-P-E-C-T when they are buying things from a business. It could be ordering food at a restaurant, buying clothes at a store, or where you are filling up your gas tank for your car. Any place you spend money should have stellar customer service. If you've had a run of bad customer service lately, try going to one of these places in Rochester that were recommended by hundreds of people in town.
This list was put together last year, so, if individuals are mentioned at these places, they may no longer be there. But, at one point, they were considered THE BEST for customer service in our area.