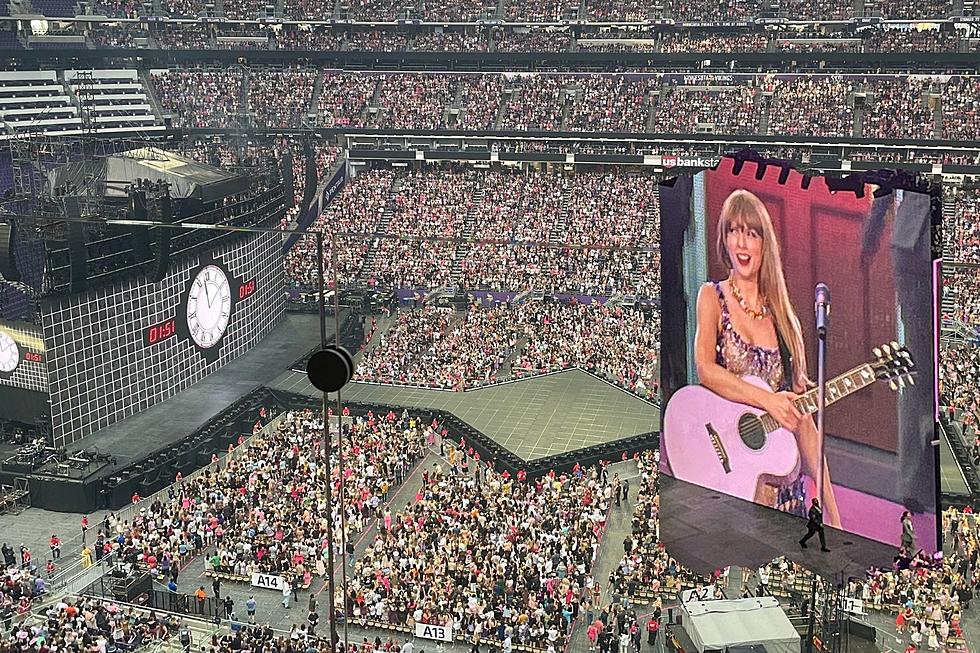 Amazing Video of 70K People Filling Minnesota Stadium for Taylor Swift Concert
Jessica Williams - Townsquare Media Rochester/Preston
I think I'm still in awe at what I witnessed over the weekend in Minneapolis (oh...sorry, Swiftieapolis), Minnesota.  70,000+ people all got together, some in snake tights, a few thousand in sequins, and almost everyone with at least one friendship bracelet on their arms.  Honestly, you could have worn anything to the Taylor Swift concert and it would have been appropriate.  Seeing THAT many people all coming to one spot and then cheering in unison was in one word...EPIC.
What it Looks Like When 70,000+ People Go to Party with Taylor Swift in Minnesota
Doors opened at 4:30 pm at U.S. Bank Stadium for the Taylor Swift concert on Saturday, June 24th, and I was one of the many thousands standing by the big boat outside just waiting to get in.  With that many people and as hot as it was, you would have thought that someone would have been cranky, but it was one of the kindest gatherings of people ever.  People were sharing bracelets, telling strangers "I love your outfit!", and acting like we were all bff's.  It was so odd to see happen in front of me but one of the most amazing things ever.
And then...the doors opened!  There was actually a scream by the entire crowd when that happened.
Have you ever wondered what it looks like when 70,000+ individuals (many who are wearing glitter and sequins) all come together in one spot?  Once I found my seat, I started taking pictures just to show you what it looks like when all the sparkly and kind people flood in to see the one and only Taylor Swift!  Enjoy.
Let's Chat Concerts...What Has Been Your Favorite To See Live?
I saw Taylor Swift a few years ago when she was here for her Reputation tour.  Although I love the songs from that album probably the most, I will say that just being in the crowd for the Eras tour was an experience I'll never forget.  And, there were less snakes, so that was even better for me.
What concert have you seen that you thought was absolutely amazing?  Everyone has different tastes in music and preferences for how that is delivered.  In other words, there are no wrong answers.  I'd love to hear yours though - send me a message over on my Facebook page - Jessica On The Radio - and let me know!
Score a Trip to L.A. to See Taylor Swift's Eras Tour!!!
BTW, we are sending 2 people off to L.A. to see Taylor Swift live.  Today is a really good day to listen to Y-105FM because we are playing 3 Taylor Swift songs in a row and then a secret code.  That's all you need for a chance to win.  We are even throwing in $500, the airfare, and hotel stay!  Get the details and listen live on our free app so you don't miss your chance to see this epic concert!